They were invented to tell time but let's face it, watches these days can be valued more for their aesthetics than their activity. And why shouldn't they be? Watches add distinction to a great outfit. Versatility, however, is one of the most alluring elements most gents look for in a staple watch. The best way to find an adaptable timepiece is to search for minimalism. Simplistic, classic and timeless pieces are what you should look out for. here are the best minimalist watches for men that will ensure you get the most out of your next time-telling purchase.
1. Mondaine Classic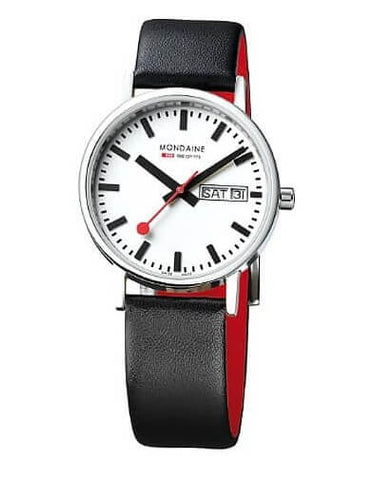 Mondaine has created a minimalist watch; their Classic model is certainly eye-catching with its distinctively bold hands. The Swedish brand describes this timepiece as "straightforward", with an unadorned case shape and sapphire crystal. The color combinations of the Classic model are also incredibly versatile, making pairing this watch with different pieces very easy. Black, white with touches of cherry red, the timepiece is an ode to nineties style. The aesthetic is also fun and boyish, making it perfect for casual wear.
2. Junghans Max Bill Quartz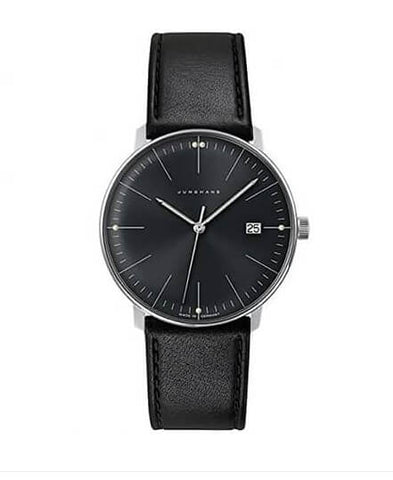 German brand Junghans has kept things simplistic and stylish with the sleek Max Bill Quartz. The model is water-resistant and boasts a calfskin strap with a stainless steel buckle. Not only splash-proof, but the Max Bill Quartz also features convex hard Plexiglass with Sicralan coating. The watch face also has sunray brush dark grey, minute track and hands with environmentally friendly luminous substance. The date function is also handy and fits in with the minimal aesthetic of the timepiece. One of our more modern picks, this Junghans model is great for corporate wear and casual days alike.
3. Daniel Wellington Classic St Mawes 36mm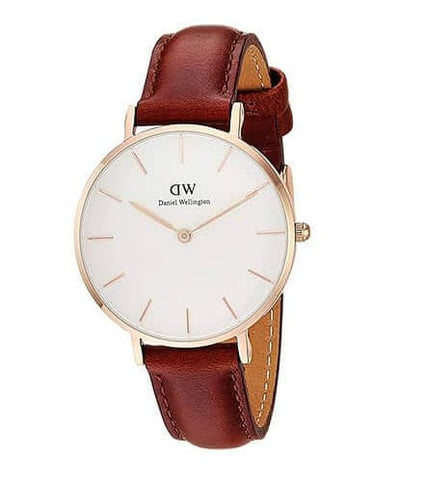 The Daniel Wellington Classic St Mawes 36mm is a slim model, with a simple round dial and refined casing. The brown strap is the perfect color for different tonal combinations, and it complements the rose gold hands and the edge of the watch dial perfectly. Is rose gold not your thing? Luckily, this watch also comes in a version with silver finishes. The dial is also simple and won't date, with minimalist numerals, and eggshell white coloring is true to the identifiable aesthetic of the recognizable Daniel Wellington brand.
4. Braun BN0032WHSLMHG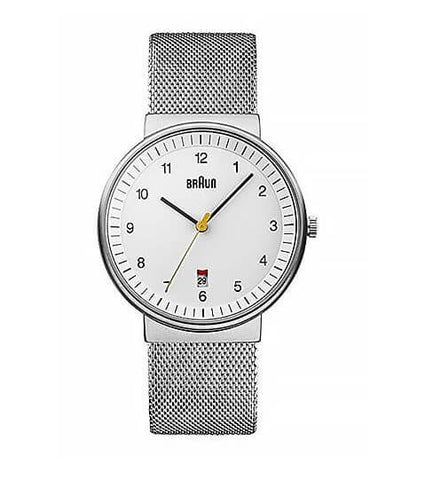 This minimalist watch by Braun features a sleek, brushed stainless steel case and stylish metal mesh band. While the band undoubtedly adds a unique textural appearance, which isn't often found in minimal watches, the overall look is kept clean and clear with its light silver-tone and the addition of the face. The face, which sits inside a 40mm case, is light, bright and clear with a white background and black numbers. The addition of a yellow second hand and small, red-topped date display add just the right amount of fun to this timepiece, making it ideal for both the office and the weekend.
5. Timex Easy Reader Grande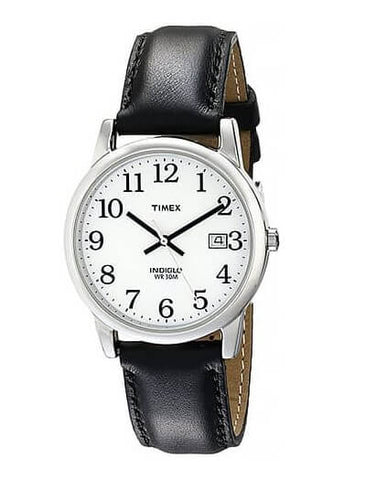 The Timex Easy Reader Grande is the epitome of minimal style. A gentlemanly watch with a classic aesthetic that features a 35mm brass case with a protective mineral crystal dial window and Quartz movement with analog display, make for a timeless watch that works for men of all ages. This model is also 30m water resistant, has a genuine leather strap and comes with the Timex Originals 2-year guarantee.
6. Shinola S0100026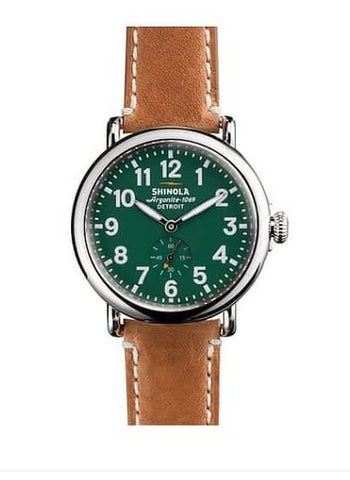 Green and tan, this Shinola model is perfect for layering and complementing classic colors and prints. The battery runs on EOL technology, and it also features a double curve sapphire crystal. Three hands and a 41mm case size also make this a great option for practicality. We would recommend this pick for the gentleman who prefers a minimalistic design with a twist.
7. Nordgreen Philosopher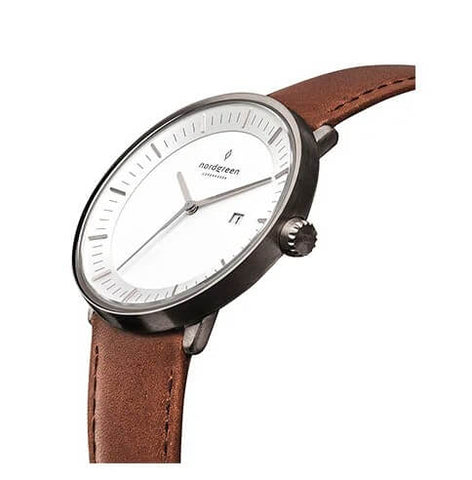 For a highly sophisticated look, the Nordgreen Philosopher designed by Jakob Wagner and CSR program is a great minimalist dress watch. The stainless steel timepiece with a silver dial and black leather strap harnesses a Quartz movement and is water-resistant to 3ATM. Its conically shaped case has a wider base than the face, creating a sharp two-piece dial that draws the eye to the center of the watch. The elevated case and tugging lugs provide the finishing touches to the watches unique design. Its interchangeable straps allow you to customize your Philosopher to suit every style.
8. BUREI Men's Fashion Minimalist Wrist Watch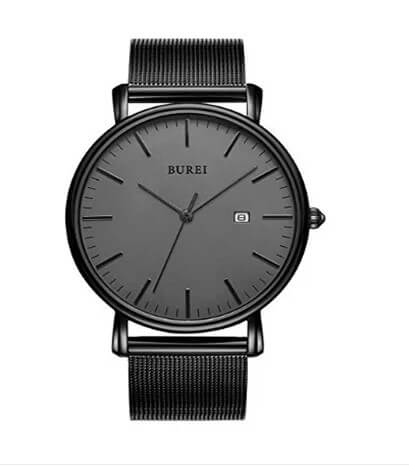 Burei has taken a classic approach, and the brand's minimalist wristwatch is timeless. It can be worn in a variety of different settings and looks sleek and elegant. The combination of the stainless steel mesh band and the dark gray brass dial is simple yet effective. The analog display is easy to read, and the watch is water-resistant; although it's not suitable for swimming, it can withstand sweat and splashes.
9. Fossil Men's The Minimalist – FS5304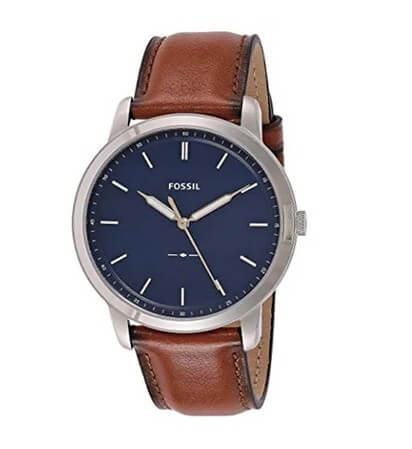 There is something extraordinarily striking about a blue dial and brown leather band combination, and Fossil has done this to perfection with their minimalist design. The dial features gold-tone hands, which indicate the time. This timepiece is also interchangeable with other Fossil bands, so if you tire of the color or it starts to look worn, there are many different options. Lastly, it's important to note that the watch is water-resistant to 50 meters, which is useful if you forget to take it off in the shower, or for short dips in the pool!
10. Skagen Men's Jorn Minimalistic Stainless Steel Quartz Watch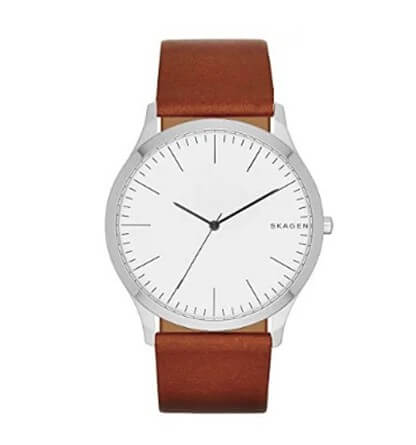 The Danish watch manufacturer, Skagen, is celebrated for its sleek timepieces and modern, playful designs. The men's Jorn watch seems to fit right into their inspiration and is minimalistic yet chic. Band size is 22mm and crafted from genuine leather; it is also interchangeable with Skagen's other 22mm products. The combination of the white dial and black hands, indicating the hour, and minute markers, makes it easy to read.
 You may
 

interested in: