Two of the most popular and well-respected Japanese watchmakers in the business today are undoubtedly Casio and Seiko. Both of these companies are known for their top-tier watches as well as their innovations.
Seiko and Casio's catalog of timepieces differs enough to suit different styles. However, there are some commonalities between the two brands that provided a more definite line on the sand. These factors, once distinguished by the consumer, will help them determine which between the two excellent Japanese watchmakers is right for them.
History of Seiko

If you have not heard of Seiko, then I'm afraid you need to get out from under that rock you've been living. One of the most well-respected watchmakers around the world, Seiko is a Japanese company that is synonymous with watchmaking innovation. Founded in 1881, Seiko was initially a jewelry shop in Tokyo, Japan. It was not until 1924 when Seiko officially entered the wristwatch market.
Seiko made their initial "first" with the Astron which introduced the world to the quartz movement watch in 1969. This revolutionary timepiece kick-started the quartz watch revolution of the 70s. Most watch brands followed suit shortly after with their quartz watches to compete with Seiko.
Less than a decade later, Seiko unveiled another first in the industry, this time in the form of a solar-powered watch in 1977. This technology helped further cement Seiko as the premier trailblazer in the watchmaker industry.
At the very tail end of the 20th century, Seiko once again introduced a new element to watchmaking with its Spring Drive movement technology. This technology is designed to withstand space travel while still providing excellent accuracy when telling time.
2012 saw the return of Seiko's original flagship series, the Astron. This time around called the Seiko Astron GPS Solar watch. The current Astron watch series contains all the features that helped Seiko climb to the top of the mountain, all in one sleek and stylish timepiece. Put, Seiko is always delivering the goods when it comes to watches that few can match up.
History of Casio

The Japanese company, Casio, is not only known for their robust digital watches, but also with other electronic devices. Originally a manufacturer of microscope parts and accessories that was founded in 1946, they managed to expand their repertoire by 1954 with their electric calculators.
Casio made strides in the electronic device industry is one of the most trusted names in the business. Casio entered the wristwatch market with their most popular watch series, the G-Shock, in 1983. The G-Shock is marketed as one of the most robust digital watches around while maintaining a budget-friendly price tag.
Their G-Shock line quickly rose in popularity due to its sporty appearance and incredible construction. In an era where traditional and sleek watches were the norm, the G-Shock managed to carve its niche with its rugged and tank-like design.
Due to G-Shock's impeccable durability, it became a staple with outdoor activities and sporting events. The Baby-G series, a sleeker and more lightweight variation of the G-Shock, was introduced in 1994. The Baby-G series was a perfect option for those who feel that the main G-Shock series are too bulky for their taste.
Thanks to the G-Shock watch series, as well as the company's knowledge in developing electronics, Casio managed to rise the ranks of digital watchmakers. You can point to Casio as the premier developer of reliable digital watches in the market today.
G-Shock's popularity has transcended the market and has become a part of pop culture history. Many of the popular action films in the 90s, like the Keanu Reeves high-octane film, Speed, showed the hero wearing a G-Shock watch throughout the movie.
Casio was also the first to break into the smartwatch market back in 1991. Yes, Casio was already tinkering with the idea of smartwatches back then with their Casio VDB-1000. It was so ahead of its time with its touchscreen functionality and built-in organizer, notepad, and phonebook. If you are looking for a reliable digital watch, Casio should always be included at the top of your shortlist.
Seiko and Casio – Watch Comparisons
Seiko is a more traditional watch brand, while Casio focuses on contemporary watchmaking methods. This means that we will need to find a middle ground for which to compare the two watchmakers accurately.
Outdoor Digital Watches
Casio is the king of digital watches, while Seiko leans heavily towards traditionally designed timepieces. However, Seiko has also dipped their toes into creating digital watches, and they've developed quite a solid track record in this area as well. How does Seiko's digital watch measure up to Casio's? Let's take a look.
Seiko Prospex Digital Diving Watch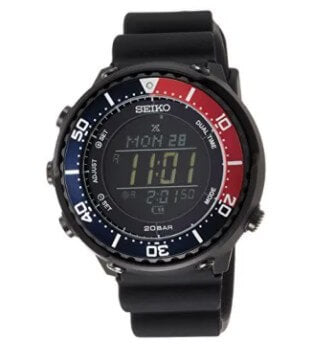 The Prospex line is one of Seiko's most popular diving timepieces. However, this takes an all-digital approach rather than the traditional analog watch. It features a beautiful combination of the red and blue rotating bezel, which is the standard design of the Prospex series.
This diving watch is designed to be water-resistant for up to 200m. It is also solar-powered, which means you don't need to worry about emptying your battery. As you would expect from a Seiko solar-powered watch, the Prospex Digital can last up to 5 months on a single full charge. It uses a negative display that improves legibility on the screen.
The Seiko Prospex Digital is slightly on the larger side with its 49.9mm case diameter. Surprisingly enough, it's pretty lightweight despite its size. It also uses comfortable silicone band straps which should avoid any unnecessary chafing. Also, it features Japanese quartz movement as is expected with a Seiko watch.
Casio Pathfinder Triple Sensor Multi-Function Sports Watch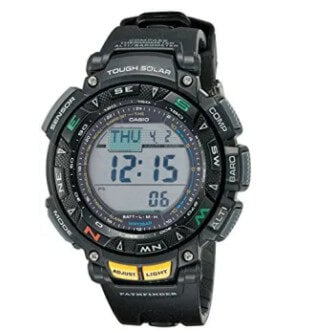 Casio Pathfinder Triple Sensor is a beast of a digital watch on all fronts. It is packed with features and is built like a tank. The Pathfinder is an excellent digital watch for people who enjoy going on outdoor activities such as camping and hiking. You won't need to worry about battery replacement as the watch features Casio's Tough Solar technology.
Casio solar-powered watches are some of the best in the market, on-par with Seiko's solar-powered timepieces. The Pathfinder can easily last up to 5 months or more on a single charge. As for its features, it comes with a built-in altimeter, barometer, and thermometer. It is also pre-programmed with 31 different time zones and an auto-calendar as well.
Additional features include support for up to five different alarms and an EL backlight that keeps the display visible even under low-light environments. It has a 100m water resistance which can protect it from the occasional splashes but is not designed for diving.
Best Outdoor Digital Watch – Casio effortlessly takes the victory in this round. While the Seiko Prospex is an excellent dive and outdoor watch, Casio Pathfinder comes with a slew of features that completely outclasses the Prospex. While the Prospex is a better diving watch, the Pathfinder is a better all-around outdoor digital watch.
Solar-Powered Watch
Both Seiko and Casio are known for producing top-tier outdoor watches with unique solar-power technology. Seiko, as stated earlier, introduced the first line of solar-powered watches in the market and they managed to secure a top spot in the market in this category to this day.
Seiko SSC017 Prospex Analog Display Solar Watch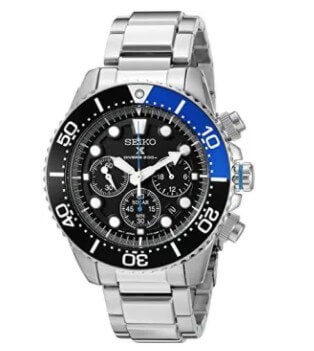 The Prospex SSC017 completely drops the red design in favor of a black and blue color palette. Seiko is also known for its stylish timepieces, and the SSC017 Prospex encapsulates that quality and infused it with top-notch functionality. Since this is a chronograph solar watch, it comes with three sub-dials that denote hours, minutes, and sub-seconds.
Since this is a part of the Prospex series, the SSC017 is a formidable diving watch as well with a water resistance rating of 200m. It utilizes luminescent hands to improve visibility in low-light environments as well as underwater.
The watch is made from durable stainless steel for both its 44mm diameter case and fold-over clasp band. The SSC017 is a highly reliable solar watch from Seiko that combines class with robustness to create one of the best looking solar-powered timepieces, this side of Seiko.
Casio G-Shock S-Steel GST-S110-1ACR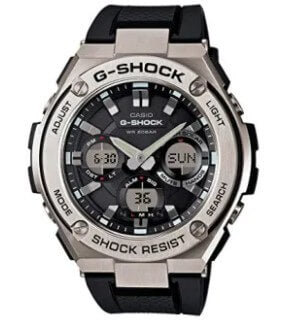 The Casio G-Shock G-Steel is a hybrid of sorts in that it features an analog display alongside three digital sub-dials. This design choice gives it quite a unique flair that will surely be one of its most significant selling points. Within its strong 59.1mm stainless steel diameter case lies the ever-reliable Japanese quartz movement that ensures impressive accuracy in timekeeping.
It uses Casio's patented Tough Solar Technology, which can boost its operation time anywhere between five months to two years, depending on the model. The G-Steel, for instance, is designed to run for approximately two years on a single full charge. What's most impressive about this solar watch is that it can absorb energy even from a faint light source.
As this is part of the G-Shock line of watches, the G-Steel features impressive shock-resistant capability. This characteristic further pushes it above the list of the most reliable watches in the market today.
Think of the G-Steel as an upgraded G-Shock with its dual-layer guard structure design. For example, underneath the bezel of the G-Steel lies an extra shock-absorbing resin layer that also acts as the mount. While this increases its proportions, it also significantly boosts its durability.

Protecting the analog display and digital sub-dials is a scratch-resistant mineral crystal. The dial features double LED light for both the analog and sub-dials. This watch is also packed to the brim with features such as 1/100-second stopwatch, world time, countdown timer, auto-calendar, five daily alarms, and an hourly time signal. It also provides sold water resistance for up to 200m.
Best Solar-Powered Watch – Choosing between the two will be subjective to the customer. Do you want a traditional looking solar watch that comes with top of the line construction? Seiko is a great brand to look at for that.
For those who are looking for something more contemporary and further improves upon watch durability and added features, Casio will always deliver on these with their G-Shock series.
Conclusion: Seiko vs Casio – Which is the Better Watch?
It is difficult to choose between the two as each excels in their particular fields. But we can simplify the process by what defines both brands. If you want a traditional, stylish, and reliable Japanese quartz watch, nothing can touch what Seiko offers. However, if you prefer feature-packed electronically based timepieces with superb durability, the Casio has always been the go-to brand in this category.
You may interested in: