Many friends who are new to the watch circle will often be very entangled. The understanding of watches is still in the stage of a half-knowledge. Although they want to have a watch of their own, the low-end watch styles are not eye-catching. And unable to buy. At this time, you should not focus on those luxury and top-level watches. Buying a watch also requires step-by-step steps. If one step is in place, it will be less fun to explore. The following recommends a few cost-effective models that are close to the people. I hope it will be helpful to friends who are new to the watch circle and those who are new to the workplace.
1.Megalith Blue Dial Watches Collection
Quartz men watch MEGALITH 0060M, with a blue dial. The analogue watch has a stainless steel watch has the silver color as silver with golden parts to complement the looks and produce a glittering appearance.
2.Megalith 8078M Fashion Leather Casual Watch 
Men mechanical automatic watch, pair with any outfit and occasion, looks elegantly stunning, providing you a comfortable wearing
experience.
Capture the attention of crowd with unique styles. Perfect gift for yourself or for that special someone.
Transparent glass bottom cover and Skeleton dial allows you easy to view the movement of your watch.
3. Classic and elegant design rubber Megalith men watches

Megalith 8042m Fits every outfit and occasion, looks elegantly stunning and offers a comfortable fit.

Catch the attention of the crowd with unique styles. Perfect gift for yourself or for that special person.

Three multifunctional sub-dials support chronographs. Let the dial absorb enough light energy to make the dial glow in the dask.
4.
Luxurious and Elegant Design 
Chronograph Watch
The Megalith brand is designed for men, leading the trend of men's chronograph watches. Megalith men watch 8046 have Classic blue dial, simple and generous analog display, elegant and timeless, accurate, sturdy and reliable. Whether you are at work, leisure or at a banquet, you can wear this dress watch, which will be your best choice. This is a must-have accessory for any successful man.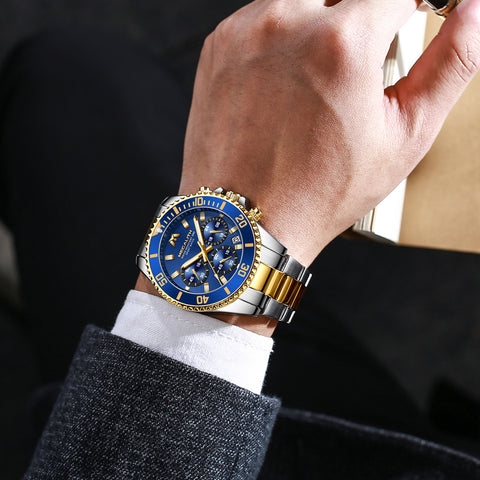 5.
Analogue Digital 
LED Stopwatch for Men
✨MULTIFUNCTION DESIGN✨: Time, day and date display; 12/24H format selectable, auto calendar; Daily alarm and hourly chime; EL backlight.
Megalith 8051m men watches with brown leather strap, quartz -digital watch designed guarantee a glittering appearance.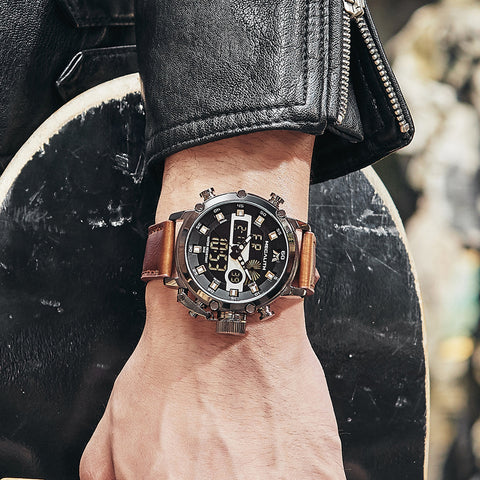 A wrist watch is not just a tool for recording time, it is also an interpretation of style and spirit. The above watches are for your reference only. Among the vast models, there is always one suitable for you. Welcome to click on the relevant watch introduction on the megalith watch website.