The ultra-thin watch is one of the marvels of this industry due to its extremely sleek build. To be considered as an ultra-thin timepiece, the watch must meet a certain size requirement. For this list of recommended watches, we've only considered watches that have a case thickness of 9mm and below. One of the most mind-blowing ultra-thin watches came when Piaget debut the Altiplano Ultimate Concept Watch which only measured in at a mind-boggling 2mm. How they managed to contain the complex horology mechanism within that tiny space is quite fascinating and a true wonder of this industry.

Thin watches exude an air of class and sophistication that is quite different from your traditional luxury timepieces. This a timepiece that will perfectly complement the gentleman and ladies' classy attire.

Now, for the main course – here are the top ultra-thin watches in the market today. Each entry in this list has a case thickness that measures 9mm and below. These are the current best of the best in this particular category so happy hunting!
Best Thin Men's Watches of 2020
Casio Classic Quartz Stainless Steel 6mm Watch (A700W-1ACF)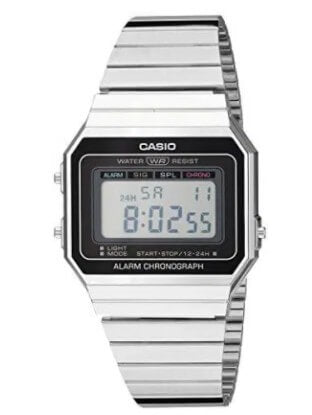 With its retro-modern look, the Casio Classic Quartz will certainly appeal to those who love the timeless appeal classic Casio square watches. The Casio Classic Quartz comes in with a stainless-steel case and bracelet. The case measures in at around 35.5mm in diameter and a sleek 6mm thickness. It features quartz digital display with 1/100 stopwatch (60 minutes), date and day display, daily alarm, as well as an LED backlight. This is also an incredibly affordable timepiece which is always a plus.
Timex Fairfield (TW2P90800)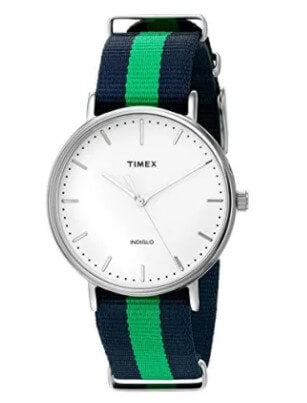 The Timex Fairfield features a casual design with a hint of minimalistic aesthetics that is quite popular with the younger generation. It features a 41mm stainless steel case with a mineral crystal window and has a thickness of 8.5mm – at the cusp of the minimum ultra-thin watch requirement. It utilizes a quartz movement with analog display and also comes with Indiglo technology for optimum visibility even in the dark. The dial has a pristine white numberless design with only silver-toned hour markers and hands on the display. The Timex Fairfield will suit your everyday timekeeping needs with chill-vibe charm.
Hamilton Jazzmaster Thinline Watch (H38511553)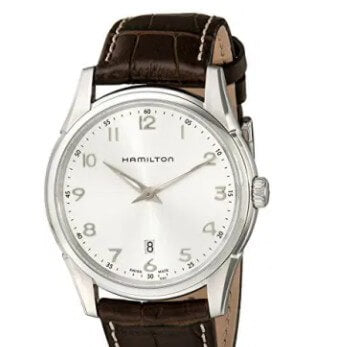 The Hamilton Jazzmaster Thinline takes a more traditional approach with its aesthetic but incorporates it into a 7mm thick case. The stainless-steel case measures in at 42mm in diameter which contains a highly-accurate Swiss quartz movement. The white dial is encased inside a sapphire crystal window with anti-glare finish giving the Jazzmaster Thinline excellent legibility even in the daylight. The silver-tone hands and markers also utilize a luminous finish for better visibility in low-light environments. Additional features include a date display which is located at the bottom 6 o'clock position.
Stuhrling Original Dress Analog Watch Dial with Date (3997Z)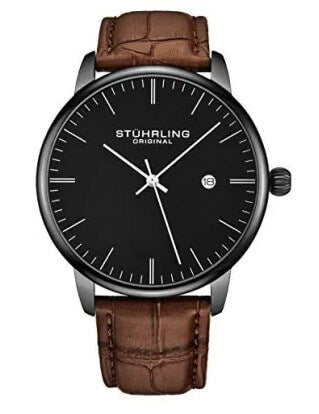 Ultra-thin watches typically have a classy and elegant appearance which is why the Stuhrling OG Dress Analog Watch is a noteworthy entry due to its more rugged aesthetics. This timepiece is designed for maximum comfort with its genuine leather band and ultra-slim 7mm case thickness. The dial incorporates a minimalist design that enhances its style with a level of finesse that can only be achieved with an ultra-thin watch build. Additionally, the watch also comes with a quick set date window and a 2-year international warranty. The Stuhrling OG Dress Analog Watch uses high-precision Japanese quartz movement as well.
Citizen Eco-Drive Thin Stiletto (AR3074-54E)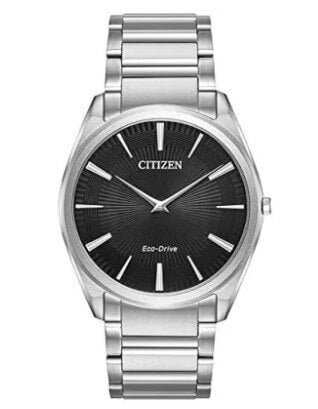 Taking the already impressive aesthetics of an ultra-thin watch to new heights, the Citizen Eco-Drive Thin Stiletto comes equipped with an excellent horological build and design. It features a black sunray dial with a three-hand analog display. Inside the timepiece lies a precise quartz movement that operates its gold-tone hands and hour markers. The detailing employed in the design of the Think Stiletto is quite impressive. The case measures in at 38mm in diameter with a thickness of only 4.7mm. The dial window is also made from sapphire crystal, giving it enhanced durability and excellent scratch-resistance. Also, the watch comes with a fantastic limited five-year warranty.
Tissot Tradition 5.5 Brown Leather Strap Watch (T0634091601800)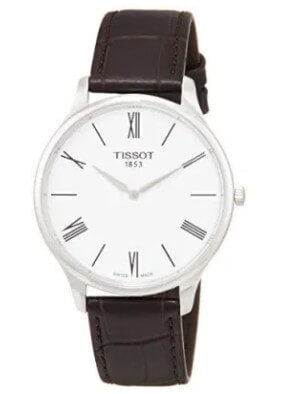 If you are looking for an ultra-thin watch that takes its history and tradition to heart, then Tissot might be the one you are looking for. The classy Tissot Tradition features a silver-tone stainless steel case that measures in at 39mm in diameter with a 5mm thickness making it quite a sleek timepiece. The white dial is accompanied by silver-tone alpha-style hands and Roman numeral hour markers. The dial is powered by a quartz movement which is also protected underneath a sapphire crystal window. Another notable feature includes a pull/push crown, fixed bezel, and 30-meters of water resistance.
Mondaine Men's Swiss Railways Classic Watch (A6603031411SBB)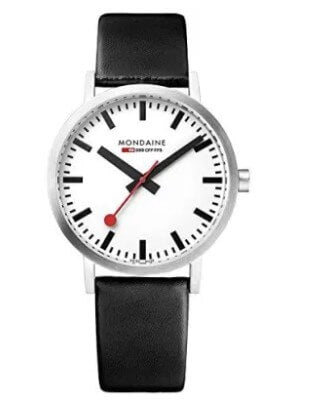 With its broad modern aesthetics, the Mondaine Swiss Railways Classic will definitely attract younger watch enthusiasts with its abstract charm. It features bold hands and markers with the second hand featuring a contrasting red tone. This timepiece utilizes Swiss quartz movement within its 36mm diameter stainless steel case which has a slim 8mm thickness. The dial is well-protected within a durable mineral crystal. The Mondaine Railways Classic stays true to its moniker with its robust design that certainly looks like a timepiece a train operator will have in their pocket.
Bering Men's Slim Solar Watch (14440-222)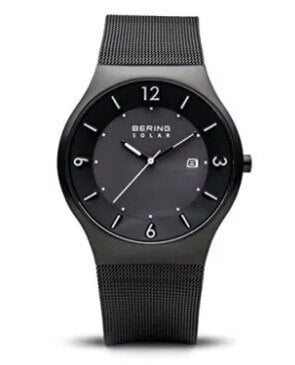 Durability is where the Bering Slim Solar Watch put most of its focus on, and it definitely paid off as we can see here. In addition to its stylish black design, the Bering Solar Watch also comes with solar-powered technology. What's more impressive is that Bering managed to contain all of these features within a 40mm diameter case with a thickness of only 9mm – keeping it firmly in the ultra-thin watch category. The case is made from IP-plated medical grade stainless steel with the strap is a combination of IP-plated Milanese with stainless-steel interwoven into its design. Also, the Bering Solar Watch has a 50-meter water resistance rating which allows it to withstand rain, shower, and quick dips in the water.
Frederique Constant Slimline Plain Index Collection Watch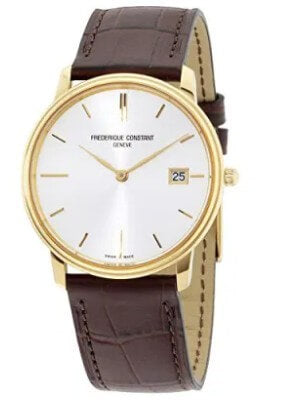 Frederique Constant has always been known for their classy slim watches, and the Slimline Index Collection watch is a perfect example of what you can expect from this watchmaker. The refined style of FC is in full display here with its gold-tone stainless steel case which measures in at 18mm with a thickness of only 5mm. The brown leather strap complements the gold case and grey-white dial which caps off the trifecta of its classy charm. The dial features slim hands and markers with a date display located over at the 3 o'clock position. Frederique Constant has always delivered on slim timepieces with a level of finesse that is unique to the brand.
Bulova Stainless Steel Analog-Quartz Watch 5.6mm (98A167)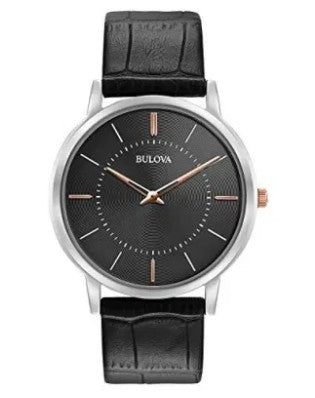 The Bulova Analog Quartz Watch 98A167 is a stunning ultra-thin timepiece that features that classic Bulova style that is just radiating with finesse. This Bulova ultra-slim watch features a 40mm diameter and 5mm thick stainless-steel case. Within the sleek build is a quartz movement that drives the analog dial display with impressive precision. The dial features a highly detailed sunray pattern giving this ultra-slim timepiece an added visual flair. It also offers a water resistance of up to 30-meters which gives it the ability to withstand quick immersion and the occasional splash of water. 
You may interested in: