Tool watches are a type of watch that has additional functions besides just telling the time. Although there really is no clear definition of a tool watch, it's safe to say that this type of watch has features that accomplish specific tasks beyond simply keeping accurate time.
For instance, a pilot watch often comes with a slide rule bezel for in-air calculations. Good quality dive watches have sealed crowns and bezels designed to resist high pressure at deep diving depths.
Here are some of the best tool watches today. We'll be featuring different functions (diver, rescue, pilot's) as well as different price points—from affordable models to the more luxurious ones that you can invest in.
Best Tool Watches
Timex Intelligent Quartz Fly-Back Chronograph Watch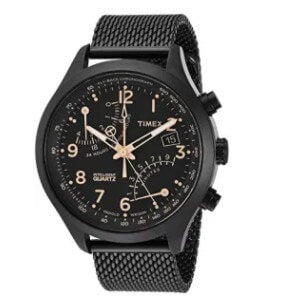 Designed for pilots, the Timex Intelligent Quartz Fly-Back Chronograph has a stop-reset-restart feature, an "electroluminescent" technology, a second-time-zone (when the chronograph is not running, the sub-dial on top displays a second-time-zone), and a 100m water-resistance.

With a watch that has all these functions and sophisticated design, one would probably expect a hefty price tag. This is not the case with this Timex model, however. This chronograph is surprisingly affordable, with many customers saying that it looks a lot more expensive than it is.
You will also have a lot of designs to choose from a bracelet, mesh, or leather. There are also a variety of colors, and you can use your NATO strap if you want more versatility.
Luminox Original Navy SEAL 3001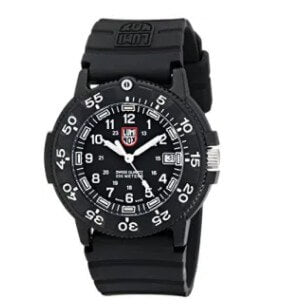 The 3001 Navy Seal is a dive watch by Luminox, one of the most trusted Swiss watch brands today.
Some of the most essential features of this 43mm watch include a rotating bezel, a fiberglass case, a case back with screws, a double security gasket crown, and a polyurethane Dive Strap. The water resistance is 200m, so it's excellent for recreational scuba diving.
One of the highlighted features of this watch is the self-powered illumination system. The watch boasts of an excellent luminosity, with hands and markers glowing 100 times brighter than other luminous watches, making it perfect for night missions. According to Luminox, this watch can provide illumination for more than 25 years.
This is from the brand's Navy Seal collection, which was introduced in 1994, and remains of its bestsellers today. Gaining approval from military and law enforcement units, this is a timepiece that can endure harsh environments.
Seiko Men's Prospex Radio Sync Solar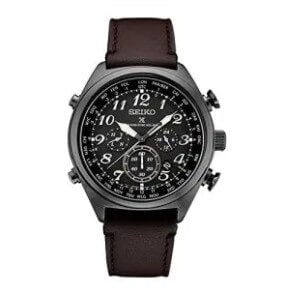 One of the most important features of this Seiko Prospex watch is the radio signal receiving function, which receives standard radio signals from the US, UK, Japan, China, and Germany.

It has a chronograph up to 60 minutes in 1/5 second increments, a world time function (25 time zones), an automatic hand position alignment function, and a full auto-calendar (December 21, 2099).
This watch is energy-efficient as it's solar-powered and, when fully charged, can operate for about six months and has a power save of two years.
The Prospex SSG015P1 is undeniably sleek and rugged, with its 45mm stainless steel case and calfskin band. There's also an anti-reflective glass coating for protection.
Customers who have purchased this watch continue to praise its accuracy—you will be able to have the exact time and date anywhere you are in the world, thanks to the radio sync feature. The sturdy leather strap has received lots of raves, as well.
Citizen Men's Eco-Drive Titanium Perpetual Chrono Atomic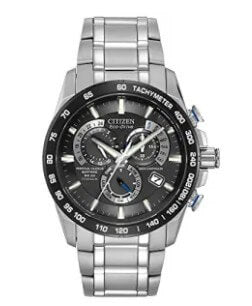 This Eco-Drive model by Citizen is packed with features, such as a tachymeter, a perpetual calendar, and a power reserve indicator.

This is a dive watch—the 1-second chronograph measures up to 60 minutes, and you have a fold-over clasp with a double push-button closure to ensure that it's secure. It's also 200m water-resistant.

One of the best things about this watch is it's solar-powered, so you do not need a battery, a feature that Citizen watches are widely known for.
Victorinox Swiss Army Men's I.N.O.X. Carbon Watch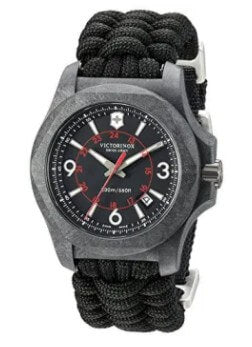 Victorinox is known for its watches and Swiss army knives, and the INOX is one of its most popular lines: "A watch embodying the history of a pioneering brand that creates objects characterized by ultimate functionality and uncompromising quality." This carbon version is a special edition of the I.N.O.X that is designed to withstand temps of up to 1,360 °C and represents the brand's long history of making watches, especially for firefighters and first responders.

The INOX line has a wide range of designs: different dial colors (black, blue, gray, silver, green, red), diverse materials (titanium, stainless steel, carbon), and various straps (paracord, steel, leather).

This is the only Swiss watch that can withstand 130 endurance homologation tests, which means that it's exceptionally durable, able to endure even the most extreme temperatures, and falls (see it in action in Victorinox's ad for the INOX here).

The stainless steel version of this same watch made also made our list of Best Swiss Watches under 500.

The paracord strap, which was originally used for parachute suspension lines, has a breaking point of 250kg. What's more impressive is that you can take the seven strands apart individually, and used for several different functions (you can turn it into a bow drill for making a fire or a fishing net, to name a few).
Seiko Men's SSC021 Solar Diver Chronograph Watch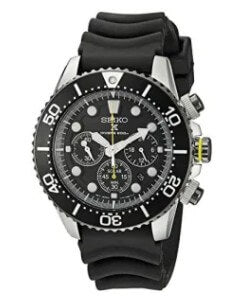 The Seiko Solar Chronograph Diver watch is one of the brand's most popular diver and outdoor watches.
Considered by many reviews as one of the best and most affordable chronographs, this watch delivers in quality and design.
This is a 44mm stainless steel watch, which has water-resistant to 200m, has a rubber band with buckle closure and luminous hands and markers. There are chronograph subdials and a date display at 5 o'clock. Because of its large size, it allows divers to see the display easily.
One of the possible downsides of this watch, however, is the strap material. Several customers have expressed that the nylon band causes some discomfort. If you experience the same thing but would like to keep using the watch for its excellent features, you can easily replace the strap with other models, such a NATO strap or a metallic band.

This watch is an excellent investment, whether you're using it for outdoors and water activities or simply for daily use. Aside from the classic look, it also promises high-quality timekeeping. The price is unbeatable, too, considering the excellent quality and accuracy.
Ball Engineer Hydrocarbon Men's Watch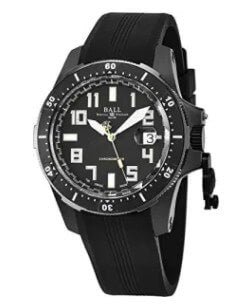 Moving on to a much more expensive model—the Ball Engineer Hydrocarbon watch, from an iconic American company that has been around since 1891.

Some of the most notable features of this 42mm watch with a rubber band include a patented anti-shock system (SpringLOCK®), a chronometer, and a patented crown protection system.

This watch also has 35 micro gas tubes on its hands for night reading capability—you will not have to worry about the luminosity, as this feature will allow you to see the watch even in a pitch-black environment. This is can also serve as an excellent diver's watch as it's water-resistant up to 300m.

You will notice that the watch has a solid steel case back with an engraving depiction of Alex Honnold, a respected rock climber who has broken many records in rock climbing and is known for doing free solo ascents.
One of the best features of this watch is the DLC, or Diamond-Like Carbon coating, which assures extra durability. Because of its titanium case, this is also lighter, which will be extra useful for people who will use the watch outdoors.
Oris BC3 Advanced Day Date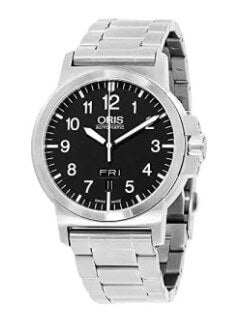 If you're looking for a luxury watch that's simple and elegant, the Oris BC3—a 42mm stainless steel watch—is a model to consider. This is an excellent aviation watch due to its big size and legible, bold numbers. The design is straightforward and clean.

One of the reasons why people love Oris watches, apart from the accuracy, is the meticulous process that they go through. On their website, they've introduced watchmaker Joachim Schneider, who, together with his team quality control experts, inspect every component of an Oris watch before it's released.
All Oris watches sold today go through two forms of quality tests. The first is before the movement is cased, and then after it's been fitted.
Certina DS Action Stainless Steel Men's Quartz Watch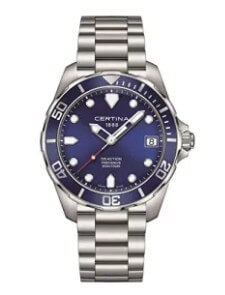 The Certina DS Action has water resistance to 300 meters, so it's suitable for diving and other professional marine activity.

This watch is equipped with a sapphire crystal, a stainless steel case, and a blue dial with luminous hands and hour markers. Certina has many watches under the DS Action line, and you can see the different models here.

If you want a classic Swiss timepiece that won't cost you thousands of dollars, this is a great choice. Many customers love both its function and design, praising its accuracy and elegance.
TAG Heuer Men's 'Aquaracer' Swiss Automatic Stainless Steel Dress Watch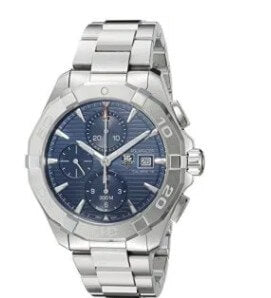 The Tag Heuer Aquaracer is a diver's watch that's water-resistant at 300 meters.The 43mm case and bracelet are both stainless steel, and the rotating bezel is unidirectional. The dial is blue, which is accentuated by luminescent silver hands and index hour markers. There are three sub-dials as well (60 seconds, 30 minutes, and 12 hours).

One doesn't need to go diving to appreciate this watch. Tag Heuer is a luxury brand that produces only the best quality products, and the elegant and sporty Aquaracer fulfills just that—you can wear this as a daily watch or on dressier occasions.
You may interested in: