Great watches are expensive, there's no getting around it. If you want a prestigious name and a Swiss automatic movement, even without any kind of crazy complication, you're looking at an investment. But that doesn't mean that you can't get "good" at a steal. If all you're after is a good-looking accessory that happens to tell the time, there's no need to break the bank.

Under the loupe of a collector of course, there will be some telltale signs that they're not what you'd call "luxury watches". First, there's the secondhand which, on a quartz watch, distinctly jumps from second to second rather than the smooth, sweeping movement of an automatic watch.
Then there's gold. It's not getting any cheaper so you can be sure that these timepieces won't be plated so much as painted. Finally, there's the feel of the thing. That's a little more subjective, but often you just know when a watch is serious or not by its weight on your wrist, be that steel, rose gold or even titanium.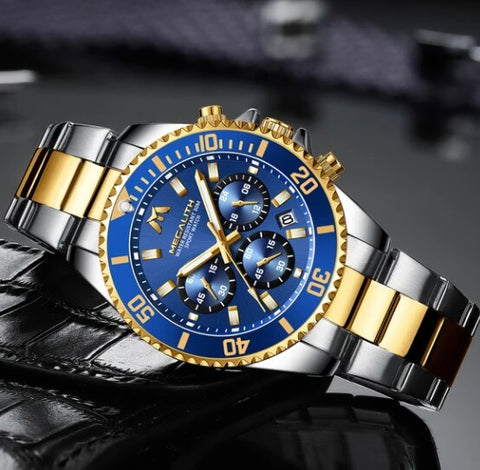 On the other hand, there's a huge difference between dropping £150 on a decent-looking, functional timepiece and splashing your inheritance on a £15k Patek Philippe. That's a lot of money and if you're not the kind of guy that idolises Swiss watchmaking then it's not going to be worth it to you, no matter what everyone else says. Does it tell the time any better than a Casio version? Absolutely not.

So why invest thousands of your hard-earned salary on a watch when you can get a handsome timepiece for a fraction of the cost? I'm not saying the below are budget pieces by any stretch, but they are actually affordable – not just by watch standards, but by anyone's.
1.Seiko About £119.99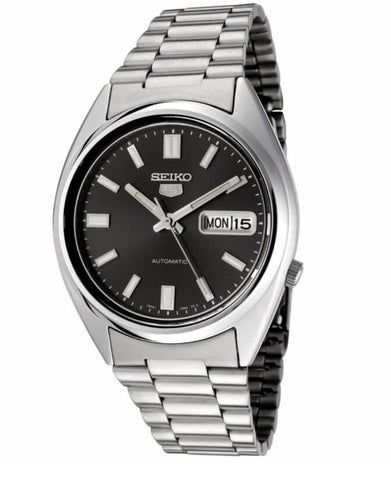 Well I did say Swiss mechanical movements were expensive; Japanese however, are not. Cards on the table, I own this watch and I love it. At 37mm it's pretty small, but don't let its size fool you. Seiko makes some of the most under-priced watches in the world and if anything makes other watchmakers look like shysters in comparison.

This little thing even includes a day date function, all for far less than some quartz watches retail at. It's the cheap watch to wear around watch collectors; they simply can't say anything bad about it.
2.Timex About £100.00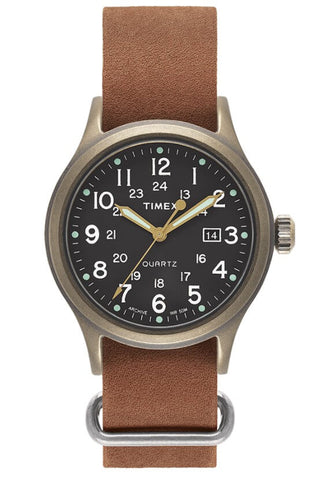 Inspired by the A-11, this Timex watch is a military icon and "the watch that won WWII". Worn on the wrist of every allied force during that battle, it's drawn directly from the brand's extensive archives.

The movement is quartz, as you'd expect for anything under £200 (Seiko being the exception), but it's far better than the bog-standard movement you find in most fashion watches. For one, it includes a quick date change function. It shouldn't be needed unless the battery runs out, but it's nice to have nonetheless.
3.Nordgreen About £144.00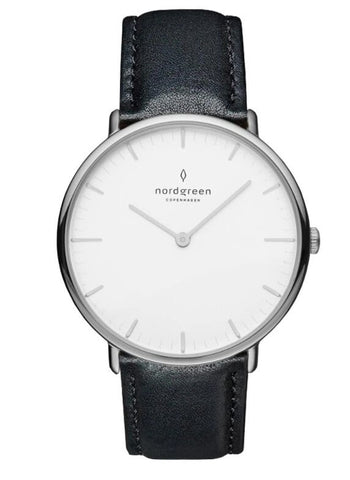 Nordgreen everything you would expect from a Danish watch brand: quality, simplicity and exceptional design. Working directly with Jakob Wagner, one of Scandinavia's most acclaimed designers, the specialise in pared-back, versatile timepieces that are meant to be worn every day and can adapt to every occasion.

Their best-selling Native watch is the epitome of the company's ethos. Featuring a clean dial, invisible time marks and rounded lugs, it's a contemporary take on a classic watch style. There are three dial colours, four case colours and three sizes to choose from, along with a plethora of interchangeable straps (we'd recommend picking up a few), but our pick is timeless black leather with a silver dial and white face.
4.Filippo Loreti About £169.00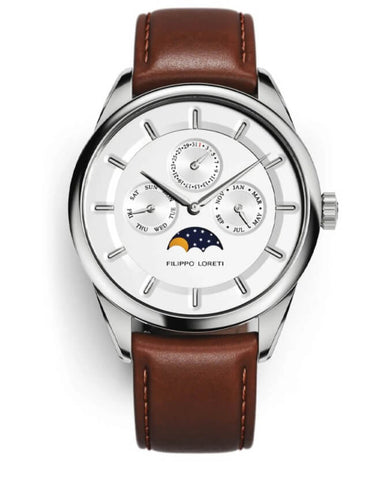 It's not hard to see why Filippo Loreti has taken Italy by storm. Their watches are generally sub-£100 and still actually look like "proper" watches. If, like most guys, you're after a good-looking timepiece, then why invest in anything else? The brand's Venice model kicks things up a notch, adding a moon phase to the Miyota quartz movement.

The blue and yellow gold finish is stunning, especially with the moon and stars showing through at 6 o'clock. It even has a full calendar on the dial, showing day, date and month. The only thing it doesn't have is a secondhand. It may be quartz but who says you need to actually let on?
5.Daniel Wellington About £163.37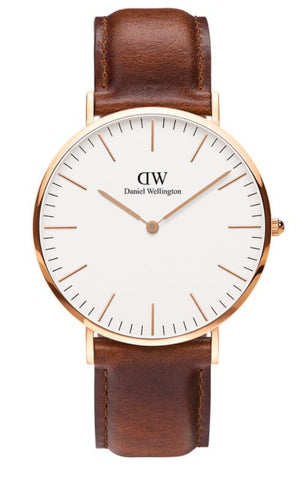 In many ways these guys are the Scandi equivalent of Filippo Loreti. Where the latter loves adding complications to the movements and busying up the dials with a bit of flash, Daniel Wellington prefers minimal and reserved.

The St. Mawes is about as restrained as a watch can get and still have indexes. A plain white dial, rose gold batons and a simple two-hand movement (again camouflaging the quartz by knocking off the second hand) it's the definition of simplicity.

It comes in 36mm if you really want to lean into the vintage look, but the 40mm is far more wearable. The only issue you might have is that minuscule crown.
6.Swatch About £54.00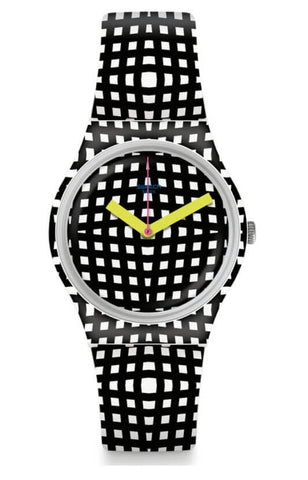 Swatch produce some seriously cool, traditional-looking watches and even have a decent selection of automatics to choose from. Screw that though. There are enough watches on this list that pretend to be "proper" watches, so how about something that's just a hell of a lot of fun?

There's always a Berlin design studio's worth of funky Swatches around at any time, but this… this is the one. Aside from the fact that I love a good pun (hazard of the job), the psychedelic monochrome pattern that bends its way across the Sixtease is eye-catching to say the least – stretching across dial, case, strap and all.
It definitely wears its inspiration on its sleeve. Or wrist. Or whatever.
7.Undone About £229.00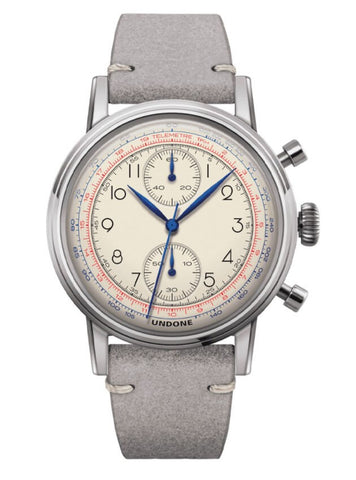 Thought a custom watch was out of reach? Undone would beg to differ. It's their entire raison d'etre. Just go on their website, pick a base watch – the sleek Urban, rugged Basecamp or the Aqua (a diver, obviously) – and get going. The more you add, the pricier it gets but it'll never leave the realm of the eminently affordable.

Now, I'm not saying they're the best built watches in the world – they're better than most fashion watches, nowhere near most Swiss – but at this price point what do you expect? You're still getting a custom watch, designed by you (within the bounds of the Undone website) and sent to your door.

Of the lot the Urban has some of the more interesting custom options, especially in the vintage-inspired dials. As it's a quartz it's also the most affordable – and if you're not happy with your final choice, it's cheap enough to go round again.
8.Boldr Supply Co. About £299.00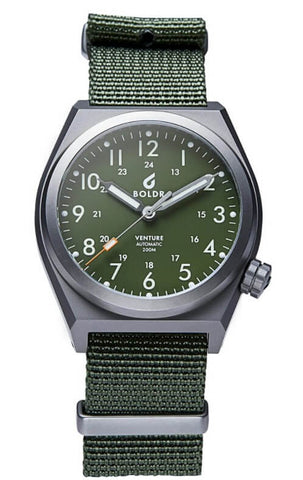 Field watches are in right now – well, they haven't really been out since the 1940s – and there are a fair few on the market, imitating either the Dirty Dozen or the American A-11. Boldr's is a little more individual than that, impressive given that generally a field watch is a field watch is a field watch.

At 38mm it's definitely tapping into the current need for retro sizing, and thanks to the titanium case feels light and comfortable even for a smaller timepiece. The off-centre crown gives it a nice bit of differentiation and it's particularly handsome in the jungle green, just shy of being a nod to military khaki.

It's also equipped with an automatic Japanese movement, boasts 200m water resistance, is slathered in lume and comes on a cool NATO strap.
9.Maen  About £269.00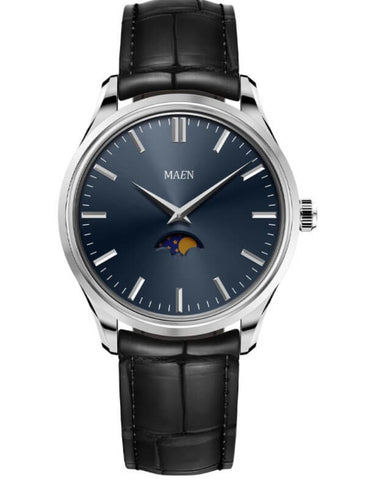 A return to New Amsterdam for the pair of Dutchmen behind Maen, the Brooklyn Moonphase is more classical than you might expect, given that its namesake is the hipster hub of New York. In fact, it's about as traditional as a quartz watch can get, with a lovely sunray dial and a svelte 39mm stainless steel case. That said, the polished lugs and bezel make for a nice contrast with the brushed (matte) case. It's subtle but a nice touch all the same.

The titular complication is also a little more subtle than many a dress watch would opt for, though that likely has more to do with the movement – a Swiss Ronda number – than the whims of the Maen designers. The yellow moon and stars stand out nicely in the midnight blue version of the Brooklyn; less so against the silver.

The rest of the watch is simple but well-done, from the faceted indexes and hands to the Italian leather strap, all adding up to a sophisticated modern dress watch for around £235.
10.Megalith  About £70.26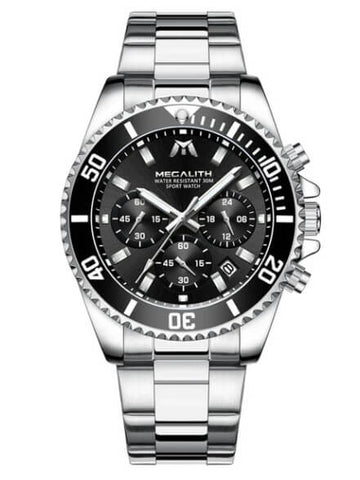 If you are looking for a stylish and versatile quartz watch. Then Megalith is very suitable for you.
The Megalith brand is designed for men, leading the trend of mens chronograph watch. Classic silver black face with analog display, elegant and reliable. The bezel can be rotated counterclockwise. Whether you are at work, leisure or at a banquet, you can wear this dress watch, which will be your best choice. A classic watch is an essential accessory for any successful man.

Japanese quartz movement and battery provide accurate time keeping. The watch can be used for more than 1 years. Multifunctional chronograph watch with 3 blue sub-dials for second, minute, 24H display. Luminous hands and time scales make it easy to read time in the dark. Calendar.

The durable smooth polished silver stainless steel band fits to daily wear. Fold-over Clasp with Safety, fits snugly and comfortable to prevent accidental opening and falling. Band length: Men's standard, Band width: 20mm. This mens wrist watch comes with a free tool for adjusting the strap length.

3atm daily life waterproof—water resistant to sweat, accidental rain and water splash. But not suitable for bathing, swimming or diving. High hardness mineral glass dial scratch-resistant. IP plating case never fade off.
You may interested in: