Even our traditional watches were not able to escape from the continuous technological advancement of our generation. Hence, smartwatches. And we're not complaining because it has become a very useful wearable yet still fashionable.
For this post, we'll focus on the best luxury smartwatches so you can expect premium quality products from some high-end brands but with high price tags too.We skip those astronomically priced smartwatches and focus on high-end watches we think are worth seriously considering.
Best High-End and Luxury Smartwatches
Alpina Seastrong Horological Smartwatch (AL-282LBGR4V6)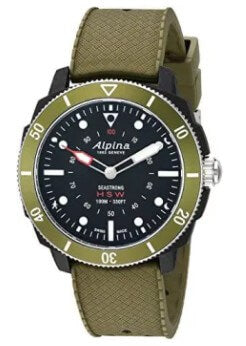 At first glance, the Alpina Seastrong Horological Smartwatch AL-282LBGR4V6 may seem like an ordinary analog watch. However, beneath the analog display, it is actually a smartwatch with the following features: activity tracking, sleep monitoring and cycle alarms, sedentary reminder, dynamic coaching, mobile notifications, and cloud backup and restore. All these functions are adjustable using the watch's crown.

For the watch specifications, the case is made of glass fiber and stainless steel while the crystal is made of scratch-resistant sapphire. Its 44mm black dial, moreover, is marked with luminous indices and hands. For timekeeping, it uses caliber MMT-282-1 with more than four years of battery life.

This smartwatch is Swiss-made and has a casual, quite sporty, look because of the moss green bezel and rubber strap. It is also water-resistant to 100 meters, making it suitable for water activities, swimming, snorkeling, but not diving.
Frederique Constant Horological Smartwatch (FC-285S5B6)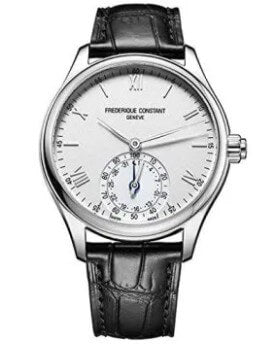 Frederique Constant was considered the first traditional Swiss watch manufacturer to launce a smartwatch when it launched FC-285S5B6 in 2015. However, the smart features of this particular watch model were developed in collaboration with MotionX. The information obtained from such smart features such as activities and sleep data is then displayed on the subdial located at 6 o'clock position.

Frederique Constant Horological Smartwatch FC-285S5B6 comes with a 42mm dial in a stainless steel case. The silver dial comes with silver-toned hands, Roman numeral hour markers, and minute tracker. It is then covered by sapphire glass and comes with a black croc-textured leather strap, thus completing a formal, classy look.

As a horological smartwatch, it comes with a Swiss-quartz movement, caliber FC-285, manufactured by Frederique Constant.
Mondaine Helvetica Smartwatch (MH1B2S20RB)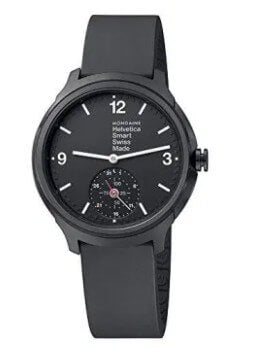 The Mondaine Helvetica Smartwatch (MH1B2S20RB) is a minimalist smartwatch that comes with an analog display on its black dial. Yet, despite its classic design, it is actually equipped with MotionX technology that may be paired with smartphones that are running on Android 4.4 or iOS 8, or later. Once connected, you may access various smartwatch functions such as activity and sleep tracking, smart sleep alarm, and get an active alert. It can also receive text, call, and email notifications for your phone. It also offers dynamic coaching as well as Cloud backup and restores. All these functions are adjustable through the watch's crown.
More so, this Mondaine Helvetica Smartwatch is Swiss-made, built with brushed stainless steel case, an anti-reflective sapphire crystal, and rubber strap. For the watch movement, it uses Quartz MOMT285-2. This smartwatch is water-resistant to 30 meters.
More so, Mondaine offers a two-year limited warranty and a 30-day money-back guarantee for this timepiece.  
Movado Connect 2.0
The Movado Connect 2.0 Smartwatch features an analog display on its dial with three digital subdials. These subdials serve as the smart module and are powered by Wear OS of Google.  The smart module shows the information gathered by the watch's accelerometer, altimeter, gyroscope, and NFC sensors. It can also display text and call alerts, social media notifications, and calendar events. It is also built with a heart rate monitor and Google Fit for activity tracking.

This classy smartwatch comes in a 42mm stainless steel case with a ceramic case back. Its dial is covered with gorilla glass crystal and that allows touch function. More so, the black ion-plate stainless steel bracelet is interchangeable. Should you observe any defect on its materials or workmanship, Movado offers a two-year limited warranty, provided that the smartwatch was purchased from an authorized retailer.
Montblanc Summit 2 Smartwatch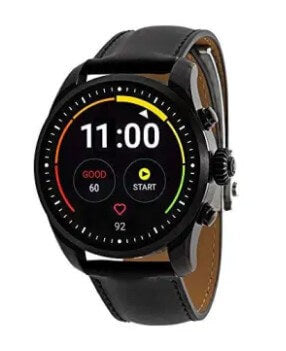 The overall look of the Montblanc Summit 2 Smartwatch seems traditional with DLC coated stainless steel case, three buttons on the side, and a 22mm leather strap. Its smart features, however, would be seen on the dial as it boasts of a digital display on its AMOLED screen.

Similar to the above-mentioned Movado Connect 2.0, the Montblanc Summit 2 Smartwatch uses Google's Wear OS technology. As such, it comes with the Google Fit app for fitness tracking. It's also built with a separate heart rate monitoring app and a Workout Coach app. There are also other apps packed within this smartwatch such as world time, weather, currency, and exchange rate. It is also equipped with NFC, which makes it compatible with Google Pay as well. More so, it has built-in GPS to help with your navigation. Even with all these smart features, Montblanc Summit 2 can still last a full day since it is powered by a 340mAh battery.
Garmin D2 Delta PX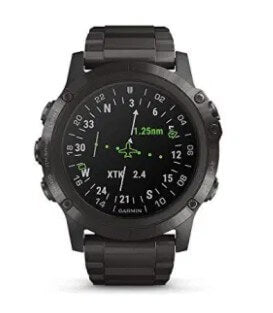 Garmin D2 Delta PX is a premium aviator watch. As such, along with various smart features, the PulseOx Sensor, and fitness functions, it also contains numerous aviation functions. This includes the NEXRAD weather, dynamic color mapping, airport data, automatic flight logging, and more. As mentioned, it is also built with the wrist-based Pulse Ox sensor that monitors your blood oxygen saturation so you would know if your oxygen levels are adjusting well once the air gets thinner at higher altitudes.

For fitness and sports tracking, it has a step tracker and sleep monitor among its basic functions. the Garmin D2 Delta PX is also equipped with the Elevate technology for heart rate monitoring. It also comes with preloaded activity profiles such as running, biking, swimming, rowing, etc. You may even use the Garmin Connect to download other advanced workouts.

You may even save up to 500 songs on the Garmin D2 Delta PX so you can listen even without your phone. It also allows Garmin Pay so you can pay directly using your watch. And, of course, it sends smart notifications from your phones such as text, call, email, and other app alerts. With all these features, Garmin promises that D2 Delta PX can last up to 20 days when in smartwatch mode only and up to 18 hours when using GPS and Pulse Ox Sensor.

With regard to its build, the case is made of fiber-reinforced polymer with metal rear cover while the bezel is made of titanium, and the dial window comes with a domed sapphire crystal. For the strap, you may use either silicone or titanium. This smartwatch is rated 10 ATM for its water resistance so you may use it even for swimming, snorkeling, water sports, but not for scuba diving.
Garmin MARQ™
The Garmin MARQ is a premium smartwatch collection of the brand that's built with high-quality materials and equipped with smart features specifically designed for its wearer. As such you can choose among the Adventurer, Athlete, Driver, Captain, Commander, and Aviator. So whether you're into aviation, automotive, marine, outdoor, or sports, you can have a premium smartwatch that's particularly designed for you.

Although each model has different smart features designed for your hobby or profession, all of them have the Firstbeat features. These are advanced physiological features that help monitor your health and performance more accurately throughout the day. Firstbeat features include the VO2 max fitness level, aerobic and anaerobic training effects, training load and status, lactate threshold, real-time performance condition, stress level test, recovery time advisor, body resources, heat and altitude acclimatization, and many others. Breitling
Exospace B55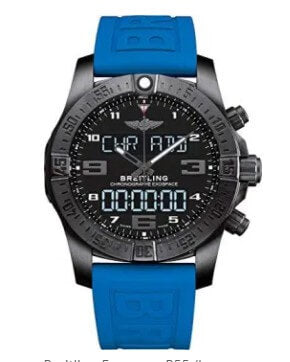 Breitling Exospace B55 is another luxury smartwatch built with aviation functions. It uses the SuperQuartz movement, a thermo-compensated quartz electronic suitable for both analog and digital display and promises extremely accurate movement. Its aviation functions include the electronic tachymeter, chronograph with lap and flight times, and flyback feature. It also includes other basic smartwatch functions such as end-of-life indicator, countdown timer, seven daily alarms, world time, and of course, smartphone pairing.

More so, it is Swiss-made with a titanium case, rider-tab bezel, glare-proof sapphire crystal, and durable rubber strap. It is water-resistant to 100 meters.
TAG Heuer Connected Modular 41 Men's Smartwatch SBF818000.11FT8031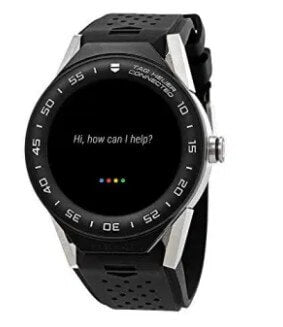 The TAG Heuer Connected Modular 41 is a Swiss-made smartwatch that was developed in collaboration with Intel. It has a sleek sophisticated look and boasts of premium quality build. It has a lightweight titanium body, a 2.5mm scratch-resistant sapphire crystal that covers the screen with anti-reflective coating, and a black rubber strap. The display is an AMOLED multi-touch that shows a digital dial. It is water-resistant to 50 meters and powered by a 345 mAh battery that could last a whole day in a single charge.
This smartwatch is also equipped with Google's Wear OS and is compatible with Android 4.4/ iOS 9, or later. It does not have a heart rate sensor but it comes with other functions such as accelerometer, gyroscope, tilt detection, microphone, ambient light sensor, NFC payment, alarm, timer, Bluetooth, etc. GPS tracking may be done if it is connected with your phone's GPS. It comes with 1GB main memory and 8GB internal storage.
TAG Heuer Connected Modular 45 Smartwatch SBF8A8013.32FT6110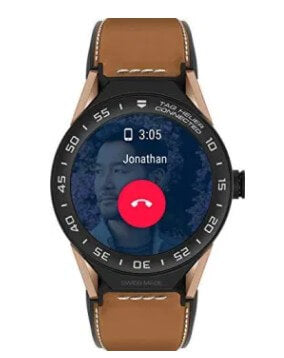 Another luxury smartwatch from TAG Heuer is the Connected Modular 45. It is mostly similar to the previously-listed Connected Modular 41 but this one has a larger screen, with a 1.39-inch AMOLED display and 400 x 400 resolution. This particular model comes with a stationary ceramic bezel, titanium case, sapphire crystal, and rubber/leather strap, making it both smart and fashionable.
For its smartwatch features, it is equipped with Intel Atom Z34XX chipset, 512MB RAM and 4GB internal storage. More so, it uses Android Wear 2.0 software. With these, the smartwatch can run simple apps and games. It is also built with NFC that allows you to use Android Pay directly from your wrist. For fitness tracking, again, it still doesn't have a heart rate tracker. It does, however, have a Google Fit Workout app that's preloaded with activity profiles such as running, cycling, treadmill running, etc. It also presents you with various challenges such as squats, sit-ups, and press-ups.

TAG Heuer Connected Modular 45 is compatible with smartphones running on Android 4.3 or iOS 9, and later. With a 410mAH battery, it can last a full day in a single full charge. It is also water-resistant to 50 meters.

More so, if you are a golfer, you'd be delighted to know that this smartwatch has a version dedicated to you – the TAG Heuer Connected Modular 45 Golf Edition. It is best partnered with the Golf app where you can access more than 39,000 golf courses across the globe. It also shows 3D maps of the course and tracks your progress. As such, it can also help you improve your golfing skills as it analyzes and makes comprehensive statistics. It even measures your distance from any hazards on the course such as greens, bunkers, water, etc.
Louis Vuitton Tambour Horizon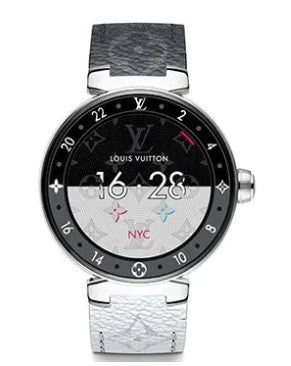 Since we're talking about luxury smartwatches, it's just right to end this list with a luxury designer brand – Louis Vuitton. Seeing this brand may be surprising for most, but yes, the brand actually showcases a smartwatch collection, the Louis Vuitton Tambour Horizon. The collection includes the Monogram Eclipse 42, Matte Black 42, Monogram Brown 42, and Pure White 42. All of which are fashionable and notably fancy. At the onset, you must know that this collection mainly focuses on those two and not on fitness or sports, so you can't expect the aforementioned watch models to have a heart rate sensor or GPS. Instead, its main features are travel-related.

The Louis Vuitton Tambour Horizon is your fancy travel accessory as it comes with the  LV Guide and My Flight. The LV Guide is similar to Yelp, just quite fancier. It guides you towards interesting places when you are in London, Beijing, Shanghai, Paris, Los Angeles, New York, or Tokyo. My Flight, on the other hand, helps you to get to your flight on time. It shows a timer around the watch face indicating the remaining time before your boarding. Once you are on the flight, it adjusts and gets smaller as you near your destination. It can also show your flight information.
All watch models in the collection also run on Android Wear 2.0. They also have 512MB of RAM and 4GM of storage for other apps and songs you may want to save directly on the watch. It promises of 22 hours or more of battery life; however, the downside is that its charging time is quite longer than most other smartwatches.
Closing Words
Have you found a luxury smartwatch to flaunt? The last one, Louis Vuitton Tambour Horizon, would surely be an eye-catcher. However, if you are a long time watch collector or enthusiast, you might prefer the horological smartwatches from Alpina or Frederique Constant since these brands are well-known for their craftsmanship as well. Any model from the Garmin MARQ collection is also a great choice to match with your hobby or profession.
You may interested in:
---