Well, the good news is, there are quite a lot of options. From super cheap and replaceable, to the more luxurious but not over the top priced brands.Swiss made watch brands like Rolex, Omega and Philippe Patek are renowned throughout the world for their quality, longevity and luxury. However, most of us cannot afford the thousands of dollars required to buy one, right?
That leaves the less rich people, like you and me, with the question: what are the most affordable Swiss Made watches on the market today?
So, in this detailed review I will show you, starting from the cheapest, what your options are for the best German watch brands.
1. Braun
You might not know Braun if you don't live in Germany or anywhere in Europe, but they have been around for decades.
And their most famous designer was actually the inspiration for many of today's Apple products. Even though very people realise his impact!
Braun had been making many consumer products for decades before they started dabbling in watches in 1977.
But it was not until their first true classic, the AW10 that was released in 1989, that Braun watches became a household name in Germany.
Today they are still taking their minimalist roots and design principals of Dieter Rams and producing truly unique looking, Bauhaus style watches.
Braun AW 10 Re-issue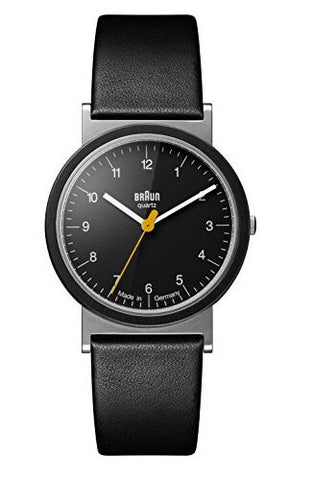 The re-issue of the AW in 2017 has meant that you now have access to one of the classic watches that comes out of Braun, and Germany as a whole. Its simple, minimalistic pure black face with clean Bauhaus Roman numerals and thin markers are what Braun is all about.
The white baton hands with the stand-out yellow second hand is also something of a trademark of Braun. Simple colors, then one element that absolutely shines.
The case is also a simple round affair, but the lugs are a unique design, and the crown is almost invisible. The final touch is the clean black leather band which brings it all together.
There are even cheaper Braun's available (more of those below), but this is such a classic I had to include it here.
*Japanese Quartz movement
*No complications
*Stainless steel case with a black leather strap
*Water resistant to 30m (99ft)
*Case size: 33 x 7mm
2. Zeppelin
Zeppelin is the sister brand of Junkers, a German watch brand you have probably heard of. They produce a very affordable range of old-style watches that take the cues from the early German watch makers and aviators that inspired them.
Of course, they also produce some more full-featured models including chronographs, but many of their watches are simple pilot or field style watches.
A classic field watch in many ways, this Count model has a specific retro-feel to it that many will love.
Zeppelin Men's 7642-5 LZ127 Count Watch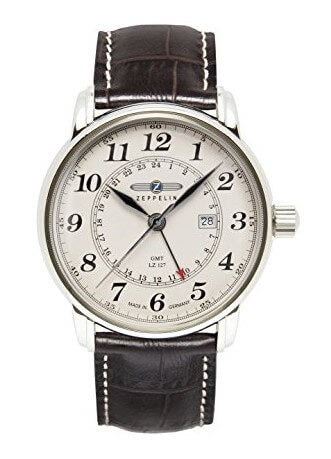 A classic field watch in many ways, this Count model has a specific retro-feel to it that many will love.
From the over-sized crown and hour indicies, to the fine minute train around the edge, all the fonts scream old school through and through. In terms of complications, at first glance it seems quite simple, but there is a small date window at 3 o'clock and a second hour hand, making this a fully functioning GMT watch as well.
It has an easy to read, high-contrast dial with a simple round steel case and stitched leather band that make it easy to wear every day or out on the town.
It is one of the most affordable watches in this review and the Zeppelin collection as well. And in case this is not the watch for you, there are further options below.
*Japanese Quartz movement
*Mineral glass
*Date window, GMT function
*Stainless steel case with a b、rown, stitched leather strap
*Water resistant to 50m (165ft)
*Case size: 42 x 11mm
3. Junkers Watches
While we are on the subject of Zeppelin, we might as well discuss Junkers. Another watch company with a deep German history, but some recent changes in ownership.

The brand was actually used by a parent company Pointec, owner of Zeppelin, but they underwent a name change to Iron Annie in 2018.  

The Junkers family now uses the brand to make their own Junkers watch in their father's land standing footsteps of German aviation, Bauhaus and minimalistic design.

They have a very distinctive style with a typical Bauhaus design that is clean, easy to read and does not normally have too many frills.

The glass was also typically domed, which is very distinctive of the brand, and will be interesting to see if the new owner's (the Junkers family) continue this trend.

Their triangular aviator style logo is another Junkers mark that is hard to miss, along with the clean lines and fonts that you would expect from such a Bauhaus inspired watch.

Below is one of the most popular models, along with a few other examples to whet your appetite.
Junkers Bauhaus Watch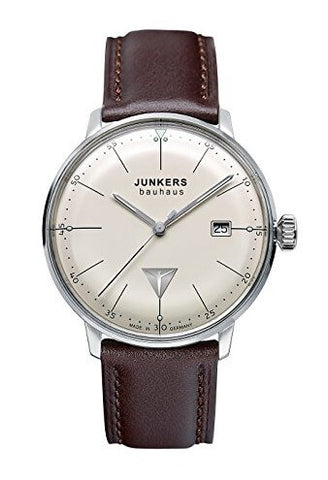 At first glance you can almost tell this is a Junker without any closer inspection. The clean, cream dial with thin hour marker lines and Bauhaus style fonts. The over-sized crown, an aviator classic, is also a giveaway too.

As I mentioned above. the domed glass is another Junkers element that most of their watches have always featured, and the triangular logo is at 6 o'clock, in contrast to the standard 12 you see on the majority of watches today.

It comes with a Swiss quartz and lightweight, scratch-resistant Hesalite glass too. But otherwise, it is a simple, minimalistic Bauhaus watch that fans of the style will love.

*Swiss Quartz movement (Rhonda 515)
*Hesalite Glass
*Date window
*Stainless steel case with a brown, stitched leather strap
*Water resistant to 50m (165ft)
*Case size: 42 x 11mm
4. Laco
You can't talk about German made watches without focusing heavily on the original pilots watches. And one of the true originals comes from the Laco watch company, who have been producing watches in Pforzheim, Germany since 1925.
That is nearly 100 years of watch making history, which outside of Switzerland is really quite a feat!
Laco Zurich 1925 Classic Pilot's Watch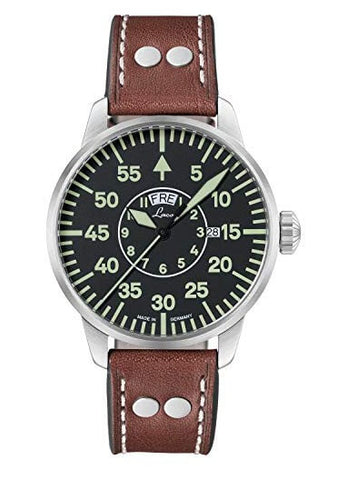 The Zurich Pilot's watch from Laco uses the classic Type B dial with the focus on the minutes, larger and on the outside of the dial, and the hours on an inside ring.
Of course, there is also the up arrow at 12 o'clock, to help with pilots with orientation and an easy to read lumed white on black – markers and hands.
The case is a simple brushed stainless steel, not to distract too much from the dial, and the strap a clean brown, stitched leather with retro style studs near the lugs.
Something a pilot would not have cared so much about back in the day is the day and date windows which are far more handy for the modern owner. You can also get the exact same model without these day/date windows.

*Swiss Quartz movement
*Mineral glass
*Date & Day windows, Pilots style markers
*Stainless steel case with a brown, stitched leather strap
*Water resistant to 50m (165ft)
*Case size: 42 x 12.6mm
5. Junghans
Going back even further, Junghans are a watch company that started producing in Germany back in 1861. They have followed all the trends, from clocks to wrist watches, and lead many themselves along the way.
They were one of the first to add lume to watches, helping us all read the time in the dark. And they are also renowned for producing the first watch chronograph, the J88, back in 1948.
Many of their current mechanical watches are still very Bauhaus in style, which is not surprising given their mid-1950s history with Max Bill.
They have faced some difficulties over the years, with the brand changing hands even more recently. But they are still producing these amazing German watches today.
Junghans Max Bill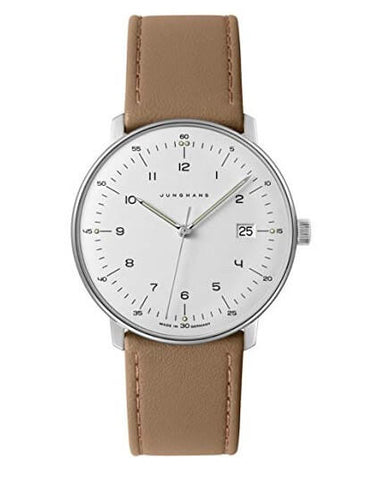 Junghans is very much on the path of Bauhaus, and this watch is a tribute to one of the originals from that movement, Max Bill, who worked with them on their watches back in the 1950s.
This watch screams Bauhaus too, in all the details. The clean, easy to read font along with the thin lines and hands.
There is almost nothing wasted on this watch, which is in keeping with the minimalistic style.
Another great attribute of this brand is that they are quality, but not super expensive, starting at around 300 and then moving up from there.

*Japanese Quartz movement (Cal. J645.33)
*Plastic crystal
*Date window
*Stainless steel case with a beige, stitched leather strap
*Water resistant to 30m (99ft)
*Case size: 38 x 8mm
6. ARCTOS - GPW Military
ARCTOS has a long history of watch production, dating back to 1923, so nearly a century.
They have also gone through many iterations and today are focusing on a new brand of watches they call the GPW Military line.

The idea is to bring back to life watches based on their history of supplying the military, and even NATO in the 1980s, not long after they created their first quartz watch.

How long they will remain in their current form is hard to say, but many of the most successful German brands have had difficulties and still live on today.
German Military Titanium Watch GPW Big Date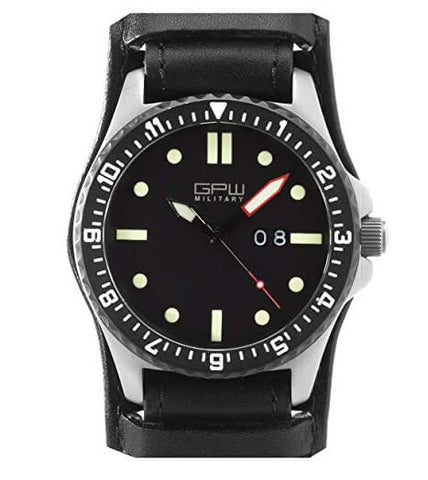 Very much a lightweight dive watch, this model from GPW is made from titanium, and has a sapphire crystal. Not something you would expect from such an affordable watch.
It has the classic dive (aka Submariner) features such a clean, high-contrast and well-lumed hour markers, a unidirectional bezel and protected, screw-down crown and caseback.
It also comes with 200m water resistance.
This is actually a model designed by one used by the German soldiers in the so-called KRK (Crisis Reaction Forces). Not something you can say about most watches you will own!
*Japanese Quartz movement
*Anti reflective sapphire
*Date window
*Sandblasted Titanium case with a black leather strap
*Water resistant to 200m (660ft)
*Case size: 42 x 12.5mm
7. MeisterSinger
A relative newcomer to the German watch scene, MeisterSinger was founded by Manfred Brassler in 2001.
He has a vast experience in watch making and had only recently sold his previous watch business when he started this one.
MeisterSinger is named after the singers of the Middle Ages, but the inspiration for his single-handed watches was to get people to slow down. Instead of looking at your watch and counting the minutes or seconds precisely, you are forced to take things slower as you do not know "exactly" what time it is.
The MiesterSinger watches are usually over one thousand dollars, which belies the amount of work that goes into producing their unique mechanical watches.
You are not buying a cheap piece of time to put on your wrist here, but a classic watch that has had a great deal of care and thought go into it.
MeisterSinger Pangaea Single-Hand Automatic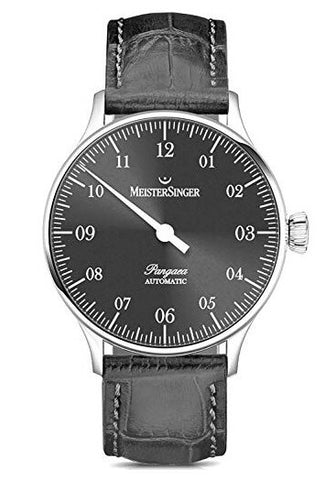 The Pangaea is a typical example of the single-handed watches from MeisterSinger with a very minimalistic and clean design.

However, unlike many of the Bauhaus inspired watches above, this one has a far more classic feel to it.

The Roman numerals are using serif style font, and the long pointy hand, designed to help discern the minutes in a single-handed watch, is also a more classic style.

The large crown is however very German as you could find such crowns on older pilot's watches.

Being a more expensive watch too, you get scratch resistant sapphire crystal and a Swiss made automatic movement inside. It is still a German watch brand you will want to buy, that's for sure!
*Swiss Automatic movement (ETA 2892-A2 oder Sellita SW 300-1)
*Scratch resistant sapphire crystal
*No complications
*Stainless steel case with a black, alligator strap
*Water resistant to 50m (165ft)
*Case size: 40 x 10.3mm
8. Nomos Glasshütte
Nomos are a renowned German watch brand who have actually only been making watches since 1990.
They were founded by Roland Schwertner in Glasshütte, the heart of German watch making (like the Jura in Switzerland) and have since become the biggest producer of mechanical watches in Germany.
They are always striving to do things better, and to beat the Swiss at their own game. Producing almost all the parts by hand with their precision team in their Glasshütte Chronometry department.
Of course, that also means that these watches don't come cheap. However, when you compare them to the cost of a high-end Swiss watch of equivalent quality, I would actually say they are quite cheap.
Nomos Tangente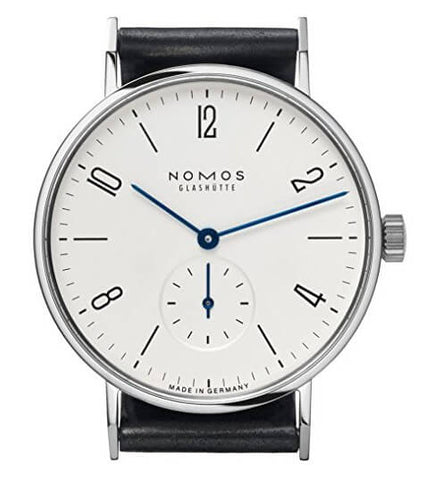 A classic from the Nomas collection, this is yet another German brand that is producing very Bauhaus inspired watches.
The clean font and markets, along with the cornflower blue, thin hands, are all hallmarks of the style.
The rest of the watch is elegant yet simple, which is Nomos through and through.
The true craftsmanship is not on display in their watches, as it is hidden in their hand-wound movements, that for once, are German and not Swiss made! And this is proudly displayed at 12 o'clock on the dial.
*German hand-wound movement
*Sapphire crystal
*Seconds sub-dial at 6 o'clock
*Stainless steel case with a black leather strap
*Water resistant to 30m (99ft)
*Case size: 35 x 6.2mm
9. Glashütte Original
The town Glasshütte is renowned as the center of one of the most historic German watch making areas. In fact, they began making watches here all the way back in 1843.
Of course, back then there was no Glasshütte Original, that came later, but this was when the seeds were sown.
The town has always been focused on watch making, and there are certainly a number of brands here today, but Glasshütte Original is the brand where all the expertise and machinery came together when it was under the control of the Soviets.
Today, they are focused on high-end German made watches, with the movements being made in Glasshütte and the case and dials being made in another German watch making center, Pforzheim.
The result, one of the great German watch brands that we can all admire today.
Glashütte Original Senator Seventies Panorama Date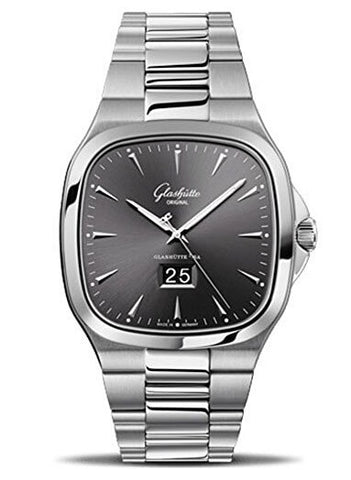 The Glasshütte Original Senator Seventies is an unusual shape that many will recognise from a distance It is again a very simple and clean design, but a little more refined and elegant than many others in this list.
The automatic movement is made by Glasshutte themselves, and has a power reserve of around 40 hours. The rest of the watch is classic in design with rectangular hour markers, and silver hands, with the only complication being a large date window at 4 o'clock.

*German Glasshutte Automatic movement
*Sapphire crystal
*Date window at 6 o'clock
*Stainless steel case and bracelet with
*Case size: 40 x 11.5mm
10. Sinn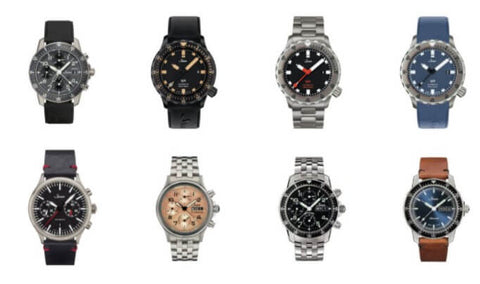 Sinn are a little unusual in the watch world, as they prefer to sell their watches direct to the public. They were founded by former aviator, Helmut  Sinn back in 1963, focusing on cockpit blocks and pilot chronographs. He since expanded the offerings significantly and then sold the business to the current owners in 1994.

They are still based in Frankfurt am Main, in Germany and only producing watches inside the country. However, they have opened up sales to other outlets besides being direct, with select watch sellers now able to stock them.

Unlike many of the other watches in this review, they are quite modern and complex, so you will certainly get a very different kind of watch from Sinn.
You may interested in: