Tissot is one of the biggest Swiss watch companies in the world. The brand, which has been around for more than a century, is known to produce watches that are high-quality yet relatively affordable—most of its luxury timepieces are priced around $1,000, but it also offers many watches well under $500 which makes it one of the more affordable Swiss brands.  
If you're curious about the company's technology and designs, read on. We'll look at both old and new models, as well as the ones that have received good reviews online. The brand has extensive collections of watches, so we'll help you narrow down your choices.
In 1907, the company built its factory at Chemin des Tourelles in Le Locle. This is the period where the company started producing innovative watches for men and women. In 1917, Tissot was already producing its own movements.
It was in 1983 that Tissot became a subsidiary of the Swiss Swatch Group, the largest producer and distributor of watches all over the world.
Best Tissot Men's Watches
In no particular order, here are some of the best Tissot watches for men. These watches are here because they are best-sellers, they have received good reviews or both. We'll be featuring watches off the brand's different collections, so there will be a wide array of technologies and materials to choose from.
Tissot Tradition Men's Watch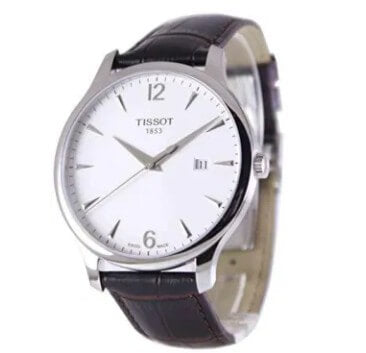 The Tradition watch for men has a subtle, classic design that will look good in both casual and professional settings.
The Tissot Tradition collection has nine different variations, so you will have lots of styles to choose from.
With a retail price of $300, this 44mm watch has a stainless steel case, a domed scratch-resistant sapphire crystal, and has both Arabic and index markers, and leather or stainless steel straps.
One of the features that users love about this watch is the elegance and simplicity, a good watch to have if you're looking for an everyday watch that will also double as a dress watch.
Tissot PR 100 Men's Chronograph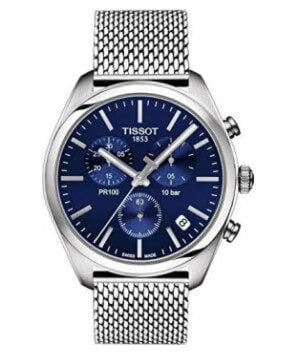 The 41mm Tissot PR 100 Chronograph has an aesthetic that the brand describes as having a luxurious and classic style, is off Tissot's T-Classic collection.
This variation has a unique anthracite dial color (think an earthy, dark gray shade) and a gray stainless steel strap. It's also 100m water-resistant and has a stainless steel case with a rose gold PVD coating. Some of the most notable features include a 30-minute and 1.10 of second counters and a central 60-seconds chronograph hand.
The other models have different colors and case materials such as stainless steel bracelets, and case colors like blue and black. All of the models are legible and simple, making them perfect everyday watches that are easy to pair with different outfits.  Its motor-sport inspired cousin, the PRS 516, made our list of best Chronograph watches under $500.
Tissot XL Classic Chrono Watch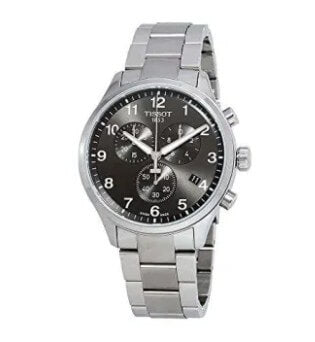 If you're looking for a big, legible watch, the Tissot Chrono XL Classic is an excellent choice. At 45mm, this timepiece is one of the brand's biggest chronograph collections. According to the Tissot website, this watch would be excellent for those who are looking for a chronograph that's both sporty and elegant.
This watch, which is off the brand's T-Sport collection is water-resistant to 100mm, has a scratch-resistant sapphire crystal, and a buckle with folding clasp with push-buttons. You can either choose between leather or a stainless steel bracelet, and among colors such as silver, black, and blue.
One of the older versions of this watch was released in 2017. The Tissot Chrono XL has a more youthful look, having large and stylish Arabic numerals (12, 3, 6, 9), as well as a rugged leather strap or a metal bracelet.
Tissot T-Race MotoGP 2019 Chronograph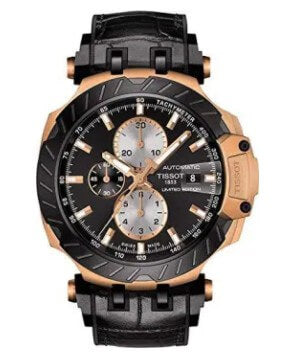 This automatic chronograph is a limited edition of Tissot's most popular chronographs. Inspired by motorbike racing, this line has a caseback that has the shape of a motorcycle wheel. The automatic movement can be seen in the transparent case back.
One of the most iconic features of this 48.8mm x 25mm watch is the bezel, which is shaped like a brake disc. Other notable features include a power reserve of 45 hours, a scratch-resistant sapphire crystal with anti-reflective coating, and a strap that is described as an "embossed cow leather alligator look alike."
This is an excellent give to someone who likes the sport. Aside from the exclusivity (it's only limited to 3,333 pieces), the packaging is also something to admire. The case of the watch resembles a motorcycle helmet.
Tissot Everytime Watch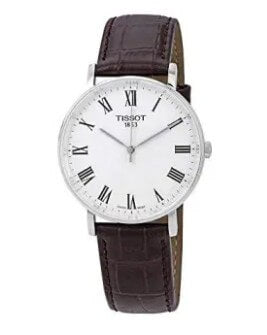 The Tissot Everytime collection has a wide array of models to choose from—a crowd-favorite, so we'll be featuring two models on this list.
Like the Tissot Tradition line, this collection has watches that are sleek and simple, which will allow you to easily wear it in different settings. The clean face is minimalist, which Tissot said may allow the wearer to experiment on the bracelet.
The Tissot Everytime Medium is a 38mm timepiece with a scratch-resistant sapphire crystal. This has a number of versions: stainless steel or leather bands; index, Arabic, or Roman indexes; and white, yellow gold, and black cases.
The Tissot Everytime Large line, as the name suggests, is a bigger version (42mm). There are a number of versions to choose from, like: stainless steel, leather, and fabric straps; Arabic and indexes; and white or black cases.
Tissot Tradition Men's Chronograph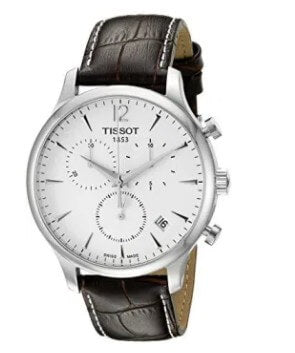 The Tissot Tradition Chronograph is described as having a high-tech operation "perfectly balanced with classical details and subtle vintage-look finishes, the collection has watches that have a clean, classic look and the precision that Swiss watches are known for.
These chronographs, priced at around $400, boasts of a slightly-curved case and an attractive guilloche decoration. Its main functions include 30-minutes and 1/10 of second counters, 60-seconds chronograph hand, and add and split functions.
There are a lot of functions on the case, but because these are 42mm chronographs, there's plenty of space—it's not crowded, and can still have a minimalist, clean aesthetic. A lot of customers have praised the sleekness of this model, with many saying that it's an excellent dress watch that can be worn casually as well.
Tissot Tradition Perpetual Calendar
If you're looking for a watch with a perpetual calendar, you can also consider the Tissot Tradition Perpetual Calendar models. Available in three styles, this line from the Tradition collection has a perpetual calendar with day, date, and month function.
Inspired by vintage design from the 1950s, the Tissot Tradition models are 42mm watches that are water-resistant up to 30m, a domed scratch-resistant sapphire crystal, and have indexes and Arabic markers. Like the Tradition Chronograph, this is also a big timepiece that is able to maintain a legible and uncrowded aesthetic despite the size.
Tissot Seastar 1000 Powermatic 80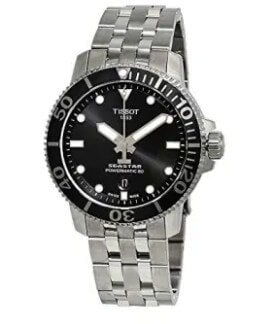 The Seastar 1000 Powermatic 80 is water-resistant to 300m, so it's great for those looking for a watch for diving and other water sports. Some of the best diving features of this watch include a unidirectional bezel, luminescent hands and markers, and a strap with a safety buckle. Design-wise, it's also a very sleek and handsome watch that can be used every day or on more formal occasions.
This watch (as well as its chronograph version) continuously receives excellent reviews from experts and owners, with some saying that this could be one of the best value Swiss divers out there.
This review tested the watch for a week and highlighted many strengths like a reliable movement, the comfort, the sporty look, and most importantly, the value for money—a high-quality sports watch that is not exactly cheap, but won't break the bank either.
Tissot Chemin Des Tourelles Powermatic 80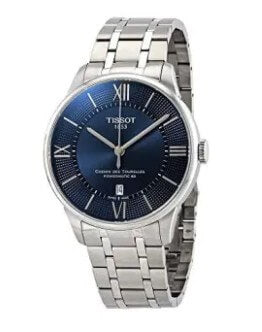 Unlike the most watches we've discussed so far, however, the Tissot Chemin Des Tourelles Powermatic 80 is only water-resistant to 50m, so it can only take some minor splashes and is not recommended for use in water. Other features include a see-through case back, a butterfly clasp with push buttons, and a domes sapphire crystal.
If you want something historical, this is the model you can consider. This watch was named after the street in Le Locle where Tissot's factory opened in 1907 (and where it continues to exist today). Combining elegant contemporary design and a luxurious appearance, this 42mm timepiece has a lot of designs to choose from.
Tissot T-Touch Expert Solar II Swiss Edition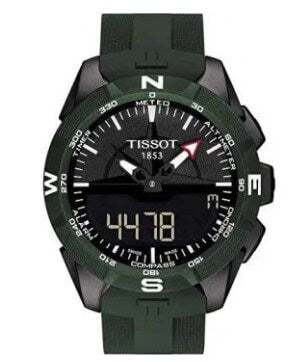 For the adventurers, there is the Tissot T-Touch Expert Solar II, a solar-powered (it gets its energy from both natural and artificial light sources) tool watch that's packed with features for the outdoors (including meteo, chrono, altimeter, compass)
What sets this watch apart from the others that we have featured so far is that it has a touchscreen. This line is commonly compared to other brands that have similar features such as the G-Shock.
Some of the other notable features of this watch are a countdown timer, regatta, a perpetual calendar, two alarms, and an accumulator charge indicator.
You will not have a difficult time looking at the time and navigating in darkness as the inscriptions on the bezel are powered by Superluminova. It's also scratch-resistant with an anti-reflective coating and has different straps (silicone, leather, and titanium).
Tissot Gentleman Automatic Watch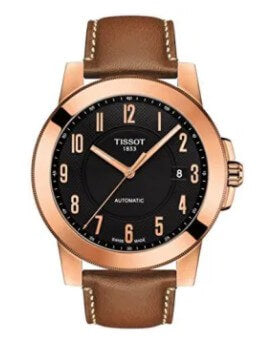 We'll cap off the list with a watch that continues to get raving reviews from the experts and aficionados, the Tissot Gentleman Automatic
The Gentleman Automatic collection has a small collection of handsome and elegant timepieces that can be used every day, and will also look excellent when worn as a dress watch—it's modest and elegant at the same time.
One of the things that makes this watch powerful is the stainless steel case with an 18K rose gold bezel. Tissot managed to include this feature and maintain a relatively modest price range—what this review describes as a price category that's "nearly universally associated with gold-plating."
This model is water-resistant to 50m, has a power reserve up to 80 hours, and has a domed scratch-resistant sapphire crystal. The four varieties have leather or stainless steel straps, all with a butterfly clasp with push buttons.
There's another version of this watch called the Tissot Gentleman Swissmatic, which is bigger at 44mm and has two versions–one with a stainless steel case with rose gold PVD coating, and another with the same steel case but with a black PVD coating.  
Comparison Shopping: Tissot vs Other Brands
One of the brands that are commonly compared with Tissot is Citizen, a Japanese watch company that was established much later, in 1918; and Hamilton, a watch brand that is also under the Swatch group. Being Swiss, and due to its price point, Tissot also often gets compared head-head with brands such as Movado.
Thanks for reading!
We hope this article provided you with ideas on Tissot's technology and designs. There are simply a lot of models to choose from—if you didn't find anything you like, you can use these models as a starting point of your research.

The Tissot website divides the watches into different segments and has individual pages for each watch, so it will be easy to look for the ones that suit your preferences. There is also a Store Locator page for those who would like to visit a Tissot shop or official resellers.


You may interested in: