If you have a tough job like being a law enforcement officer or first responder, it's important to choose a watch with long battery life, luminous hands, and rugged build quality that can take a ton of abuse. If your hobbies involve adventure or even high-risk activities where you're in the wilderness or off-road,  you'll want a reliable watch with practical features. This is where the tactical watch shines.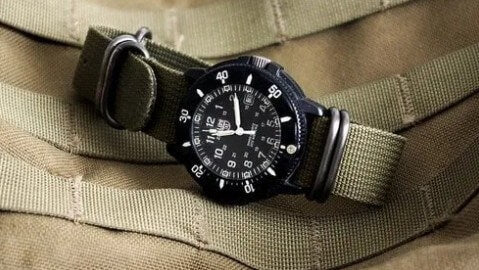 Luckily for all of us, the technology packed into some of today's best tactical watches has radically improved in recent years. Some of these watches provide GPS to pin-point your position and topo maps to plot your best route. Premium smartwatches include advanced features from weather tracking to monitoring detailed health metrics. 
So whether you need a watch for your weekend wilderness adventures or seeking a high-tech military-grade watch to track your ballistics on the shooting range, we've got something for you on our list of recommendations.
Best Tactical Watches
Timex Men's Expedition Classic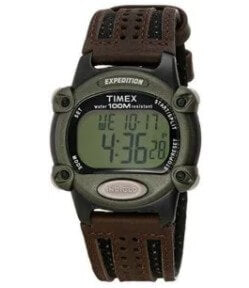 First on the list, is an affordable budget pick – the Timex Men's Expedition Classic. It has an overall casual design that will look good on you in any of your missions or adventures.
Its 39mm case is made of resin-covered by a scratch-resistant acrylic dial window, paired with the green band made of mixed leather and nylon with a buckle clasp. This timepiece weighs only 3.20 ounces.
It has a digital display that primarily shows the time as powered by a Japanese quartz movement. Yet it also shows the day of the week and the date on the default display just above the time. It also has the usual stopwatch, countdown timer, and alarm functions. Its dial is also equipped with an Indiglo backlight that will allow you to see the display even at night.
The Timex Classic Expedition is resistant to water up to 99 feet deep making it suitable even when you're swimming or snorkeling, but not for diving. It also boasts of durability that can withstand your usual outdoor adventures.
Garmin Tactix Charlie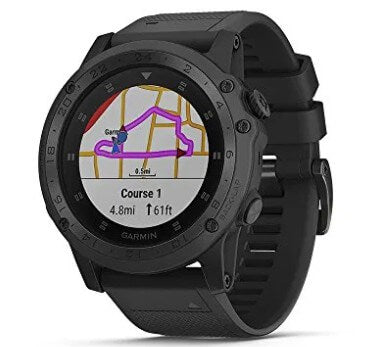 From Timex's affordable watch, next comes a top-of-the-line choice from Garmin – the Garmin Tactix Charlie. Although quite pricey, this timepiece proves that it is worth every cent that it costs as it is fully packed with all the features you could think of.
This smartwatch, or "superwatch" as some would call it, has a 1.2″ high-resolution, sunlight-readable display. You can have the time displayed over personalized backgrounds and with the face you chose.
You may use it as a smartwatch by connecting to your phone using Bluetooth or Wifi. It can receive your notifications, phone alerts, and you may even control your music and camera.
If you are into fitness, then this watch could still be your buddy. It can monitor your heart rate, calories, pace, distance ran, and so much more.
You can also choose from various sport modes such as golf, swimming, running, biking, hiking, skiing, etc. It even has a Jumpstarter feature for skydiving that provides necessary data of your descent and altitude.
For your tactical needs, the Tactix Charlie is equipped with Jumpmaster, dual-position GPS formatting, waypoint projection, and preloaded tactical activity. It can also connect to GLONASS and is even pre-loaded with topo maps. You will certainly never be lost.
Making it tough and durable is the case made of reinforced polymer with titanium black plate. The bezel, on the other hand, is black diamond-like carbon (DLC) titanium. This rugged feature is not just up to the design; instead, this smart timepiece also boasts that it will be durable enough to go with you through your every activity.
Garmin Tactix Bravo
Next is another high-end smartwatch from – the Garmin Tactix Bravo. It's another Garmin timepiece that comes with a rugged design. It features 1.2″ high-resolution Garmin Chroma Display that provides day mode and night vision goggle compatibility.
It comes with interchangeable 3-ring nylon straps in black and olive drab. Its case and buttons, on the other hand, are made of protective stainless steel with reinforced housing for higher durability.
Just like the Tactix Charlie, the Tactix Bravo is equipped with tactical-related features such as the Jumpmaster, projected waypoint, and dual-format GPS position. It also has a built-in altimeter, barometer, and compass.
Does it display time? Certainly! You can even customize the watch face and even add some data fields of your choice.
You may also connect the Garmin Tactix Bravo to your phone so you can receive phone alerts, texts, and email notifications.
Garmin Tactix® Delta – Solar Edition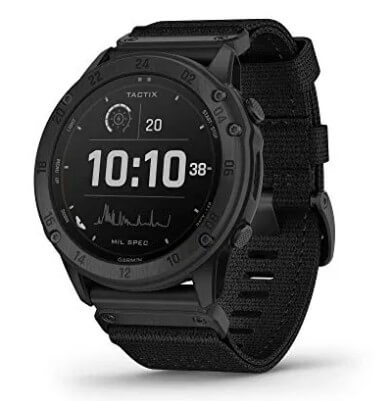 In 2020, Garmin launched a new line of solar watches including two new versions of the Tactix® Delta – Solar Edition and a special model with Applied Ballistics for long-range shooting. The new models have 24 days of battery life making them a reliable solution for even the most serious adventures.
Based on military standards (MIL-STD-810), it has an that is exceptional physical build quality with the rugged design yet sophisticated features including a large 1.4″ digital display, scratch-resistant sapphire lens, a black DLC-coated steel bezel, a black PVD-coated steel rear cover, and a black nylon QuickFit band and exposed black metal hardware.
Apart from its tactical features such as mapping, advanced training, the Delta Solar has advanced security features including "Stealth Mode" that keeps the watch operational but stops storing and sharing your GPS position and disables wireless connectivity and communication and a "Kill Switch" that can be used to wipe the device of all user memory. The screen is also designed so it can be read when wearing night-vision goggles.
Casio Men's Pro Trek PRW-6000Y-1ACR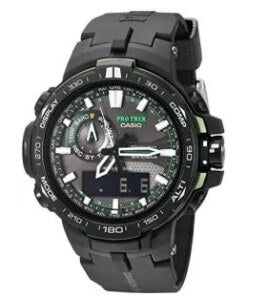 If you want a high-end tactical watch but not a smartwatch kind, then you may opt for the Casio Men's Pro Trek PRW-6000Y-1ACR – a sports watch that features both analog and digital display.
You might be concerned that the analog display might hinder your view from the digital window. Worry no more because it has an auto hand shift feature that temporarily moves the hands away to clear your view of the digital window when you want to check the displayed readings.
This tough watch comes with a rechargeable battery that is being recharged using solar power through the panel installed onto the face of the watch. It can also stay fully functional for 5-23 months even without exposure to any light source.
It is also equipped with an altimeter, digital compass, barometer, thermometer, world time and allows you to set at most 5 alarms within the day. It's water-resistant for 100m deep.
Timex Men's Expedition Gallatin Watch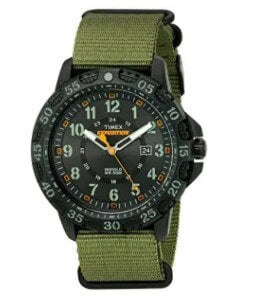 Next is another affordable option – the Timex Men's Expedition Gallatin. It features a rugged style with a resin case and tough construction for outdoor use. More so, it is covered by Timex's limited 1-year warranty.

It is a lightweight watch with an Easy-Set Quick-Date feature, an Indiglo Light-up dial, and water resistance up to 50 meters.
Suunto Traverse Alpha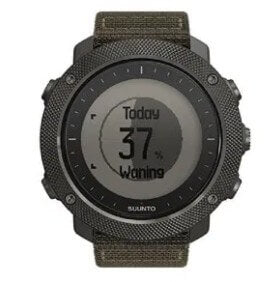 Another smartwatch option for your tactical needs is the Suunto Traverse Alpha. It has combined a strong, durable build and a set of features for your outdoor needs. As such, it is also equipped with GPS/GLONASS navigation system.
The Suunto Traverse Alpha is also equipped with a digital compass and is compatible with the Suunto Movescount web app. With these, you will always be able to locate yourself even in the middle of newly-visited terrain.
This smartwatch is also perfect ifyou are into hunting and fishing as hobbies. It has an automatic detection feature that will keep track of your shots. If you want to, it can also notify you of sunrise and sunsets so you could plan your shots for the day.
More so, Suunto Traverse Alpha is engineered with stainless steel bezel, nylon textile strap, and a premium scratch-resistant sapphire crystal glass. To ensure its durability, it was even tested and passed military standards (MIL-STD 819G).
As a smartwatch, you may also sync your phone alerts, texts, calls, and email notifications. The battery will last up to 14 days in simple watch mode and up to 10 hours if GPS will be fully functional.
SUUNTO Core All Black Military Watch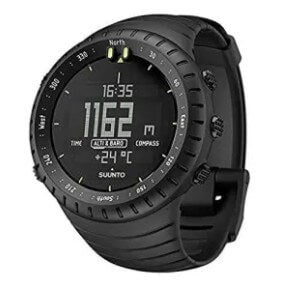 Another option from Suunto is the Suunto Core All Black Military Watch. It's one of the classic models from Suunto's line of military watches. It showcases a 1.9″ round dial with a digital display and covered by a scratch-resistant mineral window. To complete the outdoor sports watch look is the wristband made of resin.
It is equipped with an altimeter, a barometer, a compass, and a thermometer. It also keeps a weather trend graph, shows sunrise/sunset times, and even notifies you of an approaching storm.
All in all, it weighs only 2.26 ounces and is covered by a 2-year limited manufacturer's warranty.
Casio Men's Pathfinder PAG240-1CR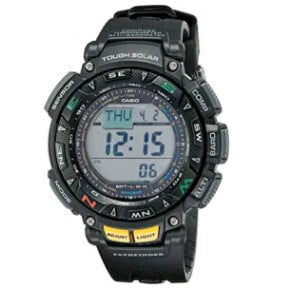 Here's another black watch option for you – the Casio Men's Pathfinder PAG240-1CR. Similar to the previous Casio watch on this list, this one's also solar-powered. You won't have to concern yourself about needing another battery.
Although, the battery can only last for at most 6 months without exposure to light. Anyway, it also has a battery power indicator to remind you to expose the solar panel to the sun in order to recharge. If you need a longer time before you can recharge, you may use the watch's power-saving function.
Also included in its features are a digital compass, altimeter, barometer, and thermometer. With these, you don't have to worry about getting lost in the outdoors.
It is also packed with world time, sunrise/sunset times, along with timers and alarms that you would expect even from ordinary digital watches.
Casio Men's Pathfinder PAG240-1CR comes with a digital display and uses quartz movement. Its case is made of stainless steel while the dial window is made of mineral crystal.  
Casio G-Shock Mudmaster Watch GG1000-1A8 WT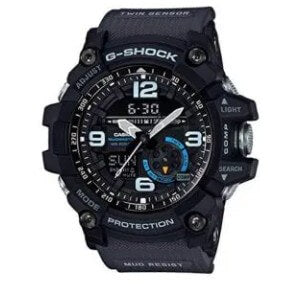 When it comes to toughness and durability, the Casio G-Shock Mudmaster collection provides a wide range of options for you. So next on the list is the Casio G-Shock Mudmaster Watch GG1000-1A8 WT.
Along with other models from the Mudmaster collection, it boasts of being mud-resistant, dirt-resistant, shock-resistant, and 200m water-resistant. It also has a Twin Sensor function that can tell you the temperature and your direction.
It features a high-luminosity LED backlight, auto light switch, world time, alarms, timers, and low battery indicator. It also has both analog and digital displays and uses a Japanese Quartz movement.
The case and band are both made of resin and the dial window is made of mineral. This timepiece weighs 8 ounces.
Casio Men's GW9400 Rangeman G-Shock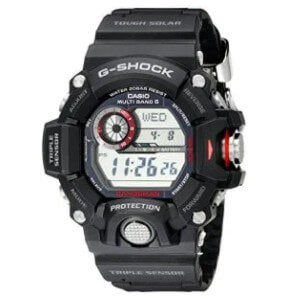 Following is another Casio G-Shock option – the Casio G-Shock GW9400 Rangeman. It's another solar-powered digital watch and boasts of its ABC sensor technology. This triple sensor stands for altimeter, barometer, and compass.
Its rechargeable solar battery is good for 7 months. The watch has a battery level indicator to tell you when you would need to recharge soon. Anyway, it also has a power-saving function.
In addition to the triple sensor, it is also shock-resistant, mud-resistant, and 200m water-resistant. Its case and buttons are protected and sealed so that mud, dust, and even simple dirt won't get through the watch.
When it comes to timekeeping, it uses multi-band atomic from Germany, UK, the US, Japan, and China. It also shows world time from 31 different time zones, alarms, timer, and sunrise/sunset data.
SureFire 2211 WristLight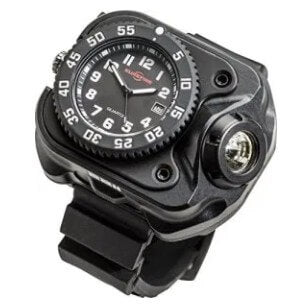 Looking for something more unique? Or maybe you need something that would also be helpful at night? Then SureFire 2211 WristLight is the one for you.
SureFire2211 comes with a round tactical watch face that features large hour digits and glow-in-the-dark hour hands as well as a date window at the 3 o'clock position. What makes it unique is that the watch face is attached to what the brand call the "2211 Signature". It is a bulky rectangular body wherein you would find some outstanding additional features.
First, on the right side of the 2211 Signature is an LED light called the MaxVision Beam. It can provide three different levels of light – at 15 lumens, 60, and 300 lumens maximum. You will find the switch for this at the top and bottom part of 2211 Signature body.
On the other hand is a micro-USB port. This serves as the watch's charging port as it is powered by a rechargeable battery that is expected to last for about 2-3 years.
Casio Men's G-Steel by G-Shock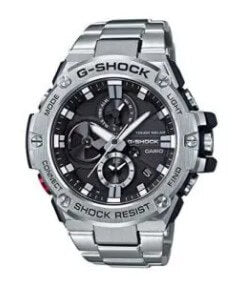 If you're looking for a unique tactical watch in a more classy style, then the Casio G-Shock G-Steel may be the one for you. It combines premium materials for a tactical watch, elegant design, and Bluetooth technology.
First, what's the Bluetooth technology for? Is it a smartwatch? No, it is NOT. But, Bluetooth allows you to pair this watch with your smartphone. By doing this, your watch time is automatically being set four times a day. Smartphone connection also allows you to quickly access other features of your watch as the world time, alarms, timer, and stopwatch.
But that's not the only outstanding aspect of the watch. Its bezel is made of carbon fiber, making the watch tough while also looking classy. It was also constructed to be shock-resistant, so as tactical watches go, it can surely withstand impacts from everyday life.
It is also equipped with a bright LED light to help you through the night. And you won't even worry about this light consuming your watch's battery because hidden behind its elegant design is a solar panel. As such, the battery is rechargeable even only with some light.
Luminox Men's 8831.KM Recon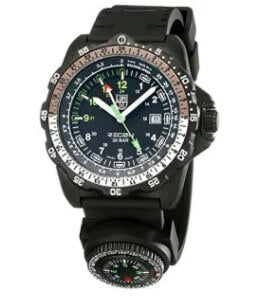 At first glance, what you will immediately notice about the Luminox Men's 8831.KM Recon is the markers and numbers around the watch face. You may easily get confused or overwhelmed with all the tiny lines around but as you found their functions, then you will get familiar and reading through all these markers would be easier.
This Luminox timepiece features an analog display with the date window and the crown located at the 3 o'clock position. It has a black dial, luminous hands and index, as well as bold Arabic numerals.
The next set of markings is called the walking speed tachymeter. Basically, its function is to tell you how fast are you walking. In addition to this, you have another navigational feature on the strap – a magnetic compass with a rotating navigational ring.
Marathon Watch WW194013 Navigator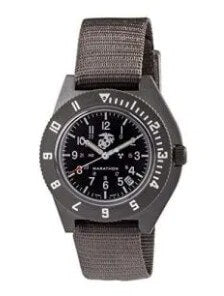 Another timepiece worthy to be included in this list is the Marathon Watch WW194013 Navigator. This one's specifically engineered for military personnel, particularly for pilots and paratroopers. It strictly follows the military specifications under MIL-PRF-46374G.
Along with other Marathon watches, this one is Swiss-made, specifically in Chaux de Fonds, Switzerland. The watch is protected by a high-impact fiber-shell case and domed acrylic crystal dial window.
It also features self-contained Tritium gas tubes to illuminate the watch components in low light situations.
Buying Tactical Watches: What to Consider
Now that we've presented the best tactical watches, here are some features that you may want to look into.
Durable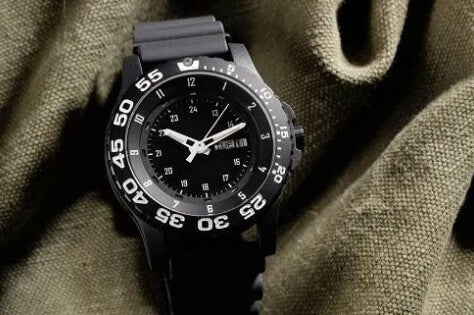 Considering the situations where you might expose your watch, this is the first thing that you should look into. Is the watch made of high-quality materials? You would want your watch to be as tough as you are so that you won't have to worry about suddenly breaking it.
Water resistance
Not all tactical watches are the same when it comes to water resistance. Some are resistant for only 30 meters, others for 50. There are even a few that you can take to scuba diving as they are resistant to 200-300 meters.
Before taking your watch to the water, remember the specifications of your watch to make sure that it will still function when you get out of water.
Reliable power source
No matter how great your watch is or how many features it packs, they will all be futile if your watch suddenly runs out of power. So you may want to take a second or even third look at your watch's power source.
Watches with solar-power are your best options. Since their battery will recharge through light, then you will be assured that it will not die down (unless of course, if there's an apocalyptic scenario where the sun will not shine for months and there'd be no other source of light).
In 2020, Garmin launched a new line of solar watches including a new solar version of the Tactix® Delta Solar which would be our top choice since an upgrade to an already premium tactical watch.
Luminescence
It's also highly probable that you will need to go on missions at night. As such, you'll prefer a watch that will glow in the dark or those that have other lighting features.
Shock-resistance
Will the watch withstand impacts and/or vibrations? If you suddenly hit your watch onto something will it remain intact or will it be broken to pieces?
Given the lifestyle that you might have, you would want a watch that will be able to survive sudden hits or falls. Again, the material used in the watch is another important factor in this.
At this point, we hope that you were already able to choose a tactical watch that best suits you.
You may interested in: