Ceramic is probably the least understood material used in watches. Nowadays, many watch manufacturers use ceramic – Rolex, Omega, IWC, Rado, Hublot, to name a few. Are you planning to buy a ceramic watch? Before you do, read this article on ceramic watches pros and cons.
What Are Ceramic Watches?
Over the last century, watch companies have experimented with a variety of watch materials. From precious metals to carbo-tech, watches can be made of almost anything. One such material is ceramic. The case, bezel, and bracelet of a watch can be made of ceramics. Before we discuss ceramic watches pros and cons, we must first answer the question, "What is ceramic?"
Ceramic is any material that is solid, inorganic, and non-metallic. Manufacturers make ceramics using pure materials and metal compounds. Some brands combine the powder with alloys to create a variation of the material.
The ceramics used in watches are different from those used in cookware or pottery. It is more similar to the ceramic used by NASA in their satellites and space shuttles.
NASA uses ceramic fiber and coating to protect its equipment from heat and other forces in space.
To create ceramics, chemicals like silica are super-heated until it is molten. After the ceramic has cooled, it is milled into the desired shape and polished. During the heating and cooling process, ceramic can be changed into a variety of colors.Other chemicals are added to create ceramic that can be turned into fibers or a powder-type coating. This is the ceramic used in watchmaking.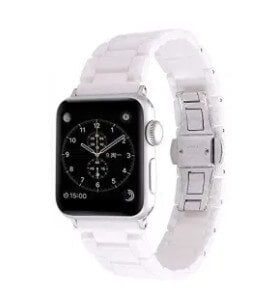 Ceramic Watches Pros
Here are some of the biggest advantages of ceramic watches.
Pro: Wear Resistance
Ceramic is known for its hardness, especially when compared to steel or gold. This material is usually three or four times harder than stainless steel. It is virtually scratch proof and won't show signs of wearing, even after so many years.
Additionally, ceramic is unaffected by ultraviolet rays, meaning the color won't fade even if exposed to sunlight. Some brands use ceramics in sport and dive watches because it can withstand chemical erosion.
Pro: Lightweight
Although it looks heavy, ceramic is lightweight. It is lighter than most metals and can rival aluminum on the scale. Ceramics are light, usually ranging from 2 to 6 g/cc, most of them being around 3 g/cc. They are lighter than stainless steel (8 g/cc) and titanium (4.5g/cc). Therefore, a ceramic watch is light on the wrist and is comfortable to wear.
Pro: Hypoallergenic
Because ceramic watches don't contain metals, they are considered hypoallergenic. Unlike steel, ceramic doesn't rust and is more resistant to corrosion. Most people, even those with sensitive skin, can wear a ceramic watch without experiencing skin irritation or an allergic reaction.
If you suffer from a nickel allergy, a ceramic watch could be a great solution.
Pro: Great Option For Black Watches
Ceramic watches come in different colors. In particular, ceramic is an excellent material to use for blacked-out watches. Unlike coated metal watches, the color of ceramic watches is a characteristic of the material itself, making it resistant to fading and wear.
Pro: Heat resistance
Compared to titanium or stainless steel watches, ceramic watches are less likely to heat up quickly. This is a major benefit if you work in a hot environment and one of the reasons why some of the best watches for chefs are ceramic or at least partly made of ceramics (the watch band or bezel).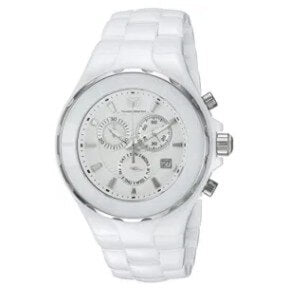 Ceramic Watches Cons
Apart from all the benefits we discussed above, there are some disadvantages to also consider before buying a ceramic watch.
Con: Potentially Brittle
While ceramic is scratch resistant and durable, it's not immune to shattering (mainly due to its molecular structure). If a ceramic case falls and hits a hard surface, there's a good chance it may shatter.
Con: Difficult to Make
The processes involved in making ceramic are complicated. Heating and cooling takes a lot of time and is difficult to control and machine. Once molded, the ceramic needs to undergo polishing to smooth out the surface. This also adds to the cost and one of the reasons why ceramic watches tend to be more expensive than their metal counterparts.
Con: Can Be Expensive
As we just mentioned Because ceramic is difficult to make, it only makes sense that watches made from such material will command a higher price compared to more commonly used, traditional elements. Ceramic is not widely used in watches. It's typically reserved for use in limited edition or more expensive watches.
That being said, it is not impossible to find very reasonably priced ceramic watches such as this Men's Ceramic Mother-of-Pearl Dial Watch or this ladies Ceramic White Day and Date, both watches are from Skagen the minimalist Danish watch brand.
Con: Lack of Unique Appeal
A ceramic watch hardly age, which is a good thing if you want to keep it for the long haul. However, it may not be appealing to people who love vintage watches, whose characteristic yellowing, fading, and patina give them a unique appeal.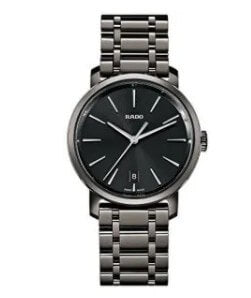 History of Ceramics in Watchmaking
Rado was the first watch brand to experiment with ceramic when it released the Diastar in 1962, the world's first scratch-proof watch. In 1973, Omega began developing cases made of cermet, a ceramic material made from tungsten carbide and aluminum oxide.
After eight years, Omega released the Seamaster Cermet, dubbed as the 'black tulip' because of its distinctive black case. It was an expensive watch to produce, so it was only available via special order. Eventually, both of these brands would become known for their contribution to ceramic watchmaking.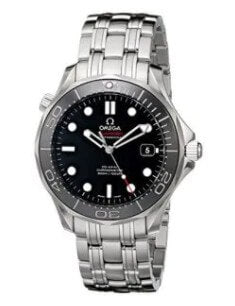 In 1986, IWC proved that ceramic could be used in luxury watchmaking with the release of the IWC Da Vinci Ref. 3755 – the first perpetual calendar chronograph that featured a ceramic case. It was also the first time people had a choice of color (either black or white ceramic).
In 2000, Chanel showed that ceramic watches could also be fashionable. The Chanel J12 was the first all-ceramic watch from a luxury fashion house. Designed by Jacques Helleu, it was named after the J Class yachts used in the America's Cup yachting race.

In 2013, Rolex and Omega made significant breakthroughs in ceramic technology. Rolex released the GMT-Master II Ref. 1157610 BLRN, a watch with a blue and black ceramic bezel insert. Meanwhile, Omega released the Speedmaster Dark Side of the Moon, the first ceramic chronograph to have the dial, crown, pushers, and buckle made from ceramic. It was a resounding success, thanks to its unique look. To give customers more choices in terms of color, Omega also released the Grey Side and the White Side of the Moon.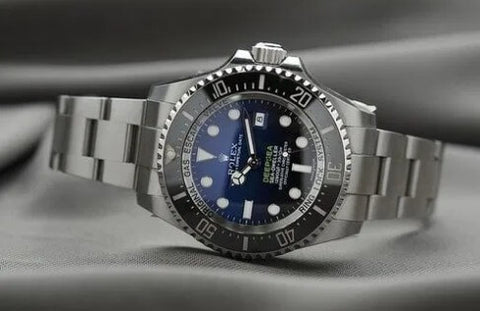 Conclusion
Hopefully, this article on ceramic watch pros and cons can help you decide whether to go for ceramic when shopping for watches. So, are ceramic watches good to buy?  The short answer is, it depends. Each has a particular preference for something, watches included.
You may interested in: