The summer breeze blowing your hair; the heat of the sun kissing your skin, giving you the perfect tan; the calming and leisureful bodies of water to splash into; the sand between your toes; and all those beaches you can explore and revel in the beauty of—the summertime can be a very relaxing, fun, and delightful season. Just the imagery of the summertime can make one fantasize or perhaps, even plan a vacation.
Persons who are big fans of the summer season would be excited as it approaches. With all the excitement and anticipation, they'd be planning the perfect retreat for the summer and make all sorts of preparations—what to wear, what to bring, who to tag along with them, and not to mention their summer bods.
At times, even as winter season comes, fans of the sun; sand; and sea would yearn for a warm winter getaway. They'd plan a vacation somewhere they can indulge in their dream of a warm and cozy vacation in contrast to the cold snowy environment during winter.
And of course, a summer vacation won't be complete without engaging in water adventures—going scuba diving; taking a dip by the waterfalls; swimming in the sea; surfing in the waves; going sailing; or perhaps, exploring beaches and going for a Caribbean cruise. Whatever you're into, there are many hot vacation spots that you can choose from in planning your vacation. While you're at it, you might also want to check out these hot beach watches for summer.
Beach-ready G-Shock Watches
It's not so shocking to find a G-Shock in a list of beach watches, considering their remarkable resilience with their water resistance and shock resistance, along with so much more reliable features. In fact, we have here several.
But before we go on to them, to be safe, you may want to brief yourself on the specific degrees of water resistance of the watches from Casio, so that you will know what kind of G-shock is best for whatever kind of recreational activity in the water you wish to engage in.
And for a heads up, if you wish to go diving, most divers would usually recommend a Frogman and a Mudman from the Master of G series.
Casio Men's G-Shock Master Of G Mudman G9000-1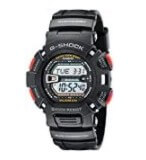 With the Casio Men's G-Shock Master of G Mudman G9000-1, water damage won't be any concern when you're out on the beach. You can bask at the beach all you want. But, of course, you'll just have to make sure you put on ample amount of sunscreen.
Water resistant to 200 meters, one can splurge in his desire for the sea with this watch. And for the divers wondering if it could be used for diving, the answer would be yes. Divers, themselves, would often recommend this watch.
Coming from the G-shock line known to be the toughest in the world, this watch won't let you down with its durability, especially that this watch belongs to the Master of G. Along with its rugged construction, it features shock resistance and mud resistance, apart from its water resistance.
Furthermore, this durable watch is packed with several other useful features, as G-Shock usually and never fails to deliver. What's more is that it comes at an affordable price.
But if you're looking for something more high end and with more amazing features—even features particularly useful for your vacation to the beaches—you may take a look at some of the upscale watches in the Master of G series like the next watch on our list.
Fun fact: Though their watches are already remarkably resilient, to begin with, in their continuous evolution and innovation, G-Shock has developed some higher end series under the Master of G that have been masterfully engineered to withstand the conditions in the sky; on the land; and at sea.
If the Navy SEALs, themselves, are pleased by such watches, then the watches from the said series surely won't disappoint in your vacationing.
Casio Men's G-Shock Master Of G Gulfmaster GWN1000B-1B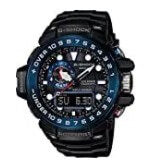 As we've said earlier, the Master of G series has some awesome durable handy watches that will have you covered with features that will be of advantage for you in your vacationing. One watch in particular that we will showcase on here belongs to the Master of G Gulfmaster series, the Casio Men's G-Shock Master of G Gulfmaster GWN1000B-1B.
Much like the aforementioned watch from the G-Shock line, this particular watch allows you to enjoy the sea with the 200-meter water resistance it also has. But it's even better. As this watch belongs to the ultimate maritime G-Shock series, Gulfmaster, this watch has smart access technology and is specially designed for the toughest men who challenge the deepest seas.
With this watch, you can engage in recreational activities in the water, while still being able to keep track of the time and to take advantage of its other useful features. But specifically speaking for beach endeavors, its features that would be very useful for vacationers aside from the 200-meter water resistance is its tide function that can come handy for surfers and its depth gauge that can come handy for divers.
Moreover, with its advanced sensors, this watch can predict weather changes and even predict approaching low-pressure systems and storm fronts. But let's just hope a storm won't come up on the vacation you've planned.
And of course, as one would expect from a G-Shock, this watch is shock resistant and has a lot more great features in store.
Casio Women's G-Shock S-Series GMA-S120MF-4ACR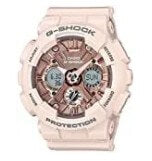 Feminine and classy but just as tough, we have here another one from G-Shock. This time for the ladies—coming from the S-Series—the Casio Women's G-Shock S-Series GMA-S120MF-4ACR.
One can add this gorgeous watch to her stylish travel ensemble and wear around the beach when out for some recreational activities out in the water. Swimming; snorkeling; surfing; sailing, you name it, one can have all the fun as she wishes in the water, just not diving, though.
With all its great features and stylish design, this watch is the ultimate beach watch for the ladies.
And must we say it again? As a G-Shock, this watch is one hell of a durable watch with its shock resistance; magnetic resistance; and its trademark rugged construction. Plus a whole lot more!
Casio Men's G-Shock Master Of G Frogman GF8235D-1B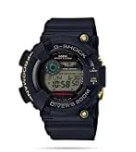 Last but certainly not the least in the group of G-shocks on our list and is actually quite special is the Casio Men's G-Shock Master of G Frogman GF8235D-1B.
What makes it so special, you may wonder. Well, not only does this watch come from the flagship diving watch series of G-Shock that is the only series compliant of the IP rating code ISO 6425 for the standard for divers' watches, Frogman, this watch is actually especially limited edition watch released in celebration of G-Shock's 35th anniversary.
So if you're looking to dive in your vacation, this watch could be your diving buddy that's extra durable with its ISO 200M water resistance and shock resistance and packed with more amazing features. But two highlights of this watch that would come handy are its tide graph and moon graph that will be useful for the recreational activities in the water one can engage in.
Hit The Waves With A Rip Curl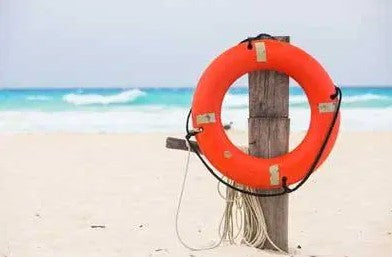 Rip Curl comes to mind when it comes to surf wear. Among their surf wear also includes their reliable tide watches that the company is 100% committed to developing into "The Surfer's Watch". Here, we have selected two awesome tide watches from Rip Curl to showcase for their functionality useful for surfers and their style that show simple yet fashionable wear.
Rip Curl Women's Maui Mini Rose Gold Tide Watch
Ladies can get their surf on too. That's why due to popular demand, Rip Curl, renowned for their surf apparel; products; and equipment, customized a tide watch to suit the ladies. With a smaller size as compared to their previous tide watches and stylish feminine design, comes the Rip Curl Women's Maui Mini Rose Gold Tide Watch that any surfer lady would surely like.
This 100-meter water resistant tide watch is pre-programmed with over 500 tide locations that are shown in a detailed display, either in a graph view or a detailed view. Also, it comes with a quick view tide graph for quick access to tide information and a future tide function for predictions of tides. With this watch, you can get the necessary information when it comes to tides and more.
Rip Curl Men's Search GPS Tide Watch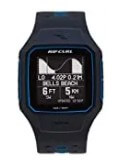 With over 1,400 pre-programmed tide locations, the Rip Curl Men's Search GPS Tide Watch is the most advanced GPS tide watch of Rip Curl. To add to that, its real-time surf tracking can provide conditions of every swell height and direction, as well as wind speed and direction. After you've had all the fun surfing and all your surf activity has been tracked through the GPS, as well as the surf conditions have been tracked via SURFLINE, you can sync your surfing data to the Search GPS iPhone app and even share your sessions with friends.
Moreover, this 100-meter water resistant tide watch has so much more useful features in store, but another very useful feature for surfers worth mentioning is its moon phase.
Your Reliable Dive Buddy, Omega Seamaster
When it comes to diving, you can always count on the watches from the Seamaster line of Omega. Omega is actually the first ever watch company to supply divers' watches since 1932 when they first brought forth their Seamaster line. And over the years, their dive watches have been tried and true that also comes with elegantly chic designs.
Omega Men's Seamaster Diver 300M Co-axial Watch
Water resistant to 300 meters; has a unidirectional rotating bezel for timing your dives; and comes with a helium escape valve for releasing pressure within the watch, the Omega Men's Seamaster Diver 300M Co-axial Watch makes for a perfect dive watch.
Although this high-end watch comes at a high price, you can't complain when it comes to its quality with its precision timekeeping as a certified chronometer powered by the Co-Axial caliber 2500, as well as with its functionality for diving.
Omega Men's Seamaster Diver 300M
A diver would sure look for a diver's watch, but if you're a diver looking for an added chronograph feature in your watch, you might like this Omega Men's Seamaster Diver 300M Plus, it's super stylish with its striking design.
Fun fact: this chronograph watch that runs with Co-Axial caliber 3330 was actually designed in Omega's celebration of the victory of their long-supported yachtsmen of Emirates Team New Zealand in the 2017 America's Cup. The chronograph feature even includes the five-minute countdown to start the regatta. So this may also be a cool watch to sport for Emirates Team New Zealand fans.
In regards to its diving specific features, it's water resistant to 300 meters and has a unidirectional rotating bezel. It's also worth noting its durability with its titanium case and rubber strap.
Other Watch Options
Timex Ironman Essential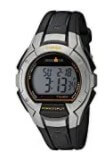 If you're longing for some fun in the water, whether you're up for swimming; snorkeling; surfing; or sailing, you might also want to have the Timex Ironman Essential. With a 100-meter water resistance; durable resin case and strap; and a sporty-chic design, this would be the perfect watch for having good times during your vacation, apart from telling the time, of course.
The Timex Ironman Essential is available in designs both for men and women.
Citizen Men's Promaster Professional Diver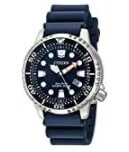 Along with all the preparations that you're making for your beach vacation, your watch, as well, must be prepared for the fun-filled activities you'll be engaging in at the beach.
Whether you actually are a diver or someone who just wishes to give diving a try or not, a divers' watch would make a great watch that, for sure, will prevent water damage in any way. But as for one who wishes to dive, he can sport this stunning watch as he goes on to his adventure down into the stunning sea, as this Citizen Watches Men's Promaster Professional Diver is an ISO-certified dive watch. In addition, it comes with a unidirectional rotating bezel for timing your dives.
Bertucci Men's 12122 A-2T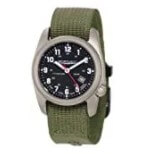 Extremely durable yet lightweight and comfortable with its titanium case; screw down crown; two-ply nylon band; and 100-meter water resistance, one can enjoy swimming; snorkeling; surfing; or sailing with the Bertucci Men's 12122 A-2T.
Coming from the market leader in titanium field watches, Bertucci, we can be assured of its quality.
Omega Women's Seamaster Aqua Terra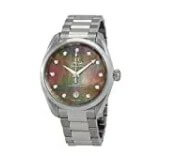 The Omega Women's Seamaster Aqua Terra really captures the summertime vibe. There's a summer paradise feel to it with its Tahiti mother-of-pearl dial. And diamonds serving as the hour markers add elegance to it.
This watch is perfect for the fashionista who wishes to vacation in style. But there's more to just looks in this classy watch, as it's water resistant to 150 meters and is equipped with Co-Axial Master Chronometer caliber 8800, certified at the industry's highest standard by the Swiss Federal Institute of Metrology (METAS).
The Best Beach Watch For The Best Beach Vacation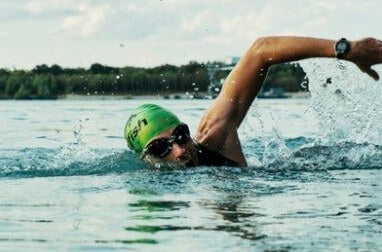 Don't we all want to take a break once in a while to relax and enjoy a vacation in some summer paradise? But we all have our own interests, as some may be into surfing, some may be into diving, while some would just like to go for a swim or whatever. So whatever it is you'll be up to in the summer, make sure you're properly geared with the appropriate watch.

Remember: check the product descriptions; the IP rating code; and of course, have some good times for the best beach vacation you'll have with the best beach watch for you.
What Makes The Best Beach Watch?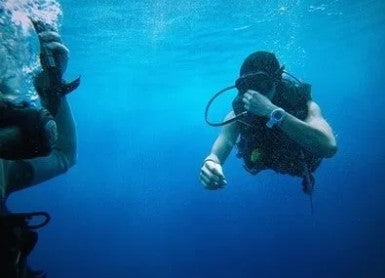 We all want to make the best out of our vacation and to go along with the best experiences yet to come during your vacation, you might want to get the best beach watch as well. But the question is "What makes the best beach watch?"
Especially as one would most probably spend a lot of time immersed in water, an important feature for a watch to wear on your vacation would be the water resistance feature. You would need to take note of the water resistance. Water resistance could be either identified in meters; atmospheres; or bars, e.g. 100 m/10 atm/1 bar.
When it comes to recreational activities in water, you will need a watch that is either water resistant to at least 100 meters or 200 meters, even better if with higher water resistance. For going swimming; snorkeling; surfing; and sailing, 100-meter water resistance will do. If you're going diving, 200-meter water resistance would suffice.
But it's important to note that not all brands and models of watches have the same degree of water resistance in regards to what extent you can use a watch when in water.
To be sure about what activities you can do with a watch, refer to the product description, and you could also check the indication of its IP (International Protection/Ingress Protection) code rating—e.g. ISO 2281 – the standard for water resistant watches and ISO 6425 – the standard for divers' watches.
A good dive watch obviously would make an excellent option but even just for swimming a dive watch is a good choice to make sure you don't ruin your watch. To add to that, a screw down crown helps for extra protection from water damage.
For surfers, tide watches or more commonly known as surf watches can come handy for knowing the times of high tides and low tides, as well as the measurements of the tides for specific beaches. With a tide watch, a surfer can know what time would be best and where it would be best for surfing.
You may interested in: