Swiss watches are considered by many to be the best watches on the market, but a lot of Swiss watch brands are also very expensive.

The brands we've chosen for this article are known for their watchmaking history and quality but that also make affordable watches that don't have to cost thousands of dollars.
There are several factors that define a watch labeled as "Swiss Made," but at the simplest level it means that it was made or assembled in Switzerland or the Swiss region, the watch movement is Swiss, at least 60% of manufacturing costs are domestic (based in Switzerland) and the final watch inspection was done in Switzerland.

If half of the parts of the watch is made by Swiss manufacturers, it can carry the "Swiss movement" label.
Over half of the luxury watches in the world are from Switzerland, and the ones we're featuring below will be some of the more reasonably priced ones.  Here are some of the best Swiss watches under $500.
(Please note, all prices were checked at the time of publishing and all watches were selling online for $500 or less. However, prices may have fluctuated since then possibly pushing them over the original b
Hamilton H32515535 Jazzmaster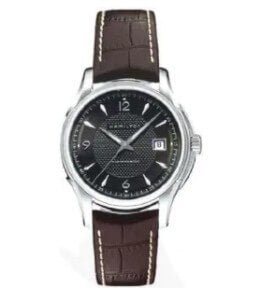 The Hamilton Jazzmaster watch continues to receive excellent reviews in terms of movement accuracy. One great detail about this automatic watch is the see-through case in the back of the watch, so you will be able to see the movement closely, and see the craftsmanship that came with the timepiece. It has a three-hand movement and a date function, as well as a power reserve of 80 hours.
The simple design is commonly praised as well, with its sleek leather strap (it has a stainless steel variety as well). Many say that the strap could take a few days to adjust, but once it does, it's very comfortable on the wrist.
The case is 40mm, an analog display, and an anti-reflective sapphire dial window material. It's a simple but elegant looking watch that you can wear every day, and can still look excellent as a dress watch. It's water-resistant up to 50m, which means you can take it swimming or in the shower (it's best, however, that you just stick with the latter).
Victorinox Swiss Army I.N.O.X.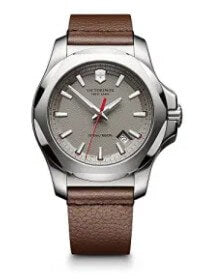 The Victorinox Swiss Army I.N.O.X. Watch is one of the models that stands out. This powerful timepiece is the only Swiss watch that is able to withstand 130 extreme endurance homologation tests. The strap is very durable—it's made of leather that is used in making firefighter boots.
I.N.O.X.—a watch embodying the history of a pioneering brand that creates objects characterized by ultimate functionality and uncompromising quality—promotes durability, functionality, and style. This is a watch that pretty much has it all, and the best part is it won't cost you an arm and a leg. It's not cheap, but it's certainly not as expensive as other luxury Swiss watches on the market today.
Victorinox is one of the most popular brands for quality watches and Swiss Army Knives, so you are sure that these models have been made with craftsmanship that guarantees your watch will last a long time.
Glycine KMU 48 Kriegs Marine Uhren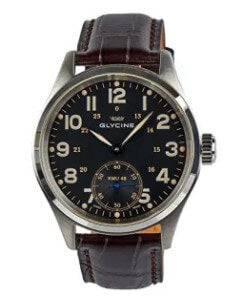 The Glycine KMU 48 is a manual winding Swiss-made pilot watch perfect for those looking for a big timepiece.
This one has an XL size (48mm) and has three different styles, a steel case and buckle with a leather strap, and is waterproof up to 100 meters.
Glycine has been making watches in Switzerland since 1914. The brand maintains the philosophy of creating reasonably-priced and reliable watches that was meticulously created with high-quality materials.
Movado Museum Sport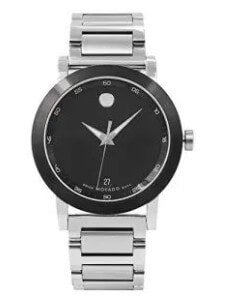 This watch by Movado is those for those looking for a more contemporary design. This Swiss brand, which was founded in Switzerland in 1881, has already acquired hundreds of patents and awards for its design and technology.
The 42mm Museum Sport watch has a stainless steel case with a black PVD-finished bezel and a black dial with a date window at 6 o'clock, as well as a sleek detail of a signature dot at 12 o'clock. This model is water-resistant only up to 30m.
The Movado Museum collection has a very distinct minimalist look, perfect for those looking for a simple yet elegant design that will look good at the office and dressy occasions.
Frederique Constant Men's 235M4S5 Slim Line Analog Swiss Quartz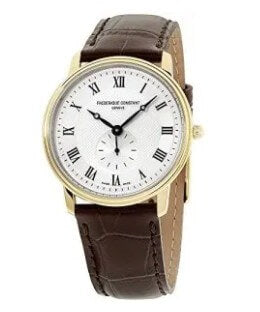 A simple, classic design that can serve as an everyday watch or a dress watch, the Frederique Constant Slim Line is a collection of high-quality watches without the hefty price tag.
Some of the main features of this model include a Sapphire dial window material, stainless steel case, and a durable calfskin band. It's not too big (37mm) compared to the other watches we've covered so far.
The Frederique Constant Slimline watches have neat and stylish ultra-flat designs that use modern technology and maintains the highest quality. The brand pays tribute to Geneva/Swiss watchmaking, which combines high quality and prices that are still relatively affordable.
If you are planning to use this watch for water activities, this might not be for you. This one is only water-resistant up to 30—while it can withstand small splashes of water, it can't be submerged.
Tissot Men's Le Locle Powermatic 80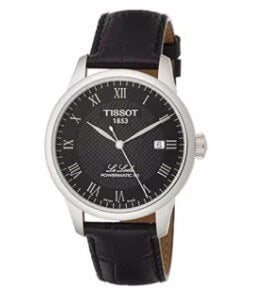 Tissot is well-known for quality Swiss watches, delivering in design, accuracy, and value for money.

Le Locle is the name of Tissot's home in the Swiss mountains. The brand calls this model "classical chic," which is pretty much accurate when you look at it: elegant black leather or stainless steel strap (there are different colors and materials available), a black dial, and Roman numeral markers, and a scratch-resistant sapphire crystal. It's also has a power reserve of up to 80 hours.
The Tissot Men's Heritage Visodate is a classic watch with a curved dial that mirrors the dome-shaped sapphire glass, which makes the date and day more visible.

This date function was introduced by Tissot in the 1950s when the brand celebrated its centenary. This makes use of indexes rather than Roman numerals, has a power reserve of 38 hours. Like the Le Locle, it's only water-resistant up to 30m, so while it can take splashes, it is not recommended for showering or swimming.
Wenger Sea Force 3H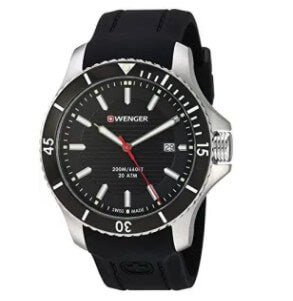 The Wenger Sea Force watch is a top pick for men who love water activities. The watch is water-resistant up to 200 meters, so you can take it with you to swimming, scuba diving, and other water sports.

This Swiss quartz watch has a stainless steel case and bezel. You can play with different designs of this watch, as it has stainless steel, leather, and silicone straps (you can also use a trusty NATO).

Wenger mixes contemporary design and craftsmanship that has been around since the 1890s, and the Sea Force line is a great example of this top-notch quality. If you're looking for a sharp-looking watch that you can wear to work and when outdoors, this is a great model to consider.
Raymond Weil Toccata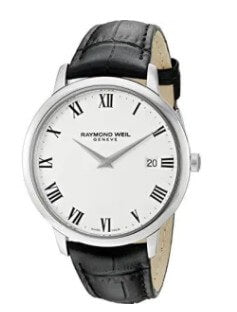 Raymond Weil, a luxury Swiss watch brand, combines sophisticated design and innovation and it definitely shows in the Raymond Weil Men's 'Toccata'.

This is the kind of watch that you can wear at work, and at the same time will look good with a wardrobe for a night out. It's simple, straightforward, and most importantly, keeps accurate time.

Some of the main features include a 39mm stainless steel case, a black leather strap with an attractive alligator motif, white roman numerals on the dial, and a date window at 3 o'clock. The crown also has a sleek RW logo.
Swatch SUTS401 Sistem51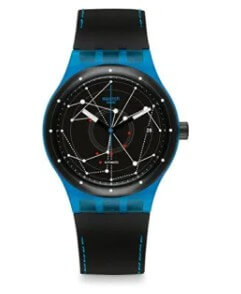 Last but definitely not least is the Swatch SUTS401 Sistem51.

Swatch, a well-known Swiss watch brand that is the youngest company on the list, having only been around since 1983. However, in that short time, they have gained a reputation for quality timepieces and trendy designs, some of which are now collector's items.

While they are known for their modern look and designs their watches have also been seen on the wrists of high-powered CEOs and wall street bankers.

This is the only nickel-free watch (it made our list of best nickel-free watches) on this list, but don't let the lightweight materials fool you—this has excellent and accurate movement, just as good as the other watches featured on this list. One of the features that stand out is the 90-hour power reserve.
You may interested in:
---