Bauhaus was initially a school of art, thought, and design that emerged in Germany in the year 1919. Moreover, the German word "Bauhaus" literally means "building house" (Bau– building + Haus house) in English.
Later on, this inspired the designs of watches that were simple, elegant, and functional all at the same time. However, various watch manufacturers have different interpretations of this Bauhaus watch design and began to add unique features to their watches.
Nowadays, many watch brands offer at least one Bauhaus style watch while others have specialized in the style.  Even with the passage of a century since the style was developed, it remains a versatile style that can be seen worldwide from furniture to clocks. Here we take a closer look at some of our favorite Bauhaus watches starting off with some reliable and affordable options and working out way up to classical luxury Bauhaus watches from some of the top watchmakers in the world.
Best Bauhaus Watches
Orient Bambino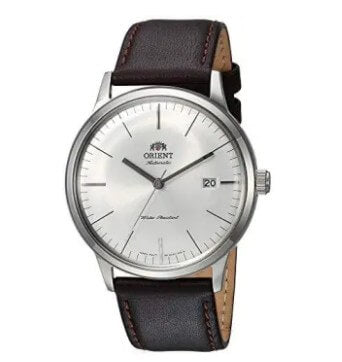 We'll present the watches in order from budget to luxury, with estimates of the price of each model. We'll start off the list with a classic, minimalist watch by Orient. The Orient Bambino has several different models, and this automatic updated Second Generation Version 3 Bambino is one of the models that stand out.
This watch has Bauhaus aesthetics, with its modern design and clean lines. One of the Orient's best selling collections, this model has the signature domed mineral crystal and a 40.5mm diameter. There are four different case colors: blue, white, gray, and black.
The band is a leather strap, and there is a small date window at three o'clock. This is water-resistant to up to 30m, which means that it can take minor splashes, but is not suitable for swimming or immersion in the water.
Swatch Skinbrushed SYXS102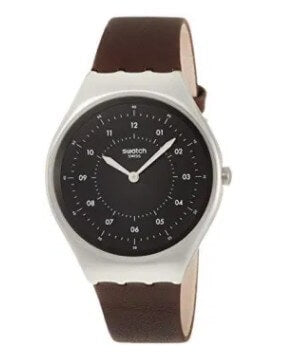 Swiss brand Swatch is famous for its plastic watches with colorful designs, so this Bauhaus-style model is a bit different from the brand's usual style.
The Swatch Skinbrushed SYXS102 analog watch has a stainless steel case and a brown leather strap. The hour markers are in Arabic, and like the Junghans model above, this has minute markers as well. This is an excellent casual watch, having a neat design that can go well with any outfit.
This 38mm quartz model, which costs around $160, has water resistance to 30m, luminous hands and markers, solid case back, and a scratch-resistant mineral crystal.
Zeppelin Automatic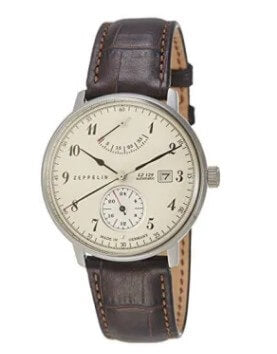 Because Bauhaus was established in Germany, this list will include mostly German watchmakers. One of the lesser-known brands (the watches are not always readily available online) is Zeppelin.
The Zeppelin LZ-129 Automatic watch (priced at around $500) has many functions, including an index for minutes and seconds (1/5th second increments), 24-hour subdials, a power reserve sub-dial, and a date window at 3 o'clock.
Again, because of the Bauhaus-inspired design, this watch has many features on the 40mm case but doesn't appear to be cluttered. Every feature—from the date window to the 24-hour subdial—is positioned neatly and legibly, which will allow the wearer to read the watch easily.
Other main features of the watch include a Brequet-style hands, a classic serif font for the numerals, and a power reserve indicator. It also has a durable, domed Hesalite crystal and an exhibition case back.
Max Bill Junghans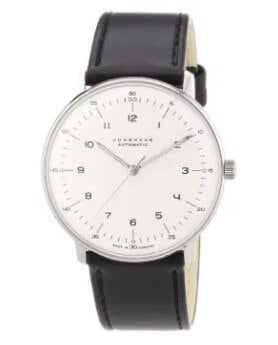 Junghans is a German watchmaker that's popular for watches with a Bauhaus aesthetic.
The brand started incorporating Bauhaus designs in the 1950s, and collaborated with renowned designer Max Bill, producing watches and clocks. One of the most famous collaborations between Bill and Junghans is a wall clock, which is now part of The Museum of Modern Art in New York.
Bill then started designing watches. Starting in 1961, the designer has come up with many unique timepieces. One of the most popular ones is the max bill automatic, a 38mm watch with a polished stainless steel case and Arabic numerals on a white dial. There are many elements on the dial, like the hour/minute markers, sweep seconds hand, and lume dots—but since everything is thin (but still legible), the elements do not look cluttered.
Junghans Stainless Steel Quartz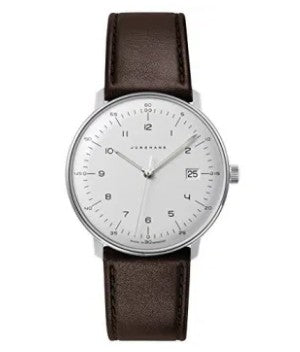 This is another popular Junghans Bauhaus watch. Also designed by Max Bill, the Junghans stainless steel watch with a quartz movement has similar features as the Junghans we discussed above such as the same font and markers and same case size at 38mm but has added features like a date window at 3 o'clock.
This model has a number of strap options available, such as brown and gray leather, as well as a mesh strap. There is a model with a black dial, as well as versions that do not have numeral markers (just stick indices).
Junkers 6050-5 Bauhaus Automatic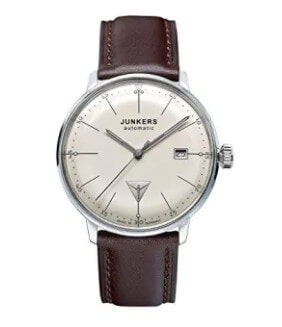 The 6050-5 Bauhaus series by German watch brand Junkers is a simple yet strong-looking casual watch that you can wear every day, as well as on dress occasions.
The 40mm beige dial has thin indices, as well as stop and sweep second features. There's a date window at 3 o'clock, and the silver case has a Hesalite glass (for further reading, you can check out this article, which discusses the characteristics, advantages, and disadvantages of the material) and a stainless steel case. The movement is an ETA 2824-2 with 25 jewels.
Junkers has a wide range of watches inspired by the Bauhaus aesthetic, with prices that range from $100 to $500. We also recommend the Junkers 9.11.01.12 (off the 100 Years Bauhaus series), which has a unique design and different versions; or the Junkers 9.09.01.04 40mm series from the 2019 collection.
Stowa Antea "Back to Bauhaus"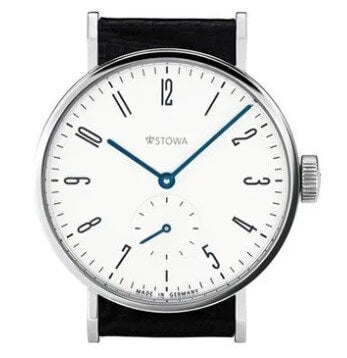 Stowa is a German watch brand that has been around since the late 1920s. A maker of high-quality watches, the brand is known for different watch styles like pilot, marine, sports, and chronographs.
Its famous Antea "back to Bauhaus" collection, which has a refreshed version of the Antea classic line and priced at around $1,000, has different styles and colors of limited quantities. One of these is the Antea back to Bauhaus 355 with a silver dial and an attractive blue steel hands, which brings a pop of color to the white dial.
This mechanical watch celebrated the 100th anniversary of Bauhaus and is limited to 100 pieces. The black strap is hand-stitched, and the 35.5m case is made of stainless steel. The price tag is steep, but the exclusivity and quality definitely make up for it.
Nomos Tangente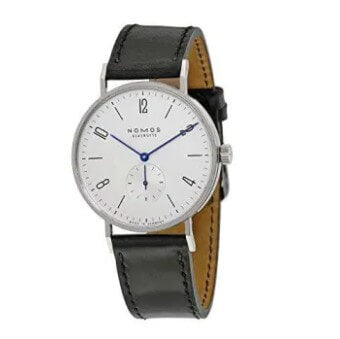 Nomos—the "world-famous home of German horology"—has been around for more than 170 years.
Nomos is included in this article that we wrote about watches that are made in Germany.
One of the brand's most popular Bauhaus-style models is the Nomos Tangente, which has striking cornflower blue hands (which was made by heating to 290 degrees C), that stands out on the white silver-plated dial. Having a combination of thin line and Arabic numeral markers, this is a stylish and sophisticated watch that will look great in both casual and formal wear. The price tag will set you back around $1,900.

Other features of this 35mm watch include a stainless steel case, a sub-seconds dial, sapphire crystal glass, and a durable and stylish Horween Genuine Shell Cordovan black strap.

According to the Nomos website, this watch, which is manually wound and hand-crafted, only needs to be wound every two days. The watch also has a power reserve of up to 43 hours.
Nomos Ahoi Atlantic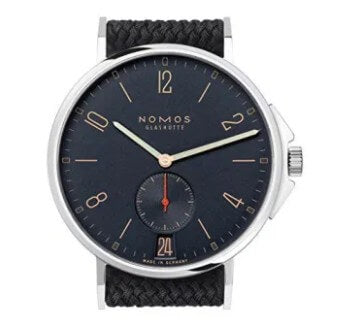 Another outstanding watch from Nomos is the Ahoi Atlantic, a 40.3mm watch with an Atlantic blue dial. Like the Nomos watch we featured above, this has a neat Bauhaus design with extra details that make this watch outstanding: the gold hour and minute hands that are coated with gray Superluminova, and an orange seconds hand.
This stainless steel watch is not cheap (it's around $4,000 on the Nomos website). The quality and excellent design make the hefty price tag worth it. The watch is award-winning, receiving honors such as the iF Award and Goldene Unru; and the automatic caliber makes it very accurate. The water resistance is up to 200m so you can take it with you to water activities, and the domed sapphire crystal glass is guaranteed durable.
This model is also available in a white dial, with light blue Superluminova and an orange second hand.
Lange & Söhne Saxonia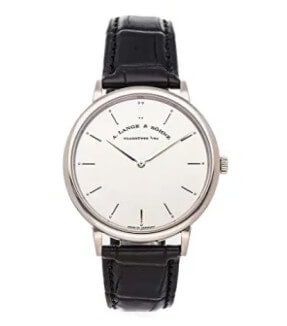 We'll cap off the list with a luxury watch by a respected German watch brand.
Lange & Söhne have different styles of watch collections, most of which have a more crowded and intricate (but not messy) layout such as the Zeitwerk collection, a mechanical watch with many elements on the dial. One of its most popular collections, however, has a minimalist design, which fits right into the Bauhaus style category.
The A. Lange & Söhne Saxonia is a mechanical watch collection that runs on L941.1 movement and has seven different models (white gold and blue, argente dial, or mother of pearl dial; and pink gold in argente, mother of pearl, or grey dial). One of our favorites is the 37mm Saxona white goal with grey dial, which was first introduced in 2015.
Priced at around $17,500 on its website, this is a luxury watch with a solid silver dial and a white gold case. The dial has an hour and minute indices, and seconds subdial.
Lange & Söhne has a rich history and an excellent reputation among watch collectors.
Final Words: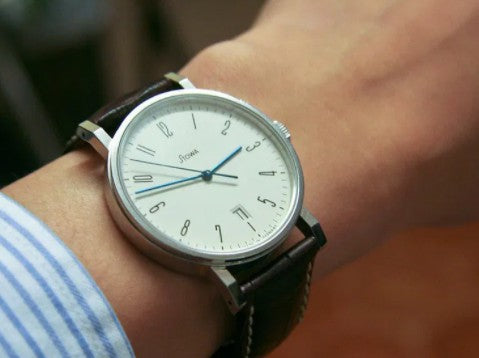 Starting an influential design movement towards simple and minimalistic styles, the Bauhaus was built as an art design school at the beginning of the 20th century.While the school itself closed down, the Bauhaus style has lasted through the years. Prioritizing functionality over form, a Bauhaus design strips the item of all unnecessary features and highlights the main function of a product. In this sense, a Bauhaus watch is built around a singular function: to tell time and nothing else.
There are multiple brands that incorporate a Bauhaus style to their watches; thus, creating simple, elegant, classic, and functional timepieces. We hope the article above gave you some ideas for your next watch.
You may interested in: