Over nearly six decades, the 007 movies have progressed from 1960s swagger to 2010s angst. In between, the adventures of superspy James Bond have been at times dramatic, at other times funny (intentionally on occasion). The shifting looks and tones of the film series have generally reflected the fashions and sensibilities of the eras in which they've been produced.
As times and styles have changed, though, some aspects of the classic character have remained the same. In addition to beautiful women, flashy cars, and martinis "shaken, not stirred", James Bond has always been known for his chic wristwatches. Sometimes the watch is a nifty gadget, and at other times it's just a simple but elegant timepiece.
Almost as much a style icon as a sex symbol, the many faces of Bond have helped make certain watches icons in themselves and many are now some of the most well-known watches to appear in Hollywood movies.
Bond, James Bond
Anyone who has ever enjoyed a classic spy film has their favorite James Bond. There's the classic Sean Connery "007," smooth talking and a bit of rogue. Roger Moore was more overtly humorous and debonair, while Daniel Craig's ripped but brooding Bond won many new fans to the franchise. There's probably somebody who really enjoyed George Lazenby too.
Since the first Connery starring film, Dr. No, was released in 1962, the longest period without a Bond film in movie theaters has been six years. The franchise has had its ups and downs, but 007 always comes out on top. The next (and supposedly last) Craig Bond film is coming in 2021. After that, who knows where the series goes from there?
With the different versions of Bond, the spy's affinity for refined timepieces has been one of the most consistent character traits (even more than his famous martini). This connection is so defined that there is an entire website dedicated to chronicling Bond's chronological habits: jamesbondwatches.com.
That site has done an admirable job of spotting and identifying each and every watch that has graced Bond's wrists for the past 50+ years. Instead of rehashing what they've done, we're going to focus on some of the most iconic and memorable timepieces from the James Bond movies.
Sean Connery
The watches of Sean Connery's Bond
Perhaps it's because he was first, or maybe he just had the perfect amount of charisma, but Sean Connery will forever be James Bond. Even as other actors have done an okay-to-decent job of making the character their own (confession: I think Craig is excellent in the role), the platonic ideal of 007 will always be the smirking Scotsman with a glint in his eye.
The enduring style and personality traits can't all be placed at Connery's feet (Ian Fleming originally created the character, after all), but one wonders if James Bond would have remained such a cultural phenomenon if not for the actor's performance. I guess we'll never know, but what we do know is that right out of the gate, Bond was a watch aficionado.
In this day of conspicuous and revolving product placement, it's a bit strange to realize that Connery's Bond wore the same two watches across his five initial appearances in the role. From Dr. No through 1967's You Only Live Twice, Bond is consistently seen wearing a Rolex Oyster Perpetual Submariner 6538 and a Gruen Precision Subsidiary-Seconds 510.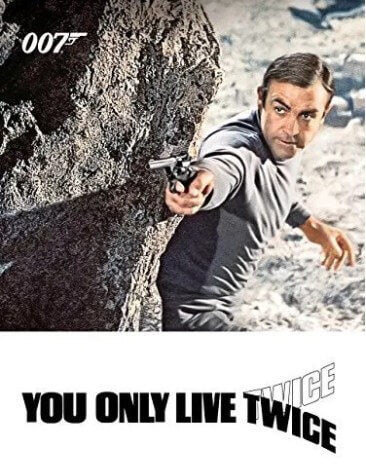 While Rolex is a household name, Gruen is certainly less known, and yet, it's actually the first watch James Bond is ever seen wearing on camera. Throughout the first half of the twentieth century, the Gruen Watch Company was a successful American company, started by German watchmaker Dietrich Grün. In 1958, just a few years before the first Bond film, the firm was sold off and the Gruen Watch Company ceased to exist (in the 2000s, a new company bought the firm and started producing watches under the Gruen name again).
The Gruen Precision 510 that can be seen on Bond's wrist in the famous opening casino scene is, unfortunately, no longer in production. That's a shame because it was a beautiful watch. With Swiss movement, the classic gold and white mechanical watch perfectly encapsulated the modest but sophisticated style of Connery's Bond.
Later in Dr. No, Bond switches to one of the most iconic movie watches of all time, the Rolex Submariner Oyster.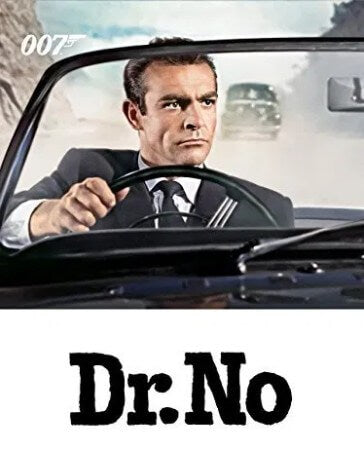 This particular model, the 6538, like the Gruen, is a vintage watch no longer in production, but the Oyster Perpetual Submariner line of watches is still one of Rolex's most appreciated (and expensive) lines.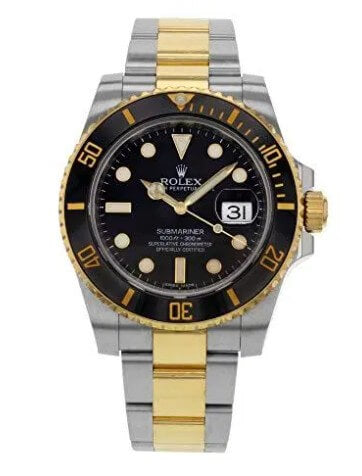 Both the Gruen and the Rolex were exquisitely designed, Swiss-made works of art. Even without the James Bond seal of approval, these watches would have been style icons for decades. That 007 wore them at baccarat tables, on barstools, and in bed only helped cement both as timepieces for the well-heeled and the well-dressed.
George Lazenby
George Lazenby's Bond wore Rolex
Few people remember George Lazenby's turn as James Bond, and even fewer would consider his one outing as the character, 1969's On Her Majesty's Secret Service, very good. Like anything, there are its defenders, right or wrong.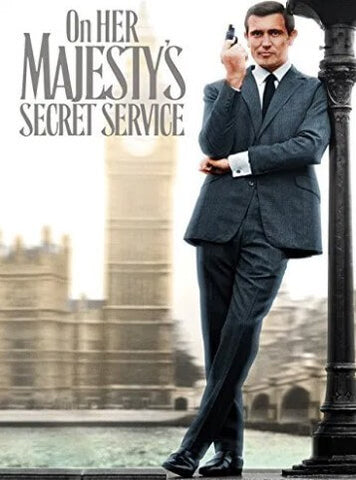 To be fair to Lazenby, he took over the role from Connery who was essentially synonymous with the role by that point. These days, we're used to our assorted Bonds, Supermen, and Spider-Men being played by multiple actors, but Lazenby was stepping into uncharted territory at that point.
Whatever can be said of Lazenby's performance in comparison to his predecessor, the one aspect where he didn't stray too far from Connery was in the watch department. In the film, the actor can be seen wearing two different wristwatches, both of them made by Rolex: the Oyster Perpetual Submariner 5513 and a Pre-Daytona Chronograph 6238.
Rolex's Submariner line of watches came into being in the 1950s when the company sought to create a diver's "sports" watch that could pass as a dress watch. It was almost as if they created a line of watches specifically for James Bond.
The 5513 and Connery's 6538 are related by lineage and are superficially quite similar, but to an aficionado, there are differences. For one, the 5513 was never CSOC certified, which means it didn't officially qualify as having Swiss timekeeping precision and accuracy. Also, while the 6538 was no longer in production after the 1960s, the 5513 was still being made into the 1980s.
Rolex's Daytona line of watches is considered the high watermark for sports chronographs, but their pre-Dayona chronographs were still exceptional timepieces. The silver Chronograph 6238 that is worn by Lazenby was manufactured in 1968, and it was the only Rolex chronograph ever worn by James Bond. Lazenby held on to the watch until his death in 2003, when it was auctioned off for nearly $40,000.
Roger Moore
Roger Moore's Bond Preferred Seiko
Tied with Connery for most number of appearances as Bond, Roger Moore is not quite as revered as the original actor. Moore's take on the famous character was, arguably, more campy, especially as he aged past the point where he looked like a suave international spy. For many, though, his run through the 70s and early 80s produced just as many iconic and beloved films.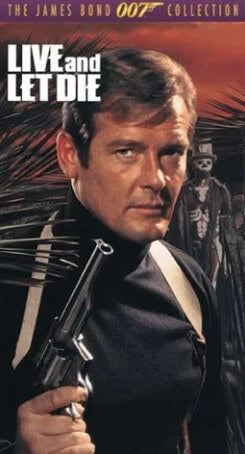 Perhaps as a means of setting himself apart from Connery, in his first outing as James Bond in 1973's Live and Let Die, Moore chose a Hamilton. Specifically, he wore a stainless-steel Pulsar P2 digital LED watch. In 1973, digital watches weren't everywhere like they would be a decade later, so this would have been considered a highly sophisticated, luxury accessory. They are tough to find but you if you search for them on eBay you can still occassionally find one.
The Pulsar represented the first time Bond's wristwatch choice valued tech over style. Moore can be seen, later in the film, wearing a Submariner 5513 like Lazenby, although this one is outfitted with special gadgets. The era of Bond playing with hi-tech doohickeys had officially begun.
Moore wore the Rolex for one more film before switching over to Seiko for good, starting with 1977's The Spy Who Loved Me.  For five straight films, James Bond could be seen sporting a variety of Seiko wristwatches and chronographs, including three different watches in Moore's final outing, 1985's A View to a Kill.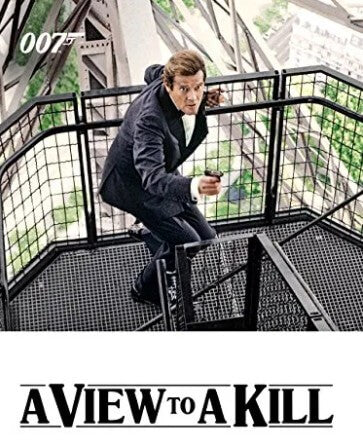 A Japanese electronics company, Seiko's rise to prominence in the watch industry coincided with the "Quartz Crisis" that crippled Switzerland's watchmaking industry throughout the 1970s. Fittingly, by the time Moore was finishing his run as Bond, Swiss watchmakers were seeing a resurgence.
Of the three final watches that Moore wore, the Seiko 7A28-7020 is probably the most interesting. The 7A28 line of watches is notable for introducing "the first analogue display quartz chronograph movement." The line is no longer in production, but they are highly sought after by collectors.
The end of the Moore era of Bond films also meant the end of the Seiko era.
Timothy Dalton
Timothy Dalton's Bond tried TAG Heuer
Following the Scottish Connery and the British Moore, Timothy Dalton was the first (and only) Welsh man to play James Bond. Dalton took over in 1987's The Living Daylights. His run only lasted one more film, though a third movie was in the works when legal issues held up its production. Dalton eventually left the role in 1994.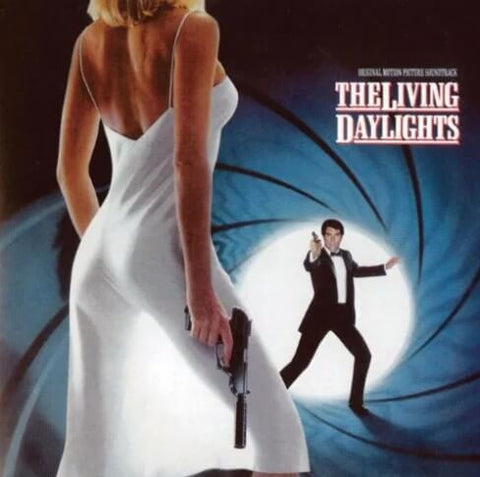 For The Living Daylights, Dalton wore two TAG Heuer watches: a Professional Night‑Dive 980.031 and a Professional 200 Meters 980.013. Both watches were diving watches, appropriate for the often water-adjacent adventures of Bond. While neither watch is still in production, the Professional line still exists and includes at least one water-friendly watch in the Tag Aquaracer.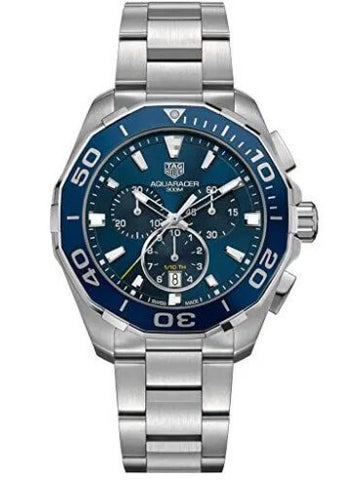 In Dalton's second and final appearance as Bond, the super spy returned to his trusty Rolex Submariner, this time a 16610. The 16610 was still in production as recently as 2010, but like Dalton and the other actors who have played the character, newer, fresher faces have come to take its place.
Pierce Brosnan
Pierce Brosnan initiates the age of Omega
Pierce Brosnan took over the role of James Bond in 1995's Goldeneye, the first of four appearances. Brosnan returned some of Connery's charm to the role, but with an understanding (if not embrace) of 90s sexual politics. Not all of Brosnan's movies hold up, but for gamers, Nintendo's Goldeneye video game adaption remains a highlight of the era.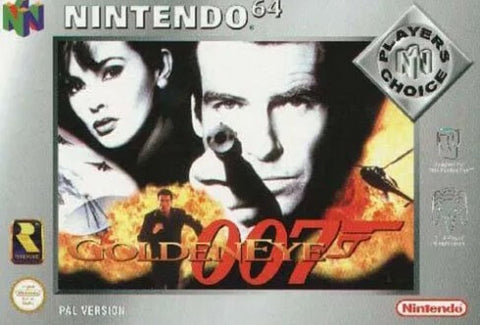 Speaking of eras, Brosnan ushered in the age of Omega watches in the James Bond universe. Every Bond movie since Goldeneye has featured the character wearing one of the Swiss luxury watchmaker's timepieces. To be precise, Bond is repeatedly seen wearing one of the brand's Seamaster line.
The first of the Seamasters to appear is the 2541.80 model (no longer in production). The silver and blue, stainless-steel watch was water resistant up to 300 meters and included luminous hands and a date window. Also, in the movie, it has a laser, but that isn't standard issue.
Brosnan would go on to wear the Seamaster 2531.80 in all three of his other outings as Bond. The reason for the change isn't clear, especially since the watches are quite similar in appearance. In fact, the main difference is that the 2531.80 was automatic instead of quartz like the 2541.80. The bigger difference is the gadgetry that is added to the watch in each successive film.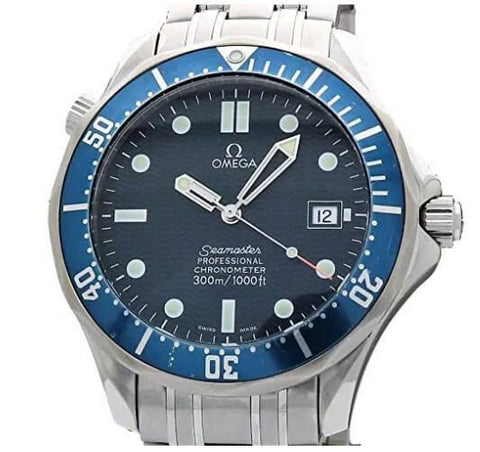 Daniel Craig
Daniel Craig's brooding Bond still loves Omega
Daniel Craig's run as Bond has been at times controversial, but generally successful (at least at the box office). He took over with 2006's Casino Royale, which represented a general reset for the series, both in terms of Bond's backstory and the series' tone. Taking stylistic cues from the Bourne series of films, Craig's Bond films were darker and more serious.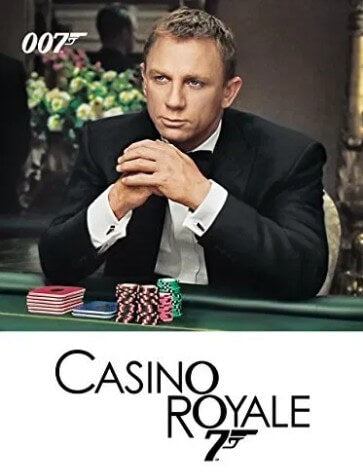 And yet, the watch remains the same. Or, at least, the brand did. Bond's ties to Omega have been solidified on screen and in marketing.
Craig wore a Planet Ocean variety of the Seamaster line in both Casino Royale and Quantum of Solace. In the former, it was a 2900 model, while in the latter, a 2201 model can briefly be seen. If you're seriously considering any of these Omega models, it's worth checking out pre-owned, certified ones here.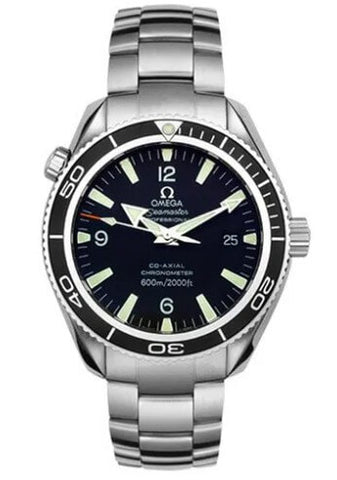 Omega's appearance in the Craig Bond films is interesting for two reasons. For one, Craig's Bond directly names the brand in Casino Royale, a blatant moment of product placement. Secondly, unlike Brosnan, Craig never wears the same Omega twice across films. In 2012's Skyfall, he wears a Seamaster Aqua Terra 231, whereas, in 2015's SPECTRE, he goes back to a straight Seamaster 300 model (a special limited edition was released to coincide with the movie).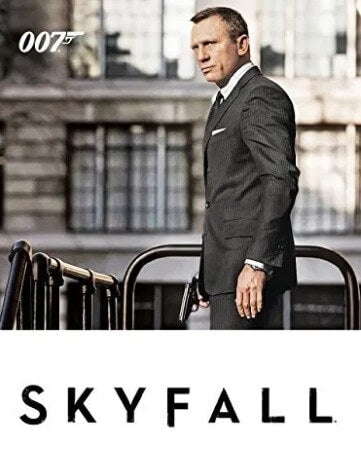 The next Craig-starring Bond film is set to come out in 2021, and while details about it remain scarce, it will almost certainly feature at least one Omega watch.
Once Craig officially hangs up his Bond tuxedo for the last time, almost anything could happen with the franchise. Talks of dramatic casting changes have been floated for a while, and as the political and social dynamics of the twenty-first century continue to evolve, it's likely James Bond will have to as well.
Whatever changes lie ahead for 007, though, some traits will almost certainly remain constant: Bond will remain handsome; Bond will drive fast cars, and Bond will wear a reliable and stylish watch to keep him on schedule.  
If you are still interested in more, here is a cool mashup of scenes showing the bond watches, starting with Dr. No through 2015 (Connery to Craig).
It's well done (for those of you paying attention, you'll noticed they skipped over a few watches (like the Seiko 7549-7009 Professional Divers' watch in For Your Eyes Only in the scene using the mini-sub) and a couple others but its a cool edit that shows almost all the watches used in bond movies.