This class of watch is an ideal choice for anyone into adventure sports, camping or high-altitude outdoor use where having a watch with an altimeter, barometer, and compass is most useful. Many of these watches also include other weather-related data and tools that come in handy if you are in remote areas.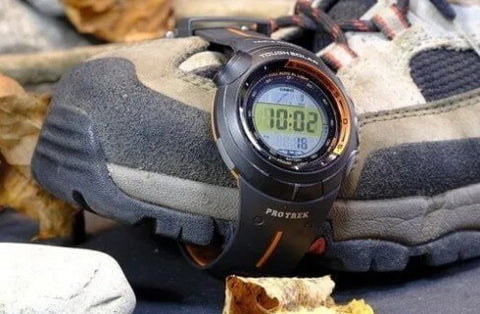 For example, the Garmin Fenix 5X features a pulse Ox sensor that estimates your blood oxygen saturation levels, color topographic maps, and GPS. All these tools on your wrist in addition to the ABC features make it one of the most impressive outdoor watches on the market.
We've included a more detailed review below, along with several other watches we consider the best ABC watches of 2019. We've included a wide array of choices below from diverse price points, functions, brands and technologies. If you're shopping for you next ABC watch, read on.
What Is An ABC watch?
Before proceeding to this year's best ABC watches, let's first discuss what these watches are about, focusing on their functions and price points.
All of the watches we're featuring below have the ABC feature. To better understand these functions, here is a breakdown of all three factors: an altimeter is a feature that measures altitude, the barometer measures air pressure and helps alert you of changing weather and a compass used for navigation. ABC watches are made for adventure and are designed to endure extreme temperatures. We also looked for watches with large display screens that are easy to read and dials with excellent luminosity for low-light or nighttime.
The big question is: is an ABC watch for you? If you're into adventure gear and do a lot of outdoor sports and activities like hiking, mountain climbing, ultra-running or even hunting, an ABC watch would be a joy to use. You do not have to use separate devices for measuring the essentials—they are all in one device. The smartwatches that have these features will also allow you to connect the data using your smartphone.
Best Altimeter (ABC) Watches
LAD-WEATHER Swiss Sensor Watch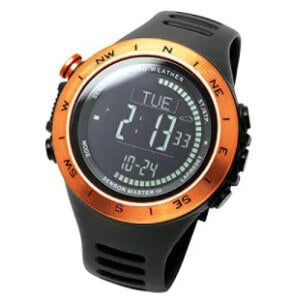 We're starting off with the more affordable brands. Aside from having the ABC features, the LAD Swiss Sensor watch also has important outdoor features such as a step and calorie counter, world time, and an alarm. It boasts of the weather monitor function, which can predict the weather by analyzing air pressure.

If you're using this watch for fitness, this one has got you covered as well. You will be able to calculate your steps, distance covered, and calories burned.
The 46mm case is made of plastic and stainless steel, and the band is polyurethane. It's also water-resistant up to 100m, so you can take it to the shower, do some light swimming (but not scuba diving).
There have been a number of complaints, however, on the dimness of the backlight. Some customers have also questioned the accuracy of the altimeter. Other than these, however, many have expressed satisfaction, especially on features such as the step counter/pedometer.
This model (the LAD024) has more than a dozen bezel colors to choose from such as black, gray, orange, yellow, red, green, and brown.
Pyle Digital Multifunction Sports Wrist Watch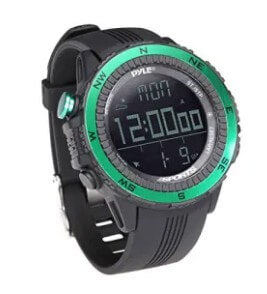 Another affordable ABC watch, the Pyle sports multifunction watch. In addition to the altimeter, barometer, and compass, this watch is also packed with features that you will be able to use outdoors: weather forecast, chronograph, countdown timer, and a built-in calendar (that displays month, day, hour, minute, and second). It also has a dual time function (12/42-hour formats available), which allows you to easily have a second time zone on display. Like the previous watch, this also has weather predictions.
If you're doing activities at night or in low light conditions, this watch will also allow you to easily see the display, thanks to its Electro-Luminescent Backlight feature. This one also has an internal memory—a 34-hour history data recall of the changes in altitude, temperature, and sea level pressure. This is the PSWWM82GN model, there are other choices on Pyle's website or shop all Pyle altimeter watches on eBay.
One of the things that customers have pointed out is how lightweight the watch is. This quality will be very useful to those who are using it for hiking. If you're looking for an affordable multifunction watch, this brand is something that you should check out.
Casio Men's Pro-Trek PRG-270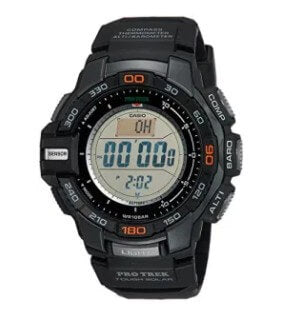 Moving on to a well-known sports watch brand that continues to produce excellent products at relatively affordable prices. This Casio Pro-Trek watch is a solar-powered (battery-powered, and is recharged by a solar panel) ABC watch that has the Triple Sensor Version 3 engine. According to Casio, this model has a 95% smaller direction sensor, as well as a "90% reduction in sensor power consumption compared to previous models ." This is also more accurate and energy efficient.
There are three big buttons on the right side of the watch where users can easily access the ABC features. The barometer of this model has what Casio calls the Barometric Pressure Tendency Alarm, which gives alert to the user when there are changes in pressure.
This watch has a Super Illuminator LCD with backlight and afterglow, a stopwatch and countdown timer, world time in 48 cities, an auto calendar until the year 2099. The battery life is exceptional as well: it can last for nine months on a full charge without further exposure to light. Those who will use this watch low temperatures will also be able to enjoy its resistance up to -10C (14F).
Casio Men's Pro-Trek PRG-650Y-1CR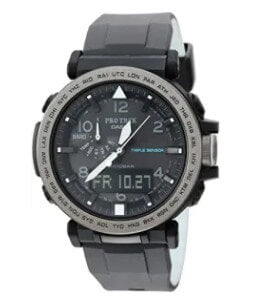 This Casio Pro-Trek model is more expensive but is worth the price considering all the special features that are packed into it. Like the previous model, the PRG-650Y-1CR is also temperature-resistant (-10 degrees C), has all the ABC functions, and world time.
What's unique about this, however, is the design. This one has a night safari concept–black faces, ion-plated bezels, and DuraSoft band that promote durability. This watch is rugged and handsome, making it a perfect watch for both adventures and daily use.
According to Casio, the design and colors of this Triple Sensor Version 3 Pro Trek models were selected for night time outdoors. Aside from its predominantly black color, the watch has the Neon Illuminator, allowing the user to read the time and other functions even in dark environments. The inside part of the band also has a faint glow for night activities.
Suunto Core Outdoor Watch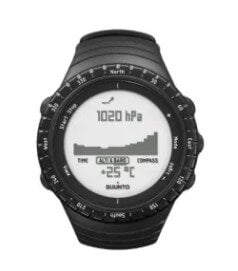 Another big name in outdoor and ABC watches is Suunto, a Finnish company that has been making watches since 1936. The word "Suunto" means "direction," which is what the company has always been known for: accurate compasses.
The Suunto Core line was first released in 2007. These sports watches boast of ABC features that have weather information—the best watch for outdoor sports and activities.
Some of the key features include a weather graph with preset sunrise and sunset times (for more than 400 locations), a storm alarm, and multiple dates and time functions. Those who will use this watch for snorkeling would also be able to use the depth meter for dives.
One of the features that have received mixed reviews is the battery life. Some say that it lasted them a year before replacement, while others claim that their batteries only lasted two weeks. Take note that when it comes to watches like these, the battery life will really differ—it will always depend on the features being used.
Suunto Ambit3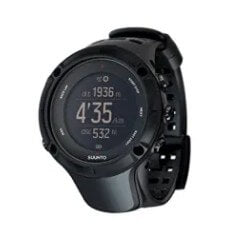 The Suunto Ambit3 boasts of an impressive battery: 200 hours with 1-minute accuracy. This is more expensive than the previous Core outdoor watch, but it has more features too: more than a dozen languages, a heart rate monitor, a bike power support, route navigation, and trackback.
Suunto has an app called Movescount that will allow users to easily integrate their Suunto watch to their smartphone. This connectivity will allow you to customize your watch using the phone, use the phone as a second watch display, discover new routes, and upload your progress and share your activity instantly.
The things that you can do with this app is simply impressive. Aside from taking pictures, you can also create a movie of your activity; and you can get push notifications, calls, and messages on your Suunto watch.
This is an ABC watch for those serious about the outdoors. It's not cheap, but the functions will definitely be worth it.
Casio G-Shock Mudmaster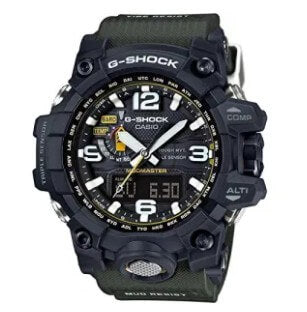 Here's another Casio, but this time it's the G-Shock, which is one of the most trusted outdoor watches today. There are so many models to choose from, so for this article, we're featuring one of the brand's best ABC watches: The G-Shock Mudmaster.
The Mudmaster is an excellent watch for those who are doing adventure sports. As the name suggests, this watch was built for those "whose work takes it into areas where piles of rubble, dirt, and debris are present."
This watch is equipped with mud-resistant features, such as pipes that guide the buttons, keeping the mud out and protecting buttons from impact. In terms of luminosity, this one has a double LED light for high visibility and a sapphire crystal for scratch-resistance.
This model has the Triple Sensor Version 3 feature, which provides the user with the ABC essentials, as well as improved accuracy.
Other excellent features include a stainless steel case, shock resistance, vibration resistance, a screw lock crown, and a 200m water resistance. If your job or sport requires a mud resistant watch, this is one of your best bets.
Garmin Fenix 3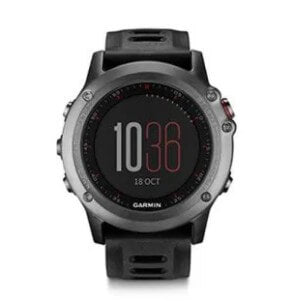 No ABC watch list would be complete without a Garmin. We're featuring Fenix, one of the brand's most powerful watches.
If you're looking for a smartwatch that you can use for your adventures, this is a brand that will not disappoint. The Fenix 3 is packed with all the features that you will need outdoors—whether it's running, swimming, cycling, or climbing.
One of the best features of Fenix 3 is its durability. It's available in three models: "gray with high-strength, scratch resistant, crystal and black band; silver with red band; and the premium sapphire model with a stainless steel band and sapphire lens." According to Garmin, all of these have a protective bezel made of stainless steel, making it very durable. There is also a Fenix 3 Sapphire edition that has an extra tough glass material and an additional metal strap.
If you're using the watch for fitness, this watch has features that will make your workout more efficient. It has a heart rate monitor, can measure your running speed, and even has a feature that will let you compare your fitness activities with others. It also has a recovery check and a recovery timer.
The Fenix 3 is pricey, but if you will be using most of the features mentioned above and on the Garmin site, you will get your money's worth.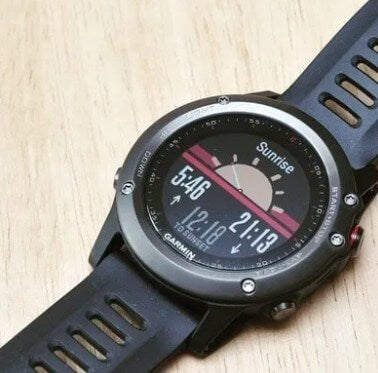 Garmin Fenix 5x Plus
The Garmin Fenix 5x Plus is one of the latest upgrades to the brand's latest Fenix 5 series.
The price tag may be hefty, but the features on this latest model are one of the most advanced on the market today.
One of the best features of the Fenix 5X Plus is the Pulse Ox Acclimation sensor, which estimates your blood oxygen saturation levels. This would come in handy for those who are on high altitudes. You will also be able to estimate your heart rate.
The navigation features are exceptional as well. This watch has a mapping system that allows the user to track their location, and find the best routes and paths. If you're a runner or cyclist, these are some of the things that will maximize your workout.
The Fenix 5x are excellent for fitness, having features like tracking (steps, distance, and calories burned), but the Charlie is being marketed as a watch for field ops and tactical operations, as the name suggests.
One unique feature of the Tactix Charlie is the night vision mode, a feature that can change the backlight that will allow the user to use night vision goggles.
The only key feature difference between the Garmin Tactix Charlie and the Fenix 5x is the Charlie has a night vision mode. This is a feature that alters the backlight tomake it easier to use with Night vision goggles.
Tissot T-Touch Expert Solar
An analog ABC watch, the Tissot T-Touch Expert Solar is a simple watch packed with features for the outdoors: a countdown timer, regatta function, Chrono split and lap (logbook).
One of the most unique things about this watch is that it's a touch screen powered by solar energy, which means that you can keep using it for extended periods of time and not worry about the battery running out quickly.
This may not be for you if you are particularly looking for fitness features that can track your activities such as the smartwatches featured above, or smartphone integration. However, if you're looking for an excellent analog ABC luxury watch that's legible and durable (it has a titanium case and a silicone strap), this is something that you should check out.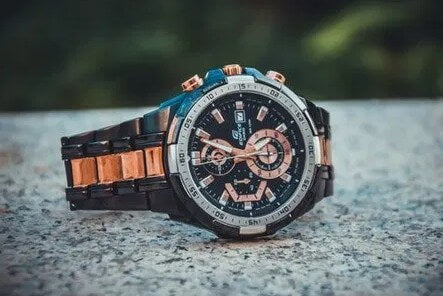 Tissot has a number of T-Touch Expert watches, so you will have different designs to choose from.