Whether you're a casual user in pursuit of a healthier lifestyle, or an enthusiast looking to reach another level, you need a high-quality sports watch in your workout routine.

Such a timepiece will help you track, monitor, and improve your performance via built-in sensors. They include one for tracking your heart rate, as well as a built-in accelerometer, and a built-in GPS chip for precisely mapping your outdoor exercises, just to name a few.

Many of today's top-rated sports watches can also guide you through your workouts via on-screen animations. They can also track your sleep and recovery patterns, helping you to always feel your best and avoid injuries.

All fitness-tracking watches come with a companion smartphone app, which will give you an easy-to-digest overview of all the data that their sensors collected during your workouts. The app is also handy for adjusting their settings, as well as for keeping them up to date.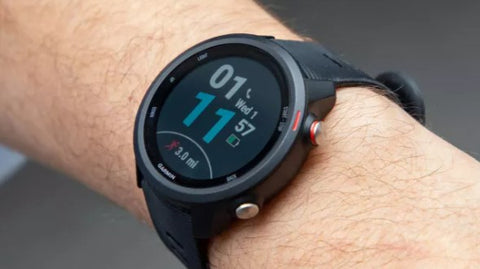 Most importantly, the health- and fitness-tracking platforms that complement today's best sports watches will help you make sense of your performance, as well as take meaningful steps to improve it. You will be able to keep an eye of your metrics and achievements, compare them over time, and share them with your trainer, friends, or other enthusiasts.

Today's best sports watches are also excellent smartwatches. They will not only help you become a better version of yourself, but also send you smartphone notifications, offer effortless access to your favorite virtual assistant, and even allow you to control connected home products.

The abilities of a sports watch to automatically track and guide you through your exercises are also vital specs you'll want to look for. The same goes for a waterproof build to withstand sweat, outdoor runs on a rainy day, and even swims in open water.
10 Best Sports Watches:
Apple Watch Series 5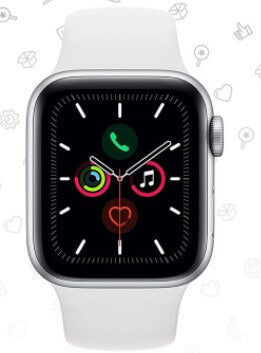 When it comes to sports watches, the Apple Watch Series 5 is the one to beat. It's the most intuitive, desirable, and least intimidating product on this list.

Available with a 40- or 44-millimeter case, the Series 5 is the first Apple Watch to have an always-on display. The feature is handy, because it will allow you to effortlessly keep track of time and essential exercise metrics. The display of the watch is the best in the business — it's bright and easy to navigate even under direct sunlight.

Like the Apple Watch Series 3 and Series 4, the latest iteration has optional cellular connectivity, meaning you can take a break from your iPhone during their workouts. It also has a built-in GPS and compass (another first for the Apple Watch), so you can precisely keep track of your outdoor activities, and there's an ultra precise, ECG-capable heart rate sensor.

Casing options for the product range from aluminum and stainless steel all the way to ceramic and titanium in the Edition models. There's an excellent selection of Apple-made and third-party bands to help you customize it. There are many variants to choose from, including Apple's collaborations with Nike and the iconic fashion house Hermès.

If you're shopping on a tighter budget, consider the Apple Watch Series 3. It lacks some of the features found in the latest model such as an always-on display and a built-in compass but will still help seamlessly keep track of your health and fitness routine.
2.Garmin Venu Smartwatch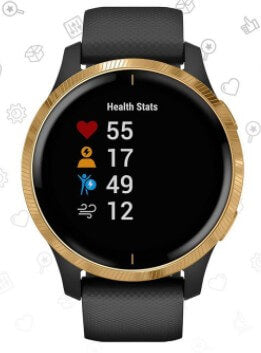 The Garmin Venu smartwatch is one of the brand's feature-packed and user-friendly products. The fitness-tracking timepiece has a gorgeous AMOLED touch screen that's easy to read at a quick glance, as well as a feature-packed yet intuitive user interface.

The health- and fitness-tracking capabilities of the Venu are unsurprisingly among the best in the business. They include the ability to monitor your body's energy levels throughout the day — a handy feature that will help users determine the best times for exercising as well as for recovering. The Venu can also monitor your stress levels, as well as the quality of your respiration and sleep, among many other things.

Of course, the product can also guide users through their workouts via on-screen animations. The free Garmin Coach feature on the other hand, cab help runners train to achieve their goals by delivering personalized guidance.

Other key features of the watch include a built-in GPS for detailed mapping of the user's running routes and smartphone notifications. You can also install apps on the watch from a dedicated marketplace, as well as make mobile payments with it. The watch can last up to 5 days between battery charges.
3.Fitbit Versa 2 Smartwatch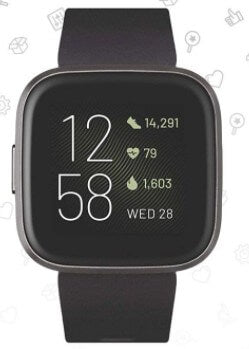 Priced below $200, the Fitbit Versa 2 is proof you don't have to splurge for a great sports watch. As Fitbit's most feature-packed and user-friendly fitness-tracking smartwatch to date, the watch features a vibrant AMOLED touchscreen, excellent ergonomics, and a speedy performance. The Versa 2 is also the first Fitbit product with Amazon Alexa on board — you can summon and interact with the virtual assistant with the press of a button.

The sleep-tracking capabilities of the smartwatch (which can accurately keep tabs on the various stages of your slumber) are particularly noteworthy, because they set it apart from its similarly priced competitors.

You can access and analyze your fitness performance and sleep habits via an intuitive smartphone app, which a CNET tester praised for delivering an "easy-to-understand breakdown of your fitness and sleep metrics."

The Fitbit Versa 2 is water-resistant up to 50 meters. With the optional always-on display mode switched on, the smartwatch can still last more than 2 days between battery charges. Fitbit offers the product with a carbon, a copper rose, or a mist-gray metal case. You can customize the gadget via a host of interchangeable bands.
4.Samsung Galaxy Watch Active2 Smartwatch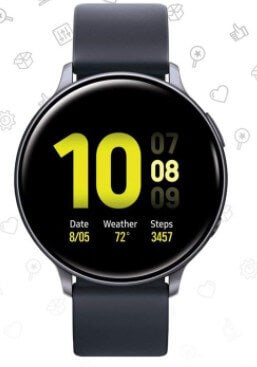 Samsung's Galaxy Watch Active2 smartwatch is the best Apple Watch alternative for Android smartphone users. It has an eye-catching design, impeccable ergonomics, intuitive user interface with awesome haptic controls, reasonable price, and a powerful set of fitness- and sleep-tracking features. They include the ability to automatically track and guide you through multiple exercises via a host of built-in sensors, including an accurate heart rate tracker.

The product's heart-rate-tracking capabilities will get even better in the coming months. Samsung will bring ECG capabilities, as well as AFib detection to the product via a firmware update.

The gadget will sync your data with Samsung's powerful, yet intuitive Health platform. The Galaxy Watch Active2 also comes with an excellent selection of apps and watch faces.

The fully waterproof body of the Galaxy Watch Active2 can withstand depths of up to 50 meters. Available with a 40- or a 44-millimeter aluminum or stainless-steel case, the timepiece is also incredibly comfy to wear daily. There are three finishes to pick from: black, silver, and gold.
5.Polar Ignite Fitness-Tracking Watch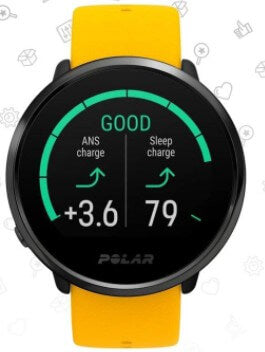 The reasonably priced Polar Ignite is packed with a ton of features geared toward workout addicts. The fitness-tracking timepiece has a built-in GPS, customizable profiles for various sports, as well as the ability to precisely measure the strain your body endures during every training session. The Ignite can also keep track of your sleep and recovery patterns.

Measuring your body strain is essential, as it will help you pace yourself and maintain consistent performance. Most importantly the feature will help you avoid injuries. A TechRadar editor discovered that the feature is helpful in "helping you spot when and how hard to train."

The watch is water-resistant up to 30 meters, so you can go swimming with it. It can last for days between battery charges. Its sturdy metal case is available in a black, silver, or rose gold finish. You can freshen up the device's looks with interchangeable bands.
6.Fossil Collider HR Hybrid Smartwatch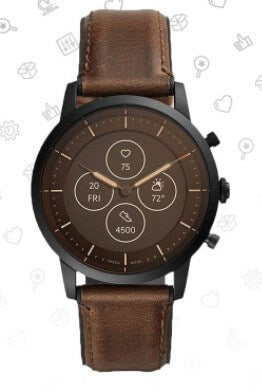 The Fossil Collider HR is a great option for fashion-conscious buyers, looking to keep track on their basic activity and sleep patterns. At a quick glance, the hybrid smartwatch looks like a classic chronograph timepiece with mechanical hands and a three-button layout.

However, with a built-in always-on e-ink display and a heart rate sensor, the hybrid smartwatch is as feature-packed as it is elegant.

The Collider HR will effortlessly deliver notifications from your phone, as well as keep tabs on your activities, among many other things. Fossil's intuitive mobile app, in addition to delivering an overview of your fitness data, will allow you to customize the device's display, as well as the functionality of its hardware buttons.

The stainless steel timepiece is waterproof up to 30 meters. You can order it on a bracelet or an elegant leather strap. They are easy to replace, allowing users to customize their Collider HR with countless original and third-party offerings.
7.Garmin fēnix 6 Sapphire Fitness-Tracking Watch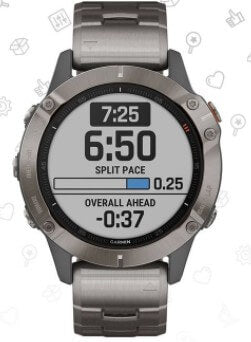 The Garmin fēnix 6 Sapphire is an extremely powerful fitness-tracking tool with the looks and craftsmanship of a luxurious timepiece. It has a titanium steel case and band that are water-resistant to 100 meters, as well as a display covered by a scratch-resistant sapphire crystal.

The fitness-tracking features of the watch include a built-in heart rate sensor and GPS, as well as the ability to precisely track and analyze the user's performance during a plethora of activities. In addition to the most common forms of exercise, the product has preloaded profiles for keeping tabs on your efforts during golfing, rowing, skiing, and swimming, among many others.

The fēnix 6 Sapphire can last up to 2 weeks between battery charges in smartwatch mode, or a whopping 48 days if you use it with the battery-saver mode switched on. It can deliver up to 10 hours of GPS training with local music playback on a single charge.

In case you find the price of the watch a tad too steep, consider the Garmin fēnix 6S instead. Garmin deserves a hat tip for offering the product at so many price points.
8.Withings Steel HR Sport Smartwatch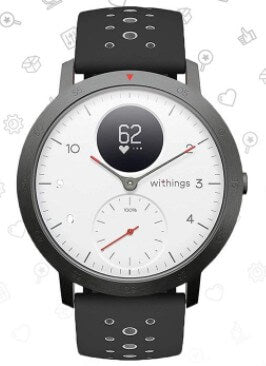 The Withings Steel HR Sport is a classic-looking stainless-steel timepiece with a great set of fitness- and activity-tracking capabilities. They include continuous heart rate monitoring via a built-in sensor, as well as the ability to automatically keep tabs on your exercises and your sleep patterns.

The device's health-tracking features include the ability to assess the user's cardiovascular fitness level. Withings has achieved this feat by estimating the oxygen consumption during a workout. The timepiece can also connect to a smartphone and use its connected GPS for precisely mapping your outdoor runs.

The Steel HR Sport is water-resistant to 50 meters, which means you can go swimming with it. It's available with a black or a white dial, and you can easily customize its looks with swappable bands.
9.Suunto 9 GPS Fitness-Tracking Watch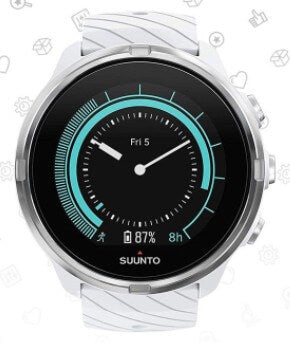 The Suunto 9 fitness watch has a long list of features, including a built-in heart rate monitor, GPS, and a body that's water-resistant to 100 meters.

Most importantly, thanks to an adjustable battery mode, the Suunto 9 is capable of delivering up to 120 hours of continuous exercise-tracking.

The watch can automatically detect and track more than 80 sports and activities, including swimming and cycling. It can withstand water depths of up to a rather impressive 100 meters. It will also connect to your smartphone and deliver notifications.

The case of the Suunto 9 is available in a multitude of colors — black, white, titanium, and copper. Overall, this is a solid option, so long as you don't mind its rather bulky case.
10.Withings Move Activity Tracking Watch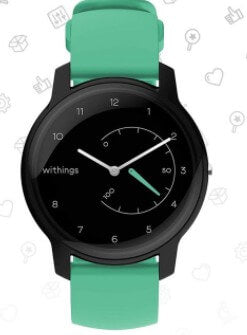 Priced just a tad north of $50, the Withings Move offers a robust set of fitness- and sleep-tracking features, a fully waterproof body with an elegant design, and fantastic battery life (the timepiece can last up to 18 months between battery replacements).

The affordable timepiece has a dedicated complication for tracking your daily progress. You can view all the sleep- and activity- tracking data collected by the watch, as well as receive bespoke tips in a mobile app with a beautiful and intuitive design.

It's important to note that the Move doesn't have a built-in heart rate sensor, thus meaning that it's not a good option for health and fitness addicts. However, if you are looking to count your steps and track other basic activities, this is a solid buy.
You may be interested in: