The significance of the watch can't be overstated. A watch is universally recognized as both stylish and functional.A watch is a tool to tell time and make a statement all in one.But it's easy to get overwhelmed with so many different watch styles out there.In today's article, I give you the 10 watch styles you need to know.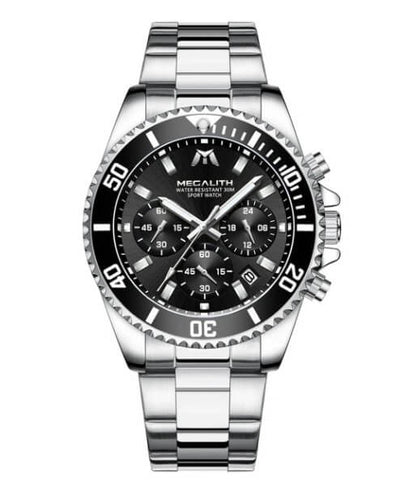 Are you ready to learn the difference between a Dress Watch and a Field Watch? How about a Pocket Watch and Railroad Watch?  Let's get into the details.
10 Men's Watch Styles:
1. Pocket Watch
When you think of a pocket watch, your mind probably evokes images of wealthy Victorian aristocrats smoking pipes and wearing monocles.
The first pocket watches are said to have been manufactured in 1675 when King Charles II of England introduced vests as a menswear staple.
The vest became a practical place to store watches in order to protect them from the weather.
Before then, watches were worn around the neck!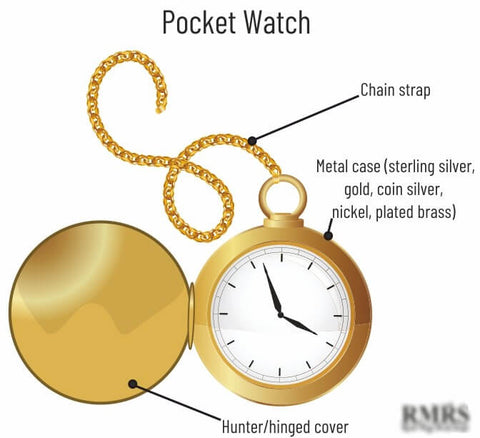 Pocket Watch – Key Features:
-Secured to a vest or waistcoat using a metal chain or leather strap.
-This system prevents the watch from being dropped or stolen.
-Chains are often decorated in silver or colored enamel.
-Watch decorations include coats of arms and sigils for clubs or societies.
-Watch casing is mostly constructed from metal but rarer watches have ceramic and even glass cases.
Pocket watches generally fall into 2 categories:
The Hunter/Hinged Case – this type of pocket watch has a lid with a small glass opening – through which you can see the time. These watches are delicate and pressing too hard on the lid can shatter the watch crystal.
Open-faced – As the name suggests, this pocket watch does not have a lid. To compensate for this, the watch has a thicker crystal.
2. Railroad Watch
Pocket watches underwent a significant evolution after 1891, following The Great Kipton Train Disaster – a catastrophic train crash that occurred on the Lake Shore and Southern Railways.
This disaster happened because an engineer's watch paused for four minutes, which saw him miscalculate the time to the final station – resulting in a collision that killed the engineers of both trains and nine other people.
The railway company hired Cleveland jeweler Webb C. Ball to investigate watch usage on its lines and to make sure the accident would never be repeated.
In 1893, Ball developed the so-called "railroad" watch – a pocket watch that became standard for all railroad operations.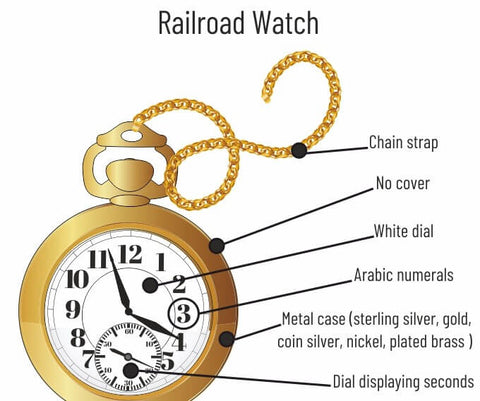 Railroad Watch – Key Features:
-The Railroad Watch needed to meet the following standards:
-The watch needed an open face.
-Accuracy needed to be within 30 seconds per week.
-The watch needed to operate in temperatures between 34 and 100 degrees    Fahrenheit.
-It had to have Arabic numerals on a white dial (to make it easy to read).
3. Dress Watch
The Dress Watch is the simplest and most elegant watch in our list – a watch designed to tell the time and nothing else!
This design traces its history back to Beau Brummel (1778-1840) – an iconic English dandy who was obsessed with finding the perfect fit. He famously took hours to get dressed every day.
Brummel believed the ideal watch should be so thin it complemented menswear rather than detracting from it.
A key feature of the dress watch is its thin casing, which allows the wearer to slip it in and out of a cuff with ease. The dress watch is never ostentatious.
At the time, bulky watches were common because they were easier to make – there was literally more room to work.
Interestingly, that's why thin watches became such a hit – they were proof of excellent craftsmanship.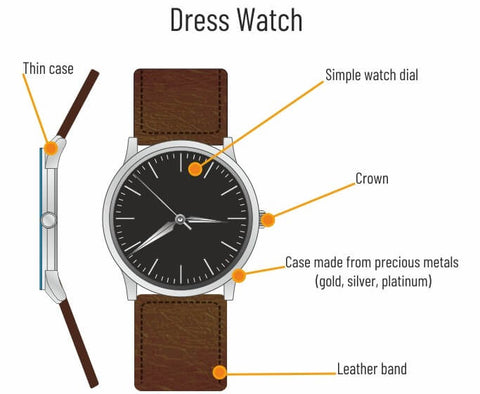 Dress Watch – Key Features:
-The watch dial is always clutter-free. It doesn't even have counters or a date window.
-The face itself is never wider than 42mm and comes in black, white, or metal.
-Even the numbers are simple – they're commonly in Roman numerals or simple lines.
-Dress watches are made in precious metals to reflect the occasion. It makes sense, considering that wearers purchase them for momentous occasions.
-The straps are always leather – usually darker in color to drive home the formal factor.
-The only decoration allowed on this men's watch is a single cabochon over the crown – the cabochon being a polished gemstone.
4. Field Watch
This venerable piece has some hardcore military style heritage behind it.
In 1879, German emperor Wilhelm I bought two thousand watches for his naval officers – marking the first time in history where warfare and wristwatches intertwined.
Beforehand, officers used pocket watches – wasting precious seconds to pull them out during battle.
The only problem with Kaiser Wilhelm's watches? They featured an unseemly grill to protect the glass and this obscured the time.
Field watches thus grew into popularity and made a splash in World War 2 with the 14K gold American A-11.
Guess what – the A-11 still sets the standard for military watches.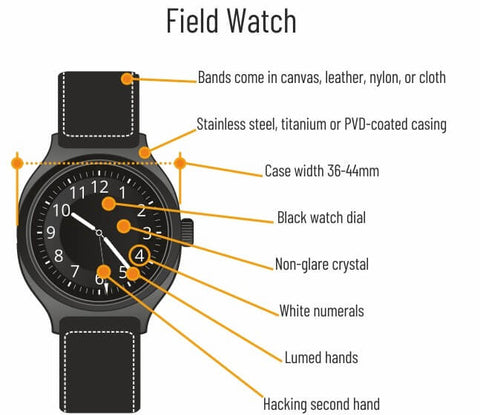 Field Watch – Key Features:
-Glare-proof crystal and high contrast on the numbering render it easy to read in poor lighting conditions.
-Its design is often simple, shock resistant, and light.
-Original designs yielded hand-wound 36mm cases, while modern releases are slightly larger (38-44mm) with automatic and quartz variants.
-One unique feature is that the second hand stops when the crown is pulled – great for synchronizing with other officers in military operations.
-Bands on men's field watches are either canvas, nylon, or leather – easily replaced if damaged in wartime.
-Nowadays, you'll find the body of the watch in stainless steel, titanium, or PVD (Physical Vapor Deposition – a thin, protective coat which is impossible to remove).
5. Aviator Watch
The quintessential adventurer's watch – this men's watch started in 1906 on the wrist of Alberto Santos-Dumont as he piloted the first-ever powered flight in Europe.
Alberto Santos-Dumont piloted the first-ever powered flight in Europe and is synonymous with the Aviator's Watch.
Santos-Dumont happened to be friends with Louis Cartier and asked him to develop a watch that could act as a stopwatch in addition to telling time.
The result was a piece which featured Roman numerals and a curved dial within a rectangular case.
As aviation evolved, so did the watches.
Later designs showcased black enamel dials, large Arabic numerals, and an onion-shaped crown.
They were made as resilient as the pilots themselves, and comfortable to boot.
Elongated straps made them easy to fit over a flight jacket, allowing the pilot to stay fully protected.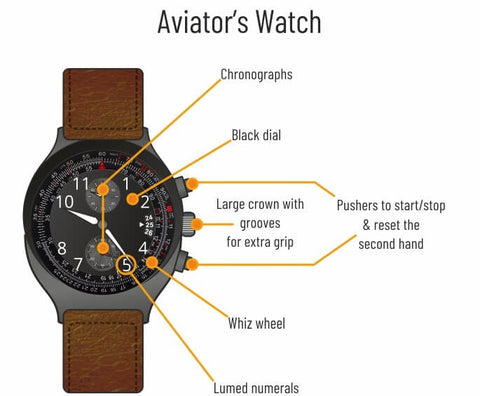 Aviator Watch – Key features:
-Men's aviator watches feature contrasting numbers for easy visibility.
-A larger crown is also common as it allows for the pilot to adjust without needing to remove his gloves.
-A tell-tale sign of an Aviator Watch is whether or not it has multiple chronographs – watch out for them.
-Buttons on either side are also prominent – serving to start and stop time on the chronographs.
-Aviator watches feature multiple time zones and a "Whiz Wheel" – a tool used by pilots to calculate time, fuel, and distance.
6. Dive Watch
The name says it all – this watch is used for underwater diving and to monitor dive time.
The Dive Watch's first recorded use was in 1926 when Rolex bought the patent for the "Oyster" watch case.
This new watch proved itself when Mercedes Gleitze embarked upon a daunting 10-hour swim across the British Channel . Not only did the watch remain intact – it kept time throughout!
Today, the Diver's Watch is constructed to withstand high water pressure. Sapphire glass is used for this as it happens to be scratch-resistant as well.
These watches feature a unidirectional rotating bezel that so that a diver can time dives and monitor their air supply.
Dive watches can withstand 660-980 feet and better-quality watches can go deeper. They're reinforced by a helium release valve to mitigate pressure build-up.
Such is the importance of dive watches that they're regulated by the International Organization for Standardization.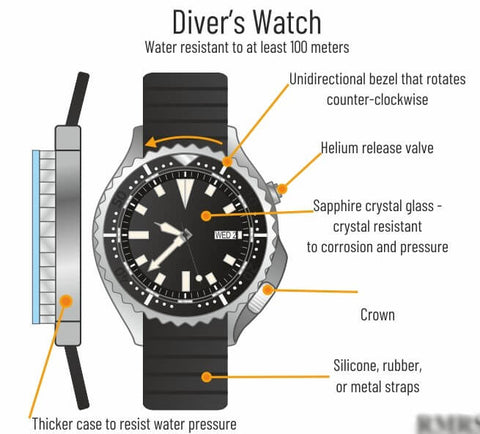 All watches must have the following characteristics:
-A unidirectional bezel with 5-minute-elapsed minute markings to pinpoint specific minutes.
-Clearly discernable minute markings on the watch.
-The watch needs to be visible at 9.8 inches in total darkness.
-An indicator that the watch is working in total darkness – usually through a second hand with an illuminated tip.
-Magnetic and shock resistance – tested by two shocks to the side of the watch and to the crystal. The blows are delivered by a hard plastic hammer.
-Tested resistance to rust.
-Solidity and strength in the band.
-An End of Life (EOL) indicator on battery-powered watches.

Dive Watch – Key Features:
-Dive watches are made with stainless steel – the best material for braving the pressures of the deep and the corrosiveness of salt water.
-Due to the sheer hardware that goes into them, the watches are usually larger than others.
-They use thicker crystals in order to enhance pressure resistance. The crystals can come in acrylic, hardened glass, or synthetic sapphire.
-Easy legibility is a must, so these men's watches are designed with as little clutter on the dials as possible. The minute hand is deliberately made larger.
-In addition to that, the markers for 3,6,9 and 12 are designed as conspicuously as possible to prevent disorientation-induced readout errors. The same goes for the zero-marker on the bezel.
-The size of the case makes it easy for divers to rotate the bevel, even when wearing gloves.
7. Racing Watch
The much flashier cousin of the field watch – the racing watch comes packed with an array of exotic style options including decorated leather or fabric bands.
They were designed for – you guessed it – race car drivers.
When Steve McQueen starred in Le Mans, a movie based on the Le Mans Endurance Race, he chose to use the Heuer Monaco by Swiss Heuer.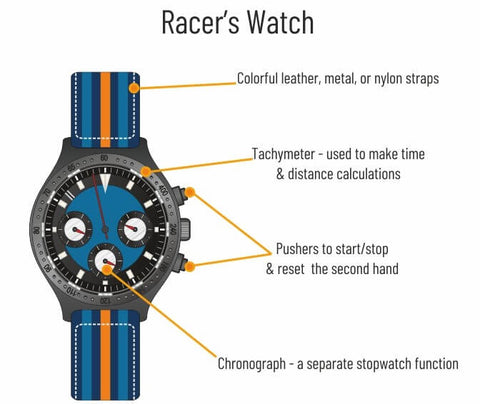 Racing Watch – Key Features:
-Two signature aspects of the watch are the chronograph and the tachymeter. The former acts like a stopwatch that uses an extra sub-dial, using pushers at the 2 and 4 o' clock positions to set it off.
-The latter makes calculations about time based on distance. By measuring the seconds it takes to get somewhere, the outer markings will show speed per hour.
-By definition, racing watches are loud and meant to draw attention. High contrast dials ensure they can be read at high speeds.
-A unique characteristic is the angled case – designed so the watch can be read without needing to take your hand off the wheel.
-Racing Watches come in metal bracelets these days, but traditionally they sported breathable leather or rubber straps.
8. Digital Watch
Riding the coat-tails of Seiko's Quartz watches, the Pennsylvania-based Hamilton Watch Co. released the first digital timepiece – the Pulsar – in 1972 with a price tag of $2,100.
The first models had a gold case that featured LED lights showcasing digits for the time.
This initially drained the battery too badly to be efficient but the advent of the LCD (Liquid Crystal Display) by Seiko in the following year allowed the watch to run all day.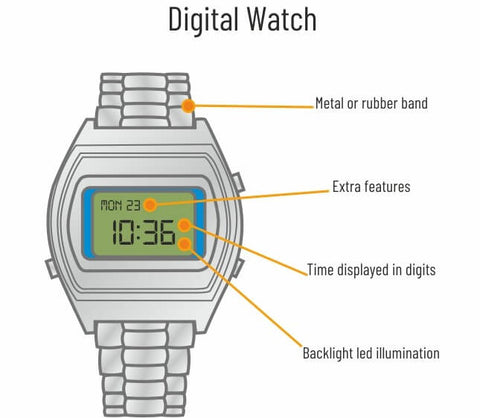 Digital Watch – Key features:
-Time is indicated by digits, rather than hands on a dial.
-Digital Watches tend to feature a fluorescent background so you can check it when it's dark. They're a popular choice in sports because of the precision they offer.
-They're often the least expensive – running as low as $5 in some cases.
9. Smart Watch
These recent additions to the watch family seem like a new trend, but they have history too!
A smart watch is essentially a wearable computer.
In 1927, there existed the Plus Four Route Indicator – the first watch to have "mapping technology".
It was literally a small printed map which the user needed to wind manually as he progressed on his route. This may not technically be a "smart watch" but we love it all the same!
plus four route indicator
The low-tech Plus Four Route Indicator. Was this the world's first "smart watch"?
The Data 2000 was launched in 1983 and is the first true smart watch. It came with an external keyboard for data entry and had the capacity for 2,000 characters.
In 1998, Steve Mann developed the first Linux smartwatch. He was rightly hailed the "father of wearable computing."
Today, smart watches include functionality like GPS and activity trackers such as a heart rate monitor, and can be connected via Bluetooth to cellphones and computers. Some smart watches have become an extension of the wearer's smart phone.
Smart watches continue to – and will always – evolve as technology evolves with them.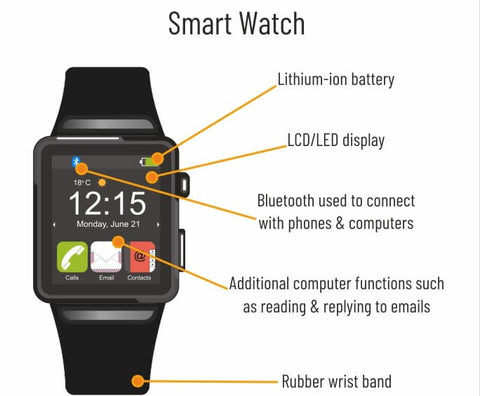 Smart Watch – Key Features:
-A huge range of technological features such as Bluetooth functionality to connect to computers and cellphones.
-Cellphone compatibility – to read SMS messages and emails.
-Backlit LCD/OLED screen.
-Rubber, metal or fabric band depending on the brand
10. Fashion Watch
The Fashion Watch revolution began in 1983 when Swatch started manufacturing watches that followed NONE of the above standards.
It wasn't long before Fossil and Guess jumped on – the Fashion Watch thus came into prominence in the 1990s and 1980s.
In general, a fashion watch is produced by manufacturers that don't necessarily specialize in watchmaking. Fossil for instance produces wallets and bags in addition to their watch styles.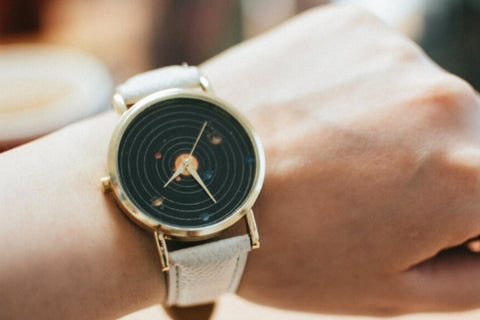 Fashion Watch – Key Features:
-These men's watches reflect current fashion trends and act as a means of personal expression for the wearer.
-Anything goes with fashion watches, and this allows for maximum creativity for the manufacturer.
-In general, fashion watches are more affordable. Brands typically utilize cheaper manufacturing materials.
-Their affordability made the "wardrobe watch" phenomenon possible – it allowed the average man to buy multiple watches for multiple outfits – something that wasn't possible before then.
-Despite the seemingly infinite combinations of colors and features, fashion watches typically showcase an oversized crown, bright colors, and printed watch faces.
In Summary – Men's Watches
Pocket Watch – an old-fashioned watch that fits in your pocket
Railroad Watch – a specialized watch once used to keep trains running safely
Dress Watch – the simplest and most formal watch
Field Watch – a rugged watch designed for military use
Aviator Watch – a pilot's watch characterized by multiple chronographs
Dive Watch – a watch with extreme water resistance and a rotating bezel for timing dives
Racing Watch – a racing driver's watch with a chronograph and tachymeter
Digital Watch – a watch with digits rather than hands
Smart Watch – basically a wearable computer
Fashion Watch – a watch designed for fashion rather than for a specific function
There's a watch for every occasion and situation to drive home the message of style, whether you're flying a plane or wearing a tux.
You may interested in: