Cars and watches are a natural fit. Both are traditionally mechanical, and both are products of mindbogglingly complex and precise engineering. Even looking beyond similarities in engineering and design, the watch itself has played an integral role in early motor racing. Early race car drivers wore bulky stopwatches strapped to their wrists to time laps and calculate speeds. Later driving watches had angled dials for easy reading without taking a hand off the wheel. The great chronographs of the 1960s set a high-water mark for design, with bright colors, funky shapes and iconic perforated leather rally straps. And though today their role in motorsport has become diminished with specialized, ultra-accurate timing systems, there are still watches that capture the scent of exhaust and the sound of engines running wide open on a ribbon of tarmac — a pitch-perfect tribute to this longstanding bond.
Since 1983, Seiko and Italian design house Italdesign Giugiaro have partnered on a variety of distinct, user-focused timepieces with outside-of-the-box designs. This SCED057 "rider's" chronograph is just one of their latest. The dial may look like it's ripped from one of Italdesign's wedgy, '80s supercar designs, but the watch is designed for motorcycle riders, with the dial turned 15 degrees clockwise and tilted five degrees towards the rider so that it can be more easily read while astride a bike.
1.Autodromo Stradale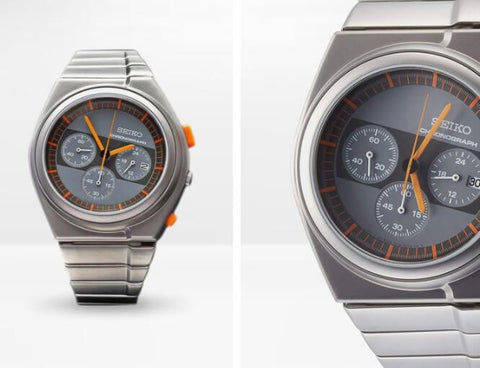 Autodromo is a quintessential boutique watch brand and an industry leader in making watches that look like dash gauges. The brand's Stradale model is a classic, featuring a two-tier dial design, an orange minute hand and two screws at the center giving it the convincing appearance of a '60s Italian speedometer strapped right to your wrist.
2.Oak & Oscar Jackson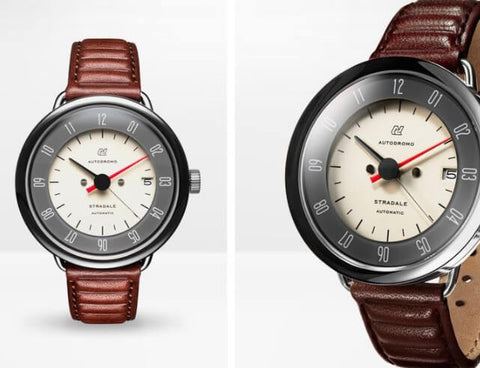 Oak & Oscar's first chronograph is a holistic tribute to motor-racing. It's named after the first official road race held in the US (a 54-mile trip from Chicago's Jackson Park neighborhood to Evanston and back), but its design is very much reminiscent of the chronographs of the '60s and '70s, a motorsport heyday if ever there was one. The movement inside is a manual-winding chronograph from Eterna with a flyback function, allowing the wearer to record multiple times in succession without stopping and restarting the chronograph function.
3.Oris Chronoris Williams 40th Anniversary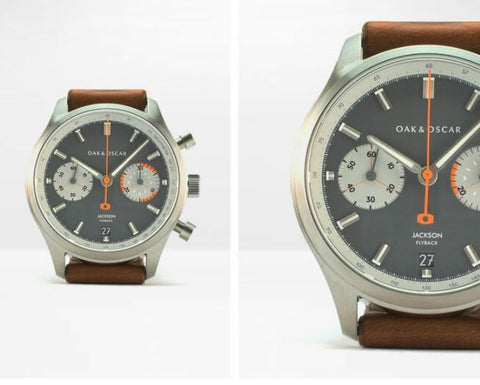 Partnerships and co-branded timepieces are hallmarks of the modern automative watch, and while many fall, flat this Oris tribute to the Williams F1 team is tastefully done. The dial is free of any extraneous branding, with only blue accents hinting at the partnership. The watch's lugless, barrel-shaped case design is a nice retro touch that makes sense given the Chronoris nameplate's roots in the 1970s.
4.Raidillon 41-CIC-301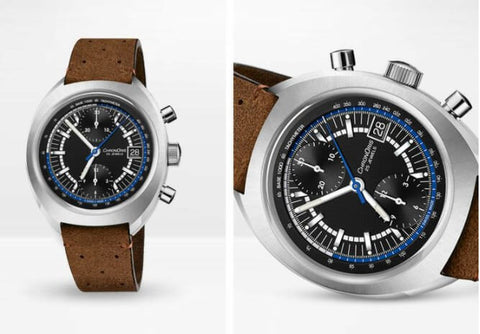 Raidillon is Belgian-based watch brand named after the infamous sweeping, uphill right-hand corner at the Circuit de Spa-Francorchamps racetrack. As such, it specializes in motorsport-inspired chronograph watches, both with vintage and modern designs. This particular reference is certainly the latter, with looks penned by Belgian product designer Axel Enthoven. The stark, brushed metallic dial, flat-sided case and knurled crown all look as if they're plucked from an automative parts bin in a way that feels dignified rather than cheesy.
5.Nomos Autobahn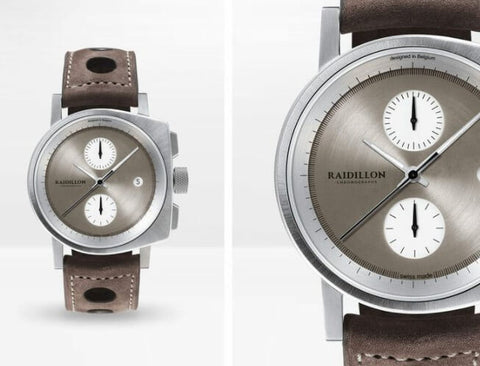 Designed with German industrial designer Werner Aisslinger (also a noted car enthusiast), the Autobahn is what happens when Nomos takes a shot at the car gauge-inspired watch dial. The result features a track of lume stretching from eight o'clock to four o'clock, making it appear like an illuminated speedometer. Further, the date function at six o'clock is meant to resemble an odometer, with the window showing three dates at a time.
6.TAG Heuer Autavia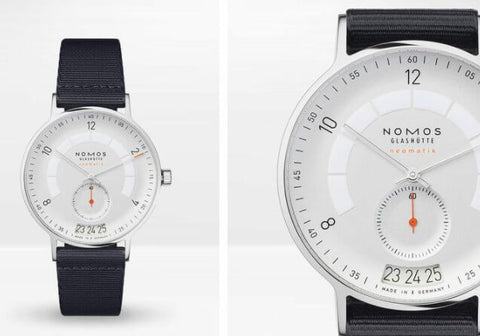 This list could very well be littered with Heuer chronographs, as the brand was ubiquitous in the racing scene during the mid 20th century, but the Autavia is the grandaddy of them all. The Autavia name was first used on dash-mounted rally timers in the '30s but was then repurposed in the early '60s as Heuer was reinventing its line of chronographs. A few years later, the watch became the first to utilize a rotating tachymeter bezel, making it easier to make speed calculations and popularizing it with big-name drivers (the modern version itself is based on a reference worn by F1 driver Jochen Rindt).
7.TAG Heuer Monza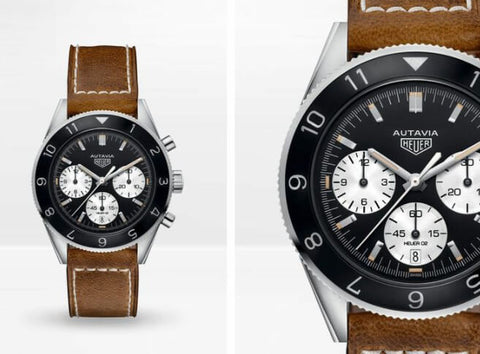 The Autavia may be the icon that forever linked Heuer with racing, but the Monza was an evolution of the concept. It was created in 1976 to celebrate Ferrari's 1975 F1 World Championship win (Ferrari driver Niki Lauda sealed the deal at Ferrari's home turf at Autodromo Nazionale Monza). The original Monza had a PVD-coated stainless steel case and was one of the earliest watches with an all-black design. This modern reissue eschews PVD-coated stainless steel in favor of a titanium case with titanium carbide coating.
8.Icon Duesey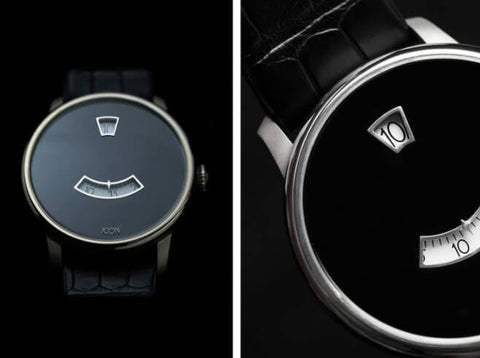 And now for something completely different: famed auto restorer Jonathan Ward's foray into watches. The Duesey is not inspired by the kitted-out off-roaders that made ICON 4×4 famous, but rather by the art deco magnificence of the Duesenberg SJ. The dial is laid out in a rare jump hour configuration — with minutes and hours displayed on rotating discs — meant to resemble the SJ's "drum style" tachymeter. The windows for the hour and minutes are flanked by a gorgeous piece of polished Onyx stone, and the whole thing is housed in a titanium case.
9.Rolex Daytona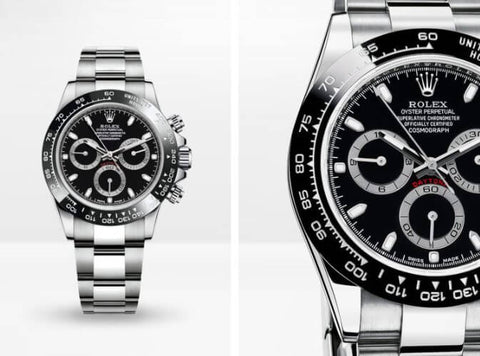 Rolex's iconic chronograph is named after the Daytona International Speedway and was seen on many a racer's wrist, including Hollywood and racing legend Paul Newman. Even today, the watch is given as a trophy to the winners of the grueling 24 Hours of Daytona endurance race. Given a design refresh a couple of years ago, the modern Daytona very closely resembles early iterations of the watch that have made it such a hit with racers and collectors alike.
You may interested in: