Swap your regular wristwatch out for a stylish pocket watch alternative. These timepieces look incredibly refined with a suit and waistcoat for a dapper look; however, they can be just at home with a pair of jeans. When choosing your watch, you'll need to consider factors such as material, price, and brand. The face type — open or hunter-case — will also play a role in your selection, as will the movement — whether it's automatic or mechanical. Pocket watches make an excellent indulgence for yourself, especially if you already have a good watch collection.
1. Stuhrling Original Men's Pocket Watch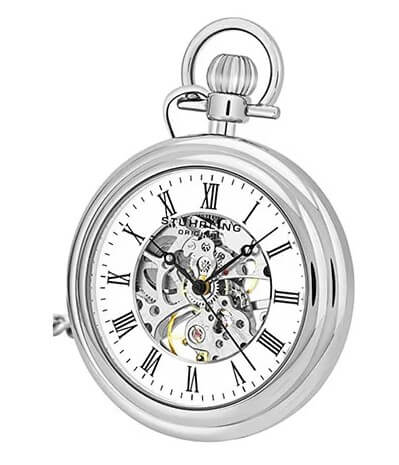 This watch from Stuhrling will give you an insight into the inner workings of your timepiece, thanks to the dual-sided skeleton case. It comes equipped with a 12-inch chain to clip easily to trousers or a vest. Then, when you're not wearing it, there's a kickstand so it can be displayed proudly on your desk or side-table. The time is shown in Roman numerals with stick-markers for each minute. You need to wind this watch every 24-36 hours due to the manual movement; however, the onion-shaped crown makes this efficient and straightforward to do each morning.
2. Hicarer Vintage Pocket Watch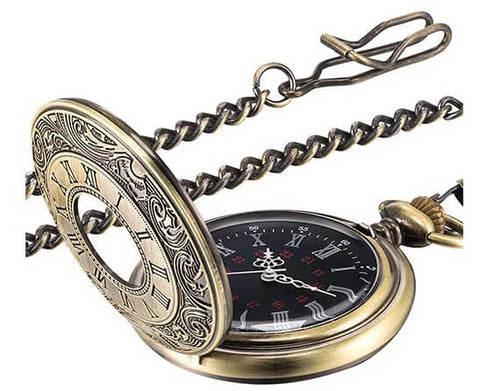 This vintage-style pocket watch from Hicarer features intricate and detailed engravings on both the front and back of the case, making this timepiece extra special. The 14.5-inch chain is detachable, yet easy to reassemble, and can be stylishly worn on both a waistcoat or, less formally, a pair of trousers. The crown at the top adjusts the time and opens the case, which is conveniently sized at 1.8-inches in diameter. Lastly, you can choose from a bronze, silver, or gold finish to best suit your aesthetic.
3. LYMFHCH Classic Smooth Vintage Quartz Pocket Watch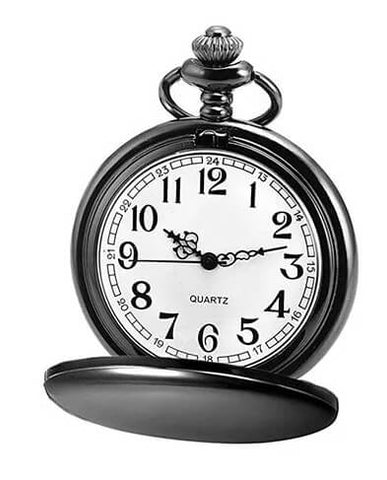 Give the gift of time with this classic black pocket watch, with a smooth finish. The case is easy to open thanks to the crown at the top, which also lets you accurately set the time. The clean styling of the watch face features a white dial, Arabic numerals in 24-hour time, and elegant filigreed hands. Lastly, the detachable chain is simple to attach and remove, making it a versatile accessory for every stylish gentleman.
4. Mudder Vintage Roman Numerals Scale Quartz Pocket Watch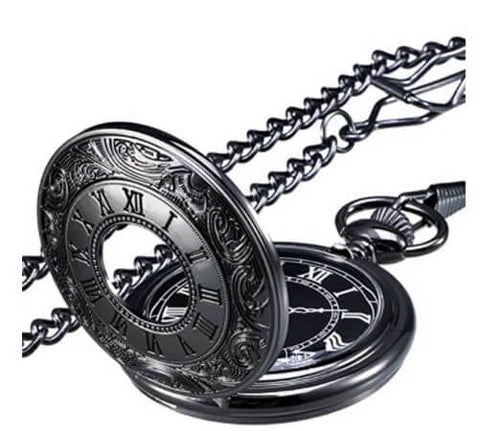 If dark and brooding is more your style, then this Mudder Vintage pocket watch is the ideal selection. The deep black finish looks both polished and engaging and is accentuated with the intricate carvings on both the front and back. White roman numerals adorn the face, which contrasts sharply with the black dial. Easily adjust the time with the crown, and secure the watch safely to your clothing with the 14.8-inch chain. It makes a wonderful gift, coming complete with a cleaning cloth and a stylish gift box.
5. WIOR Classic Smooth Vintage Pocket Watch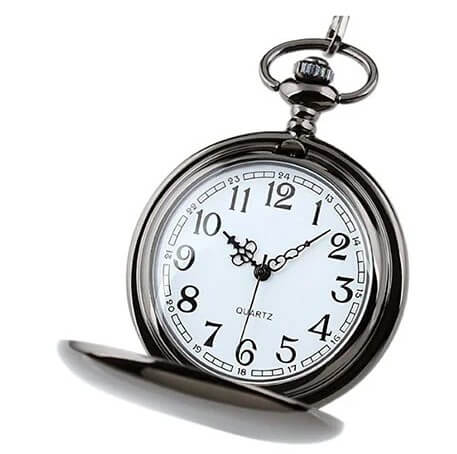 Keep it classic and simple with this pocket watch from WIOR. The white face contrasts nicely with the black Arabic numbering and metallic black hunter case. The time is kept precise with a quartz movement, and you can adjust it easily when traveling with the crown. Choose to wear it with or without the chain, as it's fully removable to tailor your look. Finally, if you prefer a lighter colored pocket watch, this same classic style also comes in a yellow gold and silver finish.
6. LYMFHCH Vintage Pocket Watch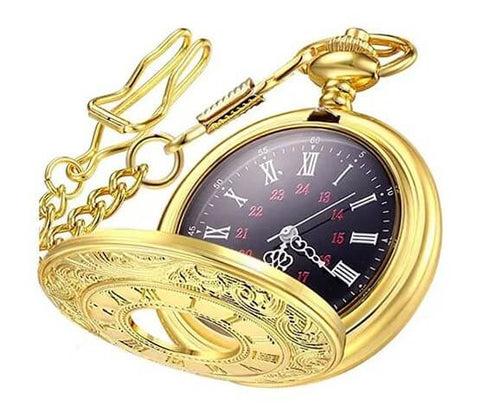 Make a statement that everyone will remember with this bright gold pocket watch. It combines ageless styling with practical features. The time is shown in a 24-hour format using a combination of Roman and Arabic numerals, while there are also five-second increments marked for easy reference. The filigree hands add an extra level of sophistication. Meanwhile, there's a detailed design engraved on the front and back of the case. Lastly, the 14.6-inch chain keeps the watch attached securely to your outfit, but is removable should you desire.
7. VIGOROSO Men's Vintage Pocket Watch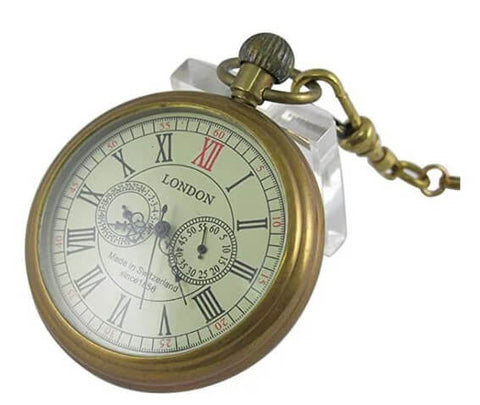 This vintage-styled mechanical watch features classic design details and a unique feel. The dial shows the time in Roman numerals, while two subdials keep seconds and 24-hour time. Meanwhile, the filigree hands add to the look, while the burnished bronze finished enhances the vintage vibe. However, you will need to wind the watch every 24-36 hours to keep it accurate. Lastly, it comes with a stylish gift box, making it the perfect present for a friend, family member, or treasured colleague.
8. TREEWETO Mechanical Pocket Watch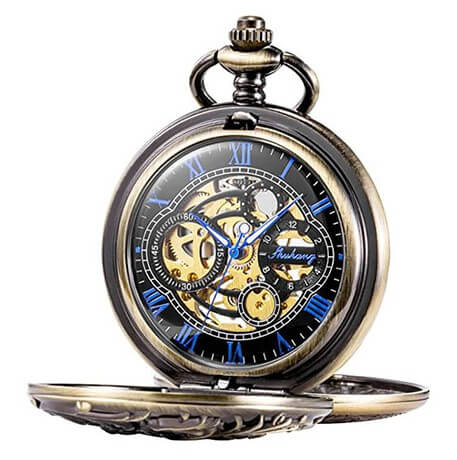 Enjoy a more modern and dramatic take on a pocket watch with this timepiece from TREEWETO. The skeleton case features a majestic dragon design on the front and simple yet refined engraving on the back. Both the front and back of the case open to reveal the exhibition windows that let you see the mechanics of your watch at work. You can also attach a photo of a loved one into the back half of the case. The blue Roman numerals and hands are also fluorescent, so you can still read the time, even in low light. It makes a perfect gift, arriving in a stylish box.
9. Hicarer Quartz Pocket Watch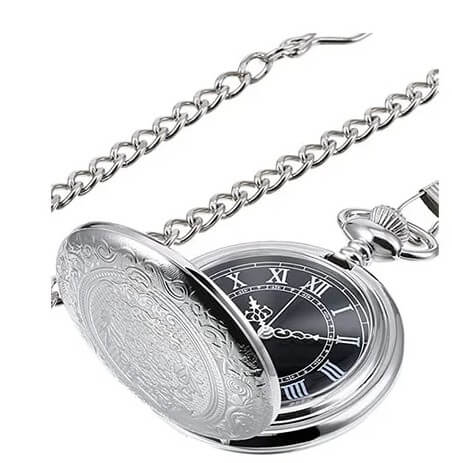 Silver is an ever-so-stylish choice when it comes to all watches, including pocket watches. This Hicarer Quartz Pocket Watch boasts an exquisite floral engraving on both sides of the case and a quartz movement keeping the time accurate. White Roman numerals contrast well with the black dial, as do the filigree hands for both the hours and minutes. Plus, keep your watch safe and secure with the 14.inch chain that clips easily to your clothing. If silver isn't your preferred shade, there's also a choice of bronze, black, yellow gold, and rose gold in this classic design.
10. SIBOSUN Skeleton Pocket Watch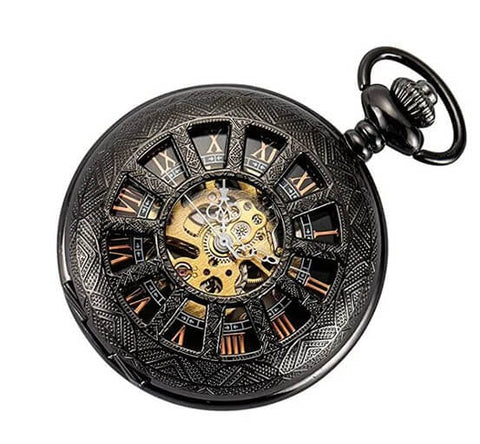 Opt for some gothic styling with this skeleton pocket watch from SIBOSUN. The front and back of the case are semi-open, revealing the inner workings of this hand-wound 17 jewel movement watch. Meanwhile, the black exterior emphasizes the mechanics and rose-gold Roman numerals. The black chain matches the case for a seamless aesthetic. It also arrives in a stylish black box, making it the perfect accessory for yourself or as a gift for a friend or family member.
How to Wear a Pocket Watch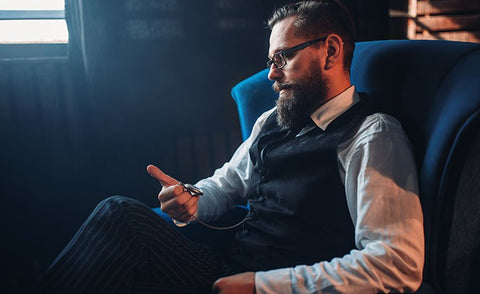 Pocket watches are a great alternative to a wristwatch and look stylish with most outfits. It creates an incredibly dapper look for formal occasions where you're wearing a waistcoat or vest, as it acts as a stylish and practical accessory. However, for everyday use, a pocket watch will also look right at home paired with jeans, chinos, or trousers. You could even wear one with a pair of tailored shorts, a polo, and boat shoes without it looking out of place. To ensure it's safely secured, it's best to wear a belt with any trousers, so there's something more substantial for it to attach to.

How to Attach Your Pocket Watch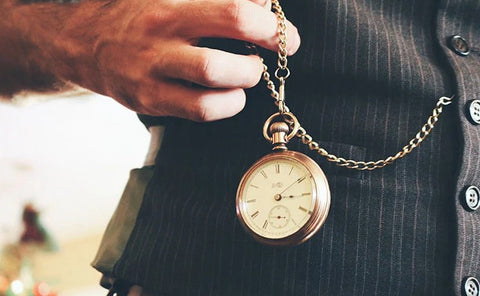 How you attach your pocket watch will be determined by your outfit and the kind of clip on the chain. If you're wearing it with a vest, start by slipping the watch into your pocket. Then, if you have a T-bar, slide this through your chosen buttonhole, hold it vertically and do up the button. You can select any buttonhole above the pocket, depending on how you'd like your chain to hang. Another method for a clip style clasp is to thread the chain through the closest buttonhole and clip the other end into the opposite pocket to create a draping effect. Lastly, when it comes to trousers, start again with the watch in your pocket. Then, loop the chain up underneath your belt towards the back and attach it to the top.

How to Care For and Maintain a Pocket Watch
Great care should be taken to ensure your pocket watch lasts a lifetime. If there's an owner's manual, it's always best to read this for manufacturer recommended care practices. However, there are also some common-sense measures you can take. Keep your watch stored in a cool, dry location, and avoid getting it wet. Wind any mechanical watches daily, preferably around the same time to maintain accuracy. Next, put the watch in your pocket facing towards you to help prevent scratching. You'll also want to avoid using the same pocket for any other objects like keys, phone, or wallet. Then, use a soft polishing cloth regularly to remove any dust or dirt, and keep the metal shiny. Lastly, visit a professional every few years for a deep clean and maintenance check, especially on mechanical watches.
You may interested in: