Growing up in northern Minnesota, near the Ontario border,  I spent a lot of time out in the woods with my dad and brothers doing remote wilderness camping. My dad had been a medic in the army so we were in good hands with an expert in the backcountry and emergency medical care. He had taught us survival skills including map reading, how to start fires and even how to use an analog watch as a compass but even then there was definitely still risk involved.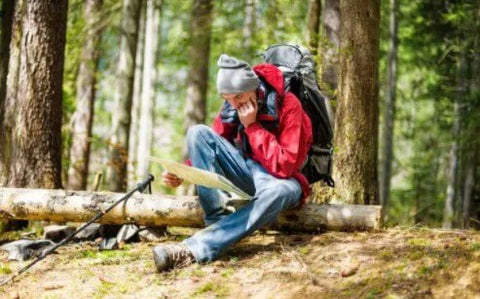 Even with expert survival skills, it's easy to get turned around and quickly lose your bearings while walking in the thick woods. Back then, we hadn't heard of GPS much less a "survival watch".

Luckily in the past few decades, technology has progressed and we now have a plethora of tools that can help you survive in the wilderness including Satellite GPS Spot messagers that can send an S.O.S with your coordinates to GEOS who can then organize a search and rescue operation.
Of course, we're here to talk specifically about watches, and there are lots of great survival watches to choose from. First of all, we're looking at watches with rugged construction that can take extreme wear & tear and survive harsh environments.
Features such as an altimeter and barometer will help you keep up to date on weather conditions. We also looked for shock and water-resistant watches that can also handle wet stormy weather.
While GPS is a great function to have, but we didn't make his an absolute requirement for this list as it would have eliminated many affordable options that don't have satellite positioning. After a few decent budget options, we work our way up to high-end tool watches such as Garmin's MARQ® Adventurer, one of the most advanced tool watches available and includes color topographical maps and an orienteering feature that overlays a compass on the map.
Here are the best survival watches we found on the market, including some great budget options and smartwatches with some of the latest watch technology.
Best Survival Watches
Timex Men's Expedition Gallatin Watch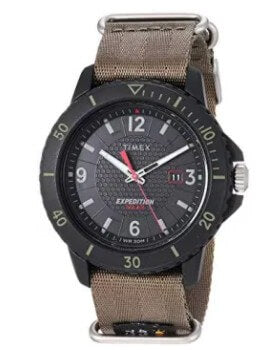 One of the series in the Timex Expedition collection is the Gallatin Solar series. As such, its models are equipped with great features of the Timex Expedition and Gallatin Solar.
One particular vital feature of the Timex Expedition Gallatin Solar Watch is its power source. Interestingly, it can be recharged by any light source and has a two-month power reserve.
In general, this particular timepiece is engineered for outdoors yet still gave importance to aesthetics and wearer's comfort.
For one, the watch is equipped with a 22mm double-layer fabric strap designed as slip-thru to make it easy to wear and remove from your wrist. It looks rugged and feels durable yet comfortable against your skin. Keeping your watch in place is a buckle clasp.
Even the watch case is designed for your outdoor activities. It is made of resin that's tough enough to protect the internal mechanism of the watch.  On the watch dial are luminous hands, partial Arabic numerals, and a date window at 3 o'clock.
It is also water-resistant for 50 meters, good for general outdoor activities, even short periods of swimming. However, it is not built for diving and snorkeling.  It may be a simple, quite traditional timepiece yet accurate, comfortable and reliable even for activities. All these features at a very affordable price.
Casio G-Shock GW9400 Rangeman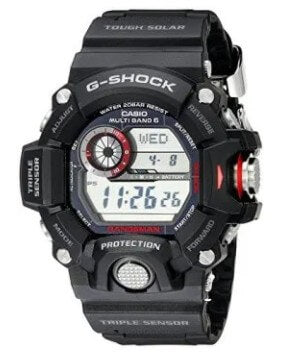 The Casio G-Shock Rangeman GW9400 is your stereotypical military watch. Even it's color options – Black and Army Green, pretty much point to the military.
However, this particular timepiece is, of course, not exclusively designed for military personnel. It's also great for those who want a watch that's tough, reliable and packed with useful features.
Immediately, you'd surely notice that it's quite bulky. It was designed as such to protect the buttons and all other internal features of the watch. Don't worry though, because it is still lightweight and will not wear your wrist out even on long hours.
It also comes with a resin body with some stainless steel details, which are both durable materials and looks good.
When it comes to functionality, this timepiece is also solar-powered so you don't have to worry much about replacing its battery. It is also designed with tactical features – barometer, altimeter, compass, and thermometer. These functions are great for military operations and other outdoor activities.
More so, it is shock-resistant for 10 meters and water-resistant for 200 meters! Whatever you have to go through, this watch can surely survive.
Another feature that may oftentimes be disregarded by most but is sure helpful for survival is the Multiband 6 Atomic Radio. When there's already no signal on most of your devices, you will surely appreciate how precious this function is.  Other minor features are the stopwatch, split timer, LED backlight, and the sunrise-sunset mode.
Suunto Core All Black Watch – SS014279010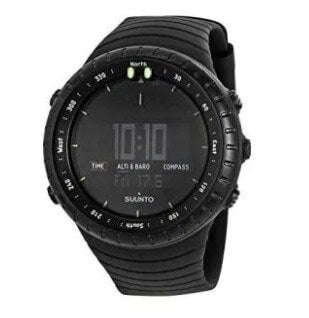 If you prefer modern digital watches, then the Suunto Core All Black Watch may be the one you'd prefer. It comes from the military watches line of Suunto so you're pretty assured that this one's also tough.
Suunto Core is essentially a sports watch packed with functions that are useful for outdoors. For better access and easier understanding of the users, the functions have been categorized into three modes: Time, Altimeter & Barometer, and Compass. Each mode has a dedicated display easily accessible from the menu.
Time mode practically covers all functions in relation to time. Of course, it shows the actual time; then, you may also set it on a dual time mode to quickly see the time from another time zone. Additionally, you may also access the stopwatch, alarm, and countdown timer.
The Altimeter & Barometer mode is particularly helpful when you want to gather more data about the outdoors. With this mode, you will be able to measure altitude, barometric pressure, and depth automatically or manually. The watch itself can then log the data so you may review it as necessary.
The Compass mode is another straight-to-the-point one. Although aside from using your watch as the digital compass, you may also pin a particular destination then the display will show directional arrows to guide you along the way.
More so, since it is designed for Suunto's military line of watches, Suunto Core All Black comes with a resin band and a scratch-resistant mineral crystal window. It measures 1.9 inches in diameter and weighs only 2.9 ounces.
Timex Command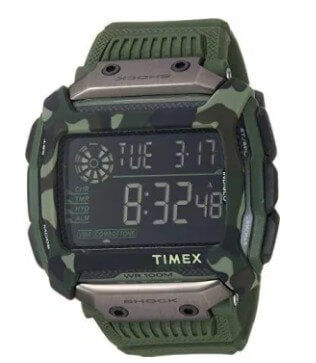 Another durable watch from Timex is the Timex Command. Immediately, you'll notice the rectangular watch face which is quite a divert from the traditional circular one. As such, it has a digital display mainly showing the actual time, day, and date.
It is made of a stainless steel case, silicone strap with buckle closure.  Its dial features the Indiglo light-up technology.
It is also equipped with a stopwatch and countdown timer. More so, it is engineered to be shock-resistant and 100M water-resistant.  This watch also features a "hydration alert", a type of countdown timer that you can set to remind you to drink water. In a real-life survival situation, water management is critical using a timer could be a very useful tool.
Fēnix® 6S – Pro and Sapphire Editions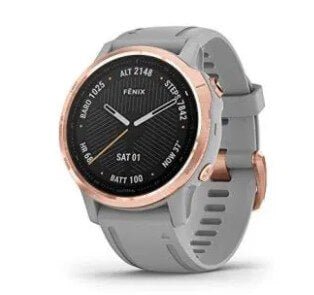 Garmin fēnix® 6S Pro and Sapphire is a multisport GPS watch.  Although it's relatively smaller – its case measuring only 42mm, it is still packed with smart features. In fact, you might be surprised by the number and variety of functions that it has. It has mapping features, music access, workout, and pace monitoring.

Another great thing about this timepiece is that it's not even bulky! Rather, it has a sophisticated design with stainless steel or DLC-coated bezel and constructed according to US military standards. So that basically says that this timepiece is also built to withstand outdoor abuses.

Worried about its battery life? Well, the good thing is you can extend its battery life by simply adjusting various settings or turning off some sensors. More so, for the workout and pace monitoring, the Garmin Fenix 6S is preloaded with different profiles for various activities. It covers running, swimming, rowing, and golfing, among others.

And since it is also a GPS watch, Fenix 6S is also loaded with topographical maps to guide you on your adventures. It even has a Round-trip Routing feature that will help you go back to where you started. For more accurate navigation, it can even access various navigation satellite systems – GPS, GLONASS, and Gallileo.
Suunto Traverse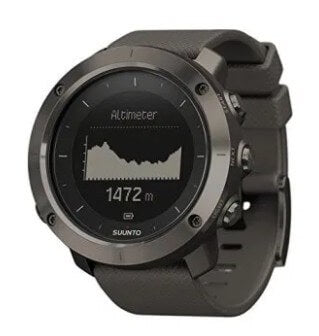 Suunto Traverse is primarily a GPS watch, although it can also access the GLONASS satellite navigation system to help you go through your route. It also has a waypoint feature and a breadcrumb trail to help you trace back your steps.
It can even measure altitude and barometric pressure. To help you keep track of your progress, the watch has a data log and a trip summary feature.
Suunto Traverse, of course, has the traditional timekeeping functions as well. It has a daily alarm, countdown timer, stopwatch, GPS time, and daylight savings time option.
It also has features that monitor your health such as your daily steps, calories burned, and some activity profiles. Its interface is pretty easy to understand so you can access each feature easily.
Suunto Traverse is also built to stand various abuses from different activities. It comes with a stainless steel bezel, scratch-resistant sapphire crystal glass, and nylon textile strap that's water repellent. The downside, however, is that its battery cannot really last a long time to support all those features.
Timex Intelligent Quartz Tide-Temp-Compass Watch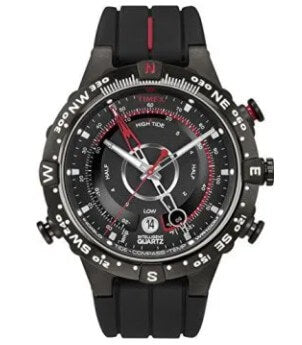 Going back to analog watches, another great and affordable timepiece is the Timex Intelligent Quartz Tide Temp Compass Watch.
Aside from the actual time and the date at 6 o'clock, it can also function as a compass. On the bezel, you can immediately see the compass markings.
On the dial, it also has a tide tracker and a thermometer than can measure air and water temperature. It is water-resistant for 100 meters. You can wear it while swimming or snorkeling but not during diving.

Its 45mm stainless steel watch case is protected by a mineral crystal glass. The dial comes with the Indiglo light-up feature and is equipped with luminous hands.
Casio G-Shock Gulfmaster GN1000B-1A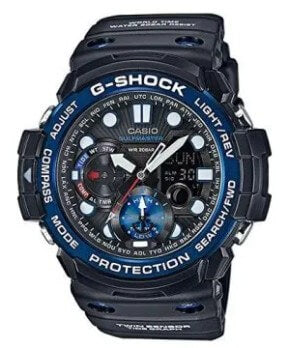 Casio G-Shock's Gulfmaster series is specifically engineered to be tough and ready to provide some relevant data pertaining to the marine environment.
Mainly Casio G-Shock Gulfmaster GN1000B-1A's dial features a large analog display of the actual time. Its second hand, alternatively, can also point to the true north when the watch is set on compass mode. It also has a small digital display at 3 o'clock position where you can check the day and date and set the alarm.
More so, it has sub-dials that shows moon age as well as the tide level. These simple data can help you plan your water activities such as diving, surfing, and even fishing.
Luminox 8832-MI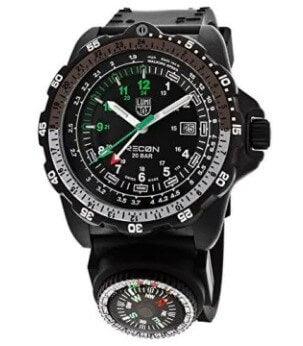 The Luminox 8832-MI is one model from the brand's RECON Series. The entire series was engineered with the help of a former NCO from the Swiss Army Military Security. So it is built to stand the brutalities that it may encounter and remain to be functional in almost every situation.
This Swiss-made watch comes with a 48mm analog display with a second color countdown zone on the dial. It also has a walking speed tachymeter and a GMT function. On its strap, moreover, you'll find a removable compass. Best of all, it is very luminous and easily readable even at night.
Tissot Men's T0914204405100 T-Touch Expert Solar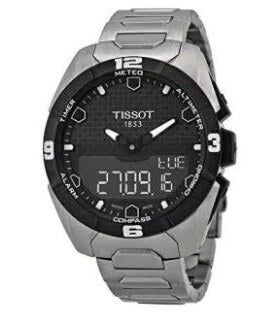 The T-Touch Expert Solar series from Tissot is considered the first solar-powered watch that was engineered with tactile technology. But not only that. There's more that this timepiece can offer! Among others, it has an altimeter, second-time zone, compass, weather forecasting feature along with 20 other features.

Primarily, this Tissot T-Touch Expert Solar showcases a two-hand analog display on a 45mm case. By the lower half of the dial, however, is a digital display that displays the date and other data you would want from its available features.
The case, bezel, and band are all made of titanium, making the timepiece durable. It also has an anti-reflective sapphire window and is water-resistant for 330 feet.
Suunto 9 GPS Watch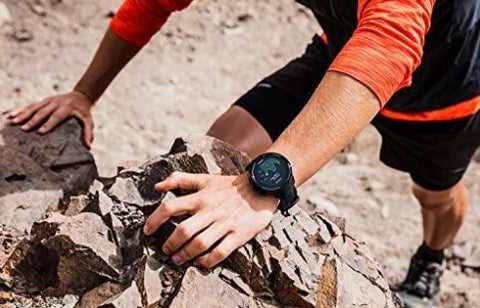 Another remarkable and not-your-ordinary smartwatch is the Suunto 9 GPS Watch. Well, it's no ordinary GPS watch, either. It is also a multisports watch that can track whatever activity or adventure you might want to explore.
Among all its smart features, the Suunto 9 takes pride in its intelligent battery life management system. This particular feature sends you notifications to help you make your watch maintain its power as long as you need it to.
Not only can this watch track your activities, but it is also built to be as tough as you are even through extreme sports. It also has around 80 sport modes for you to choose from. So it's pretty easy to keep track and record your progress whatever sport you're into.
It also has weather functions and barometer, among others, to help you plan and schedule your activities. And, of course, it has access to various navigation satellite systems such as GPS, GLONASS, and QZSS to guide you more accurately wherever you might go.
Suunto 9 GPS comes with a watch case made of glass fiber with reinforced polyamide. Then the glass is made of sapphire crystal, while the bezel is of stainless steel. Lastly, the strap is silicone.
MARQ® Adventurer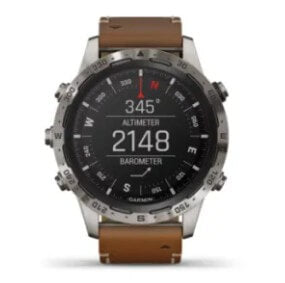 Next on the list is another Garmin timepiece – the MARQ Adventurer.

At first glance, you'll immediately notice the markings on the side for the altimeter scale and for the barometer.
The center portion of the dial, however, changes depending on the feature you want to access. It can simply show the hour and minute hands to tell you the actual time. It can also serve as a compass for its orienteering feature. Or, if it's easier for you, you may access topographical maps directly from this watch.
You will also be able to receive notifications and reminders once the watch is paired with your device. You may even store and access your favorite music. And as with other latest Garmin products, it is also capable of Garmin Pay.
SureFire 2211 WristLight Series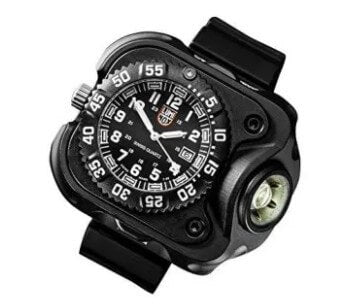 The SureFire 2211 WristLight may seem rather odd compared to other watches on the list. Its watch body is rectangular and thick with just a small circular analog display and an LED flashlight at the side.
Evidently, this timepiece emphasizes on its high-performance LED light. It can produce a broad beam at 15, 60, and 300 lumens. The watch dial is also self-illuminating and it has a built-in LED battery level indicator.
Its wristband is made of durable rubber to keep the watch strapped to your wrist.
Citizen Men's Eco-Drive Navihawk Atomic Timekeeping Watch, JY8035-04E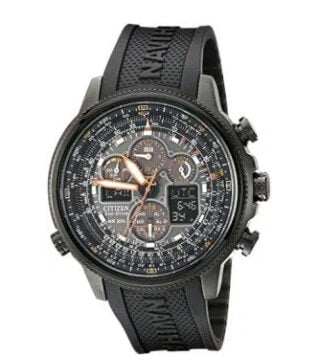 At first glance, you might be overwhelmed with the Citizen Navihawk Atomic Timekeeping Watch.
Primarily, its atomic clock has an analog display for accurate timekeeping. It is also radio-controlled allowing it to show you the time digitally from any of the 43 cities worldwide.
It is also solar powered that may be recharged through artificial or natural light. You won't have to worry about changing batteries or recharging through electricity.
This Citizen Navihawk Atomic Watch is also tough on water and robust in any other situation. It is water-resistant up to 200 meters, making it great for swimming, snorkeling, and others. It also comes with an anti-reflective mineral crystal window and stainless steel case for reinforced toughness.
Its features include a perpetual calendar, timer, and alarms. So, once you fully understand the use of each marking and how each subdial functions, you'd realize that it is indeed a great watch to have.
Casio Men's PAG240T Pathfinder Watch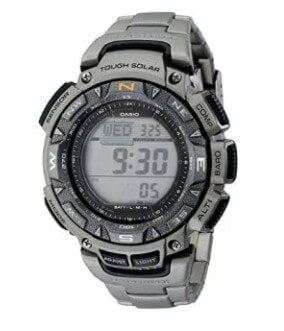 Last on the list is a solar-powered sports watch from Casio. The Casio PAG240T Pathfinder Watch is equipped with a triple sensor that provides information for its altimeter, barometer, thermometer, and compass.
This watch also provides the world time from 31 different time zones, five daily alarms, stopwatch, countdown timer, and full auto-calendar. It also has a daylight saving, battery level indicator, and a power-saving function.
All these are accessible from the 51mm stainless steel case with a digital display. The bracelet is titanium and the watch is water-resistant up to 100 meters.
What Makes a Great Survival Watch?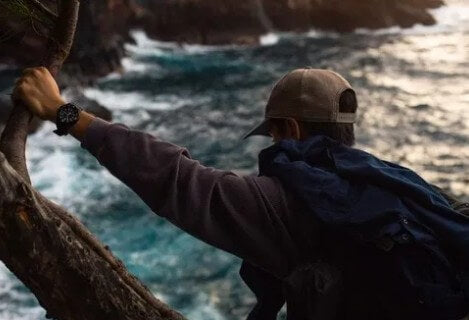 So given all those great choices, how should you now choose a great survival watch? Here are the things you might want to consider before buying.
Solid Construction and Shock Resistance
When outdoors or you suddenly find yourself in the wilderness, you and all your equipment should be tough. Your watch should be able to withstand the abuses of the wilderness – water, dust, mud, and sudden hit or fall. This is why you should make sure that the watch is solidly constructed and shock-resistant.
Survival Features: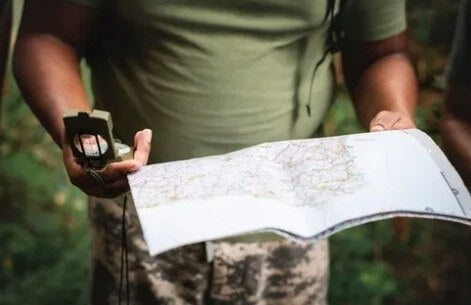 There are several features now on watches that could make the difference between getting out of the woods alive or not. Most notable are weather-related measurements (altitude, barometric pressure). While you can use almost any analog watch as a compass, you hardly want to try to figure that out for the first time out in the bush. Having a built-in compass or GPS can help you find your way and some watches like the most recent Garmin models have full-color topographical maps to show you our pinpoint location and best route back to civilization.
Water Resistance
Among the abuses and surprises, you might encounter in the wild is the water. It could be in the form of a thunderstorm or a sudden deep river you have to cross. As such, you need to make sure that your watch can withstand water and humidity.
Durable Wristband/Strap
Having a tough watch with loads of features will be futile if you suddenly find it missing from your wrist. Wristbands or straps are made from different materials such as silicone, stainless steel, and of course, the best for survival is those made from rubber.
Accuracy
Since a watch is primarily intended to tell time, you should, of course, make sure that the one you're wearing is accurate. Otherwise, you could easily lose track of time especially when you are out in the open.
Great Battery Life
For a survival watch, the best options for you are kinetic, mechanical, and solar-powered. With these, you don't have to worry about your watch suddenly dying when you most need it. So although smartwatches can provide you with tons of data that you may need, those are not exactly wise choices when you're not sure how long you'll be out in the wilderness. You might as well have a simple traditional analog watch that can be powered by natural or artificial light. This way, you're pretty sure that your watch will not die out all of a sudden.
Closing Words
Better be ready, right? So when you intend to go on a camping or do some outdoor explorations, it is a huge advantage for you when you have a great survival watch. With such a watch, you'll be able to plan your trip wisely, find the best route, and arrive home just in time. So go on and choose your survival watch wisely. 
You may interested in: