Australia is both a continent and a country with its capital in Canberra. Although, its other cities are also widely recognized across the globe – Sydney, Melbourne, Brisbane, Adelaide, and Perth, in particular. It is surrounded mainly by the Indian and Pacific oceans, and such geographical location significantly affects the Australians, their lifestyle, and their watches. To understand what we mean by this, here are the top Australian watch brands:
Top Australian Watch Brands
Melbourne Watch Company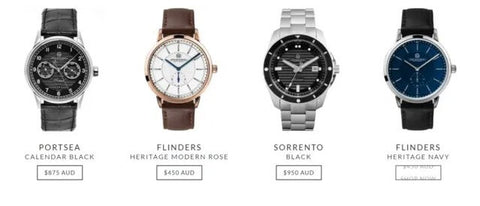 From a small online watch business named Melbourne Custom Watches, owner and founder Sujain Krishnan decided to level up his business and produced personally-designed timepieces. From this, the Melbourne Watch Company was born.
Melbourne Watch Company is an Australian micro-brand established in 2013 with the goal of filling the gap in the market of watch micro-brands mainly by creating and distributing dress or classic-style timepieces.
Since the founder has a background with the online watch market, it's not very surprising that its first model for the Melbourne Watch Company – the Flinders – was launched through online crowdfunding. With the overwhelming support that the Flinders received, this new brand was encouraged to continue and even expand its portfolio with new designs.
After six years, the Melbourne Watch Company has successfully launched over ten models. Each one is designed with premium quality while keeping it as affordable as possible so that even simple watch enthusiasts and collectors will be able to purchase one. This was made possible by keeping the production of the timepieces in its workshop in the city. Its first showroom was then opened in Melbourne (of course) in 2016.
Bausele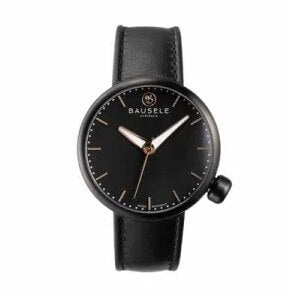 Proudly claiming as Australia's first premium watch company, Bausele was formed in 2011 by Christophe Hoppé.
Such brand name was derived from the phrase, Beyond AUStralian ELEments. This generally describes what makes Bausele timepieces distinctive from other Australian watch brands. Essentially, the company incorporates various "Australian elements" into its products, such as the Australian rock for the watch case and a tiny kangaroo on the dial. Another notable feature of Bausele timepieces is its hollow crown that contains a sample of Australian beach sand, coal or red earth.
In addition to distinctive design and meticulous craftsmanship, Bausele watches are Swiss-made. The combination of these qualities then results in Australian watches that are precise, unique, and elegant.
Nicholas Hacko
Nicholas Hacko is a namesake brand that was also established in 2013, but this time, in Sydney.
Nicholas Hacko, the founder, started as a humble independent watchmaker. In the previous years, independent watchmakers like him are highly specialized and served as the link between watch brand manufacturers and owners. Independent watchmakers serve as maintenance, repair and service experts of various kinds of clocks and wristwatches.
However, this smooth cooperation in the watchmaking industry began to change in the 21st century when large watch companies suddenly saw the independent watchmakers as a threat. To paralyze the watchmakers' businesses, they were prohibited from acquiring the spare parts needed for various services. To survive in the watchmaking business amidst this corporate play, Nicholas Hacko bravely took the risk and started the said watch brand.
For his own brand, Nicholas Hacko envisioned to produce timepieces that will not just serve as a fashion accessory; rather, he aimed for robust, reliable, and repairable watches.
Haigh & Hastings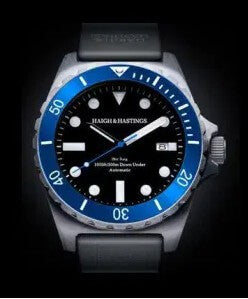 Haigh & Hastings was established quite recently, January 2014, by Matthew Sears and Simon Haigh. This Perth-based watch brand envisions to create timepieces showcasing the Australian lifestyle and integrating the sun, sand, sea, and sports components.
In line with this, Haigh & Hastings' timepieces are mostly casual and engineered to be suitable for an active lifestyle.
The M2 Diver, the first model launched, for example, comes with a 316L stainless steel case, screw-down crown, and a scratch-resistant sapphire crystal window. It is water-resistant up to 300 meters, customizable bezel and rubber dive straps.
Adina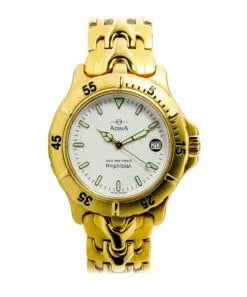 Adina is among the older Australian watch brand. It was established by one Robert "Bob" Menzie back in 1971. His main vision for the company is to engineer watches that are tough enough to survive the abuses of the daily Australian lifestyle.
Bob started by handcrafting his first collection in a small room in his family home. The principle and culture developed from this humble beginning were then passed on as Adina continued to grow.
Adina now produces more than 40,000 watches annually from its Brisbane factory and they're being distributed in more than 300 retail watch stores all over the country.
Over the years, Adina has gained an outstanding reputation because of its impressive craftsmanship and innovative design. Those, in addition to unmatched durability even through various extreme situations.
Currently, it features four collections – Amphibian, Work, Oceaneer, and Automatic.
JDRT
The brand name is simply the abbreviation of its two founders: Joel Davis and Rhys Thomas. Initially, they just want different watches to wear each day. Since this would be too costly, they thought of creating their own watches with interchangeable straps.
Considering that the two founders are not exactly watchmakers, they have to contact different manufacturers of watch parts from around the world – cases from China, sapphire crystal from Switzerland, quartz movement from Japan, silicone straps from Spain, leather from Jervis Bay, and even a water pressure tester from France.
Once assembled, JDRT timepieces are minimalist and simple, but you have a variety of colors to choose from.
Erroyl
Another young watch brand that was established quite recently through the success of a crowdfunding project is Erroyl. Wes Knight, James Barling, Brad Wilton, and Michael Phanprachit form part of the team from Cranberra that started the said brand.
In their initial crowdfunding campaign, they received the overwhelming support of $41,000 when their target is only $15,000. They produced and sold 130 classic and elegant-looking timepieces.
Seeing the support that the brand received during the campaign, Erroyl continued on producing dress watches with a sleek design. They all come in either white, rose gold or black, and with brown or black leather straps. More so, Erroyl timepieces use Miyota Cal. 9015 automatic movement. All these elements are combined to produce classic and timeless Erroyl watches.
Bow & Stern
Bow & Stern particularly focuses on creating nautical-inspired watches.
The brand also boasts of using only premium materials for its products. They are pretty confident in the quality of their watches that each watch is covered by a lifetime guarantee and a 60-day return policy. Also, their straps are interchangeable so you can easily change its color depending on your mood or outfit. To make things better, Bow & Stern watches are also pretty affordable.
There's really not much data or history yet for this brand since it only started in April 2016 through a crowdfunding campaign in Kickstarter. And, the brand was able to continue its production and produce more variations since it received more than sufficient funding.
Creaux Automatiq
Creaux Automatiq was formed under the shadow of a luxury diamond jewelry brand from Sydney, Australia named Culet Jewellery. However, Culet Jewellery's owner, Dane Rumble, is also a watch enthusiast.  After two years of research and development, Creaux Automatiq was finally introduced with its leading model – the Ghost. Primarily, the goal of Creaux Automatiq is to create and offer to the market luxury watches that are reliable yet affordable.
Closing Words
Watches from Australia are pretty simple yet very promising especially in terms of quality and price point. Also, you might've noticed how most of these brands were inspired and/or engineered by the Australian lifestyle. They are proud of their origins and even prefer to stamp it one way or another on their products. 
You may interested in:
---