What is a kinetic watch? A kinetic watch, also known as an automatic quartz watch, combines a self-winding rotor mechanism to generate electricity with a piezoelectric quartz crystal as its timing element.
This type of watch is hailed for its precision and energy saving qualities, factors that have contributed to its sharp rise in popularity. So how does a kinetic watch work? This article will provide the answer to that question plus more.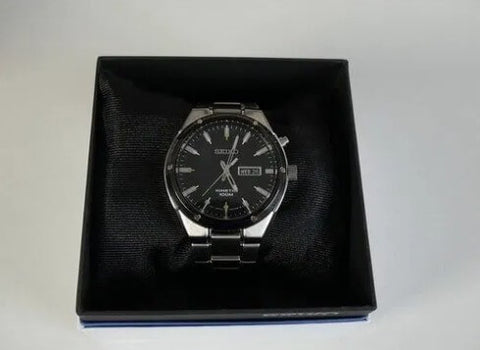 How Does a Kinetic Watch Work?
Kinetic energy is the energy produced through motion. This type of energy, created by the body's movement is what powers kinetic watches. Motion like swinging your arms while walking, turning the steering wheel while driving, or simple everyday movements cause the oscillating weights within the watch to rotate.
The rotating pendulum is attached to a large gear which meshes with a small pinion. When you move, the pendulum turns and spins the pinion at a high speed (up to 100,000 rpm). This is coupled to a small electrical generator which charges a storage device (a capacitor or a rechargeable battery). The energy stored in the capacitor discharges slowly over time. Depending on the watch model, a full charge can last anywhere from two weeks to six months.
Are Kinetic Watches Durable?
You may be hesitant to buy a kinetic watch especially if you're unfamiliar with how it works. But you should know that kinetic watches are just as durable as any other type of watch. The capacitor can be charged and discharged thousands of times. Although a recalibration of the capacitor every 10 years or so is necessary to keep your watch in top condition, the capacitor doesn't wear out.
Storing Energy
A fully-charged kinetic watch can store energy for as long as six months without requiring a recharge. The main capacitor stores the energy, keeping track of the correct time. Typically, the watch will "go to sleep" after 24 hours of inactivity. When it is reactivated with motion, the time is reset based on the capacitor's calculations. Many kinetic watches have indicators that let the wearer know how much charge is being held in the timepiece.
Maintenance
Kinetic watches usually require maintenance every seven years or so. The battery doesn't need to be replaced, but the watch might need a new main capacitor to store energy and keep time.
History of the Kinetic Watch
Japanese company Seiko unveiled the "kinetic watch" at the Basel Fair trade show in 1986 under the name AGM. In January 1988, the first such watch was released in Germany. April of the same year, the watch was released in Japan (under the name Auto-Quartz).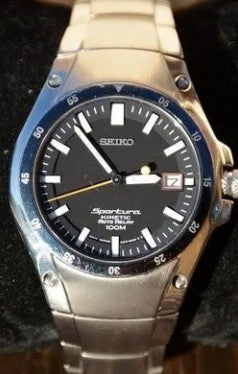 Seiko Kinetic Watch Models
Seiko Men's SRN064 Coutura Kinetic Stainless Steel Watch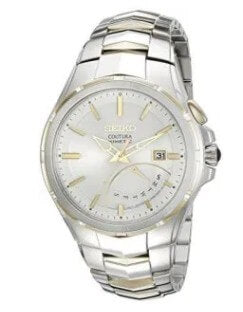 The Seiko Coutura is the epitome of cultured sophistication. Its bold, curving lines and two-tone finish give it a refined character. With its motion-powered kinetic movement, it is both an attractive and practical choice. The stunning look of this timepiece is matched by its precision performance.

From the Japanese brand that pioneered the kinetic watch technology, the Seiko Coutura is powered by your body's movement. No need to change batteries. This environmentally-friendly watch has a silver dial with gold accents, luminous hands, and a day/date calendar.
It has a stainless steel bracelet with push-button clasp closure. The Coutura is water resistant up to 100 meters (330 feet); suitable for swimming and snorkeling, but not for scuba diving.
Seiko Prospex SUN019 Kinetic GMT Divers Man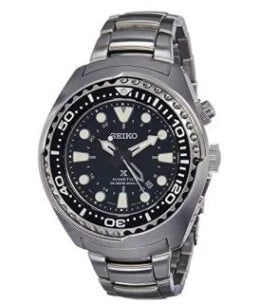 The Seiko SUN019 X Prospex GMT is a men's dive watch that features a 48 mm wide and 14 mm thick stainless steel case, one-way rotating elapsed timing bezel, and textured screw-down crown with function pusher. It is powered by body movement, with a Japanese 5M85 kinetic quartz movement.

This stylish watch features a black dial, luminous hands, and GMT indicator. The Seiko Prospex SUN019 is water resistant up to 200 meters (can be used for scuba diving).
Seiko Men's SKA366 Stainless Steel Kinetic Dress Watch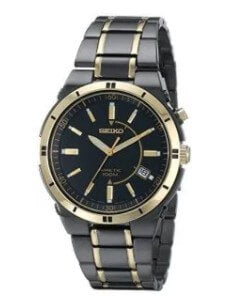 The Seiko SKA366 is a stylish men's watch that has a TiCN (ceramic) coated stainless steel case topped with a gold-tone bezel. This kinetic watch has a power reserve indicator in the inner dial. Ideal for formal occasions, this timepiece has a black ceramic-coated and gold-tone stainless steel bracelet, with a fold-over push-button clasp.
It's water resistant up to 100 meters (330 feet). You can wear it while swimming and snorkeling, but not for scuba diving. This watch doesn't require a battery. It powers kinetically with the motion of your arm. The SKA366 is one of the most elegant kinetic watches from Seiko.
You may interested in: