MEGALITH, headquartered in China, has produced a variety of Rolex appearance watches including Daytona. Megalith Watch is the cheapest product we respect. Through Megalith, you can get the best homage  watch at the lowest price. You will get a 45mm quartz chronograph with Sapphire  crystal. However, there is a date window on the Megalith dial, of course, Daytona does not.
Megalith Chronograph Sport watch provides various color for choice, including steel belt watches with ceramic baffle, black dial and white dial option, and silicone strap option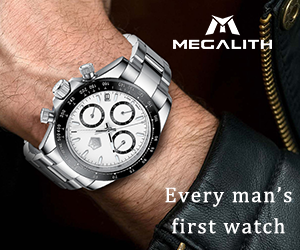 Megalith is a Chinese brand. It is a disaster to impersonate high -end Swiss products at a cheap price, and Megalith knows this.  So they do the homage watches.
Instead, they used the Seiko VK63 caliber in Daytona's respect, which is the MECAQUARTZ movement. In short, this is a quartz movement (+-15 seconds/month accuracy), which can copy the feeling of the "promoter" button and a smooth mechanical chronograph.
Therefore, this Megalith watch is one of the cheapest Rolex Daytona homage watch, and its price is $90 (it is even cheap when available coupons). However, this does not mean that it is a bad watch anyway.
For example, you will get a megalith 8389m chronograph watch which is with 316L solid link (or even a solid -end link), a stainless steel bracelet ,synthesizes sapphire crystal, the rotating Crown and Button, and has excellent construction quality. In addition, because of its quartz movement, this is one of the thinnest Rolex Aytona's respect watches (11mm).