Rolex launched a new Oyster Perpetual Cosmograph Daytona meteorite watch,a chronograph watch specially designed for endurance racers
Rolex

 Sports Chronograph Watch

The biggest feature of the watch is that the Oyster case is cast in a single piece of solid 18ct white gold. The crown adopts a triple lock and triple waterproof system. Like the chronograph button, it is firmly screwed on the case. At the same time, it has a protective device to make the whole watch with 100-meter water resistance and is sturdy and durable.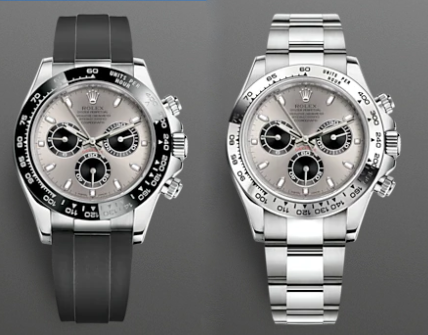 Rolex uses meteorites that span time and space to make dials, with small seconds, 30-minute and 12-hour counters at 6 o'clock, 3 o'clock and 9 o'clock, respectively. The brand Oysterflex strap for the watch combines the sturdiness and reliability of a metal strap with the flexibility and comfort of a rubber strap, which is extremely practical.
MEGALITH

 Sports Chronograph Watch

Everyone wants to own such a watch, but it is expensive and cannot afford it.
So the megalith brand borrowed some of these design elements and combined a watch that everyone can afford and has a sense of design, that is, the megalith 8389M watch.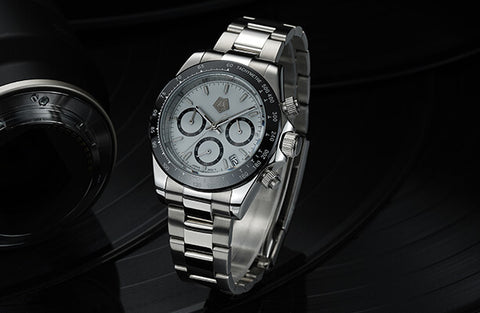 In terms of the dial function, Megalith 8389M has been improved, adding a calendar function, and changing the 12-hour timekeeping of the three chronograph sub-dials to 24 hours. After all, for ordinary people, the 12-hour timekeeping needs are basically not needed. , But the 24-hour display allows us to see the time more clearly.

On the movement, Megalith 8389M uses a Japanese movement, which ensures that the time is accurate and the price is not too high.

The case of the watch is made of steel, which is very textured. The watch has two choices: a sturdy steel band and a comfortable rubber band, which are suitable for our work, leisure and sports.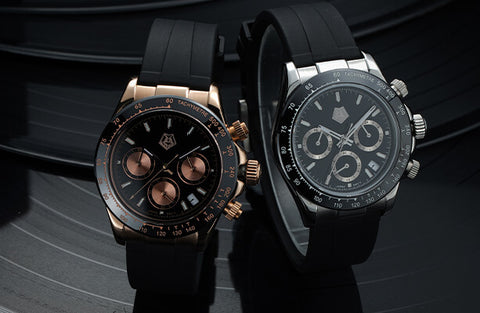 The waterproof is also made of 100 meters waterproof, which is 10ATM. It is also made of luminous, and it is very convenient to use at night. It can be said that the Megalith 8389M watch has achieved the ultimate price-performance ratio, and the appearance design is a sophisticated and practical watch that is recommended by the strength.

Panda plate, speed ring, three-eye chronograph, three-segment watchband, in fact, these design elements are not the first invented by Rolex, Rolex's credit is to organically combine them. Watches were born for hundreds of years, and watches were born for more than 100 years. In fact, many designs and functions have appeared long ago. Many watch brands are not completely innovative, but limited innovation.


We Deserve One Ultimate Sports Chronograph Watch

Many designs on watches are not copyrighted anymore, just like a car with four wheels. Even if there is a copyright, everyone can use it after the patent period.

Therefore, as a rational us, we don't have to bankrupt ourselves for a watch. Watches are the icing on the cake. We don't need to show off by an expensive luxury goods. We can feel happy with cost-effective and high-quality substitutes. Proud of the choice.